Opinion: Puckett, James Light the Fuse
Mecklenburg commissioners threaten ICE presence at meeting tonight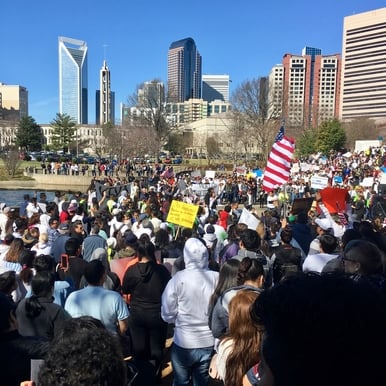 If Mecklenburg County commissioners are genuinely concerned about security issues from "unruly" protesters and "an appropriate level of civil discourse" during their meeting Tuesday, they can enlist their very own taxpayer-funded agency: the Sheriff's Office.
But of course Vice Chairman Jim Puckett and commissioner Bill James aren't so concerned about that. Otherwise, they wouldn't have invited federal Immigration and Customs Enforcement agents to attend the meeting, as Puckett did and James seconded Tuesday. The agents "might have a calming effect," Puckett wrote. It's doubtful that ICE will send anyone to the meeting. But that's beside the point as well. This is a classic intimidation move from two people, especially James, who down through the years have delighted in throwing stink bombs into the public's business in the name of furthering the public's business.
So now we have two scenarios for this evening: The same Latino activists who turned the Charlotte City Council meeting last week into a cacophonic mess will stay home for fear of deportation, a victory for xenophobes who want them gone or hidden; or they'll turn out in force, cause an even bigger ruckus, and subject themselves to arrest by sheriff's deputies who, through the much-loathed 287(g) program, can arrest and detain undocumented immigrants for ICE to process and throw out of the country. This would also be a victory for xenophobes who want them gone or hidden. It would also add to the growing perception of public protests as, by definition, acts of terrorism.
To me, staying home and organizing on the DL, as distasteful as that might be to a community under assault, would be the lesser and smarter of the two evils. But either way, no one will benefit but people, like James, who feed on animus. The public's business won't get done, more members of our community will be terrorized, and another public meeting in Charlotte will turn into an embarrassing spectacle. Brace yourselves. Tonight will likely get ugly.