Opinion: The Altered Definition of 'Voter Fraud'
It means 'black people voting.' The solution? Black people voting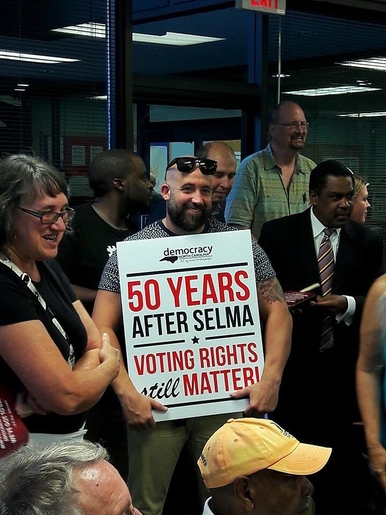 Know what? North Carolina Republicans were right all along. Voter fraud is rampant. It's everywhere you look. Fact-checkers, time and again, have documented the absence of in-person voter fraud cases. What they didn't realize is that the definition has changed. If you assign the term its proper, updated definition—voter fraud occurs when people, especially black people, do not vote Republican—then you understand the staggering scope of the voter fraud epidemic. I don't know why it took me so long to realize this. If it was a snake, it would have asked for my photo ID, directed me to a voting booth, then bit me.
There's just no sugarcoating this. You'll recall that three weeks ago, the 4th U.S. Circuit Court of Appeals cut the state's voter ID law off at the neck, making it abundantly plain that the General Assembly had sought, "with almost surgical precision," to disenfranchise as many black people as possible in order to maintain power in Raleigh.
Thanks to some timely FOIA work by the N&O, we know that the response of the state Republican Party's director was not to cower in abject shame but to fire off an email to Republicans on county elections boards that urged them to cut early voting hours short and bar it on Sundays. "Republicans can and should make party line changes to early voting … We believe same-day registration is ripe with voter fraud, or the opportunity to commit it," wrote Dallas Woodhouse. "Same-day registration is only available during early voting. We are under no obligation to offer more opportunities for voter fraud."
Black people disproportionately vote early and on Sundays and use same-day registration. Those were three things the original voter ID law restricted or abolished, which is why the 4th Circuit determined the law was racially discriminatory. It's a nervy response to getting caught discriminating on the basis of race: Just encourage your foot soldiers to discriminate at the county rather than state level. (And the word is "rife," Woodhouse, you subliterate twit.)
And it worked! Orders received and executed: The Mecklenburg County Board of Elections voted 2-1 along party lines Monday to reduce the number of early voting hours this year from the 2,742 it offered in 2012 to 2,504, despite population growth. "I'm not a fan of early voting," said board Chair Mary Potter Summa, a former aide to U.S. Sen. Jesse Helms and longtime GOP activist who now has actual power over your ability to vote. "The more sites we have, the more opportunities we have for violations."
Now, before you pull a muscle trying to figure out what she meant, remember: the definition's changed. She's referring to black people voting. So it's up to y'all to pay attention now. The state elections board has to sign off on the county board's decision. Regardless, here's the link to the Mecklenburg County Board of Elections site. Their phone number is (704) 336-2133; if you have questions, call. That's what the staff is there for. If you haven't registered, the office is at 741 Kenilworth Avenue, Suite 202, and you should get down there and register. Voting for better people is the only way to undo the insults to the franchise enacted by people afraid you'll vote them out.