Opinion: The 'Sun-Sucking' Smear That Went Around the World
A retired truck driver's question about a solar plant put Woodland, N.C., on the world map—and not in a good way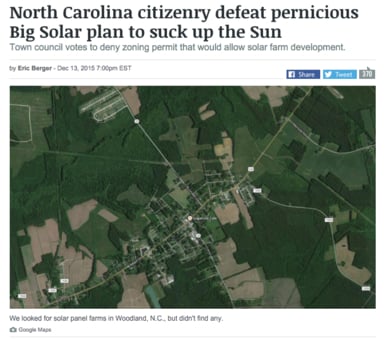 Social media are exceptional conveyors of crap. Everyone knows this. And yet we post, share, tweet, offer the hottest of hot takes, then move on to the fictional Thomas Jefferson quote without looking back.
Except you really need to look back. This week, a story circulated online regarding the hamlet of Woodland, North Carolina, population 809, and its town board's supposed rejection of a solar farm for fear that it would drain the energy out of the sun. OMG NOT THE ONION LOOKIT THE RUBES WAR ON SCIENCE! It went national, international, enlisted as a parable illustrating the perils of our technocratic age.
Apply brakes. Stop. Go in reverse. The infection grew from a single phrase in a single Roanoke-Chowan News-Herald story from the town board's meeting December 3. The story, by staff writer Keith Hoggard, was published five days later; the News-Herald publishes three times per week. (Emphasis mine.)
Bobby Mann said he watched communities dry up when I-95 came along and warned that would happen to Woodland because of the solar farms.
"You're killing your town," he said. "All the young people are going to move out."
He said the solar farms would suck up all the energy from the sun and businesses would not come to Woodland.
It's a paraphrase, not a quote. I wondered if Bobby Mann had actually said that, and if he said that, what he meant. So I called him up and left a message. This afternoon, his wife, Jane, who also spoke at the meeting, called me back.
Jane, a retired schoolteacher, said their comments at the meeting had been reported inaccurately. She was explaining this in a deliberate, schoolteacherly way when, in the background, Bobby interrupted.
"I didn't say anything about anything sucking up no sun!"
Thing is, though, he sort of did. Well, he asked about it, anyway. Here's the relevant portion of Bobby Mann's comments from the draft board minutes:
No one has shown the proof at what the damage it will cause, what harm it will cause to the people, what harm it will cause to the plants and things. It is pulling that energy from the sun, you are going to kill some of these plants because the plant doesn't have enough energy to continue to keep growing. We need the plants ourselves to help breathe. If we continue to keep going the big companies will benefit and the little towns will die. Everyone is moving out. They just said, you're not going to be able to sell your property or your home. The ones that benefit are the landowners, the light company, the ones manufacturing the panels and the ones putting them up. What will happen afterwards? Has anyone shown proof that this is not going to cause any harm?
Bobby Mann is a 67-year-old retired truck driver who's spent his life in rural eastern North Carolina. He told me he didn't say the panels would drain energy from the sun; he was just asking about it. "What kind of effect is that going to have on the sun? I don't know," Bobby Mann told me. "That's what I was asking them."
As far as I can tell, the story started whipping around the web Sunday. At some point in the retelling, the story went from one resident saying something bizarre to town board members basing their decision to deny a rezoning for the solar farm on the belief that it would "suck up all the energy from the sun." Not true.
The town clerk, Kim Bryant, was typing up the minutes when I called her this afternoon. "You can just imagine yesterday," she said. "Phone calls, emails …"
I explained that I had spoken to Bobby Mann, who had at first told me he hadn't said anything about solar panels draining energy from the sun. "Well, he did say that, I'm just telling you," Bryant said. "But honest to goodness, the town board did not base their decision on that."
An N&O story today makes that plain as well:
It would be foolish to conclude that all the town's residents have an aversion to solar energy, said Ron Lane, who has been on the Woodland Town Council for two years. In the past year, Lane noted, the town approved zoning changes to accommodate a trio of solar major solar farms, one of which is nearly completed.
Woodland simply got too cramped for a fourth solar installation, he said.
"How would you and your family like to live in the middle of a solar farm, surrounded on all four sides?" said Lane, a retired elementary school principal. "We have approved three solar farms on almost three points of the compass. This would have completely boxed the town in with solar farms … We wanted to make sure they didn't overtake the town."
Critical distinction, that. What's sad is that this nothingburger is obscuring the state's remarkable advances in solar energy in recent years, enough to rank North Carolina fourth in the nation in installed solar capacity, second in the country in capacity installed during 2014. The panels at work in North Carolina generate enough power for 116,000 homes, according to the national Solar Energy Industries Association—but not nearly enough to prevent a highly misleading piece of clickable content from circling the globe.