Opinion: Thoughts on That Stella Artois Mural in NoDa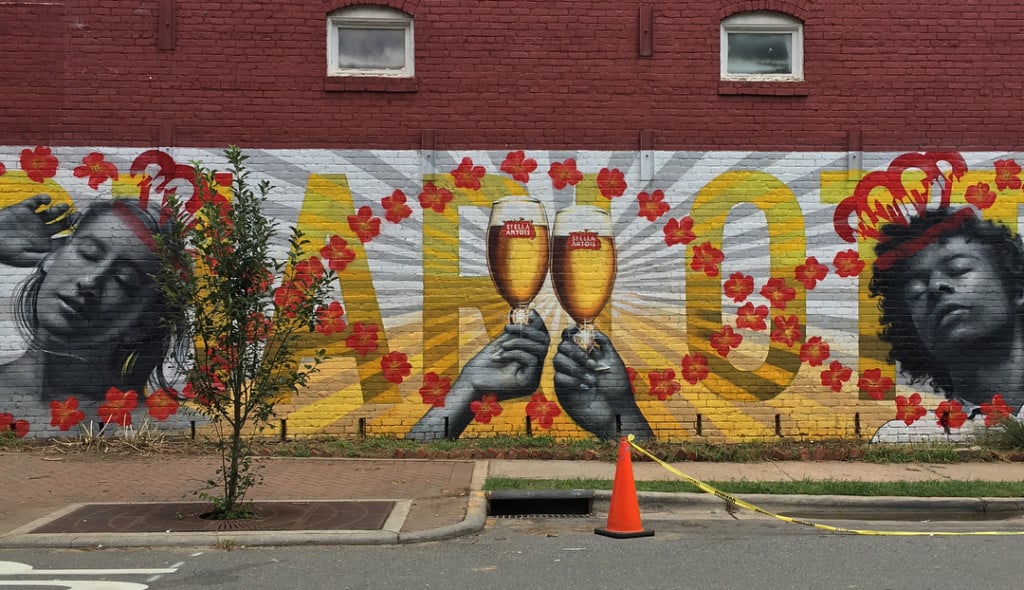 PASSERS-BY WATCHED IN DELIGHT as a mysterious new mural was crafted on a wall at 35th and Davidson streets in NoDa. Upon the finishing touches, it was revealed to locals that the effort was really both a mural and an advertisement for a national campaign from Stella Artois titled "The Art of the Chalice." Local artists Osiris Rain and Nick Napoletano were commissioned by the beer brand to make the work. This has caused a stir on social media, with local beer advocates, NoDa residents, and artists involved. And I've been asked by a handful of people about my own thoughts. So here are a few.
It should be first reiterated that this is a national campaign. Local artists in cities like Phoenix, Cincinnati, St. Louis, and Santa Fe have had similar commissions, followed by events to celebrate both Stella and the local culture. In Phoenix, someone took it upon themselves to spraypaint "this is not art" and "this is an ad" onto a mural, so they had to move it. So Charlotte isn't the only town to have a conversation around it. (And let's hope our own graffiti-slingin' copyeditors don't get involved here.)
It's always strange when a debate begins with the fact that someone paid artists to do something. As parasitic as the corporate world can be with the cultural community, this at first felt like a win. It seems like a no-brainer that an international company would want to appeal to a community by paying two of its painters for a mural. Take IKEA's now-annual "Art Event," which highlights named artists and creates products based on their designs. However, craft beer advocates would note that the beer brand itself is no friend to local businesses. Stella Artois is owned by Interbrew International B.V., a subsidiary of Anheuser-Busch InBev, the Big Bad Beer Company that folks often cite as directly antagonizing local beer and dumping money into an effort to suffocate these businesses.
And what helps the side of local beer businesses here would be their ongoing relationships to local art here in Charlotte. NoDa Brewing has long partnered with local painters, theatrical performers, and groups of other disciplines for projects. Birdsong regularly does the same, even recently partnering with local rock act Junior Astronomers on a beer. (Though I would argue that breweries hiring so many cover bands instead of people producing originals is troublesome for local music, but that's another piece entirely.)
But other than holding up their end of partnerships with breweries with murals and performances, what responsibility do artists really have in this situation? You have two, working artists who are trying to make a living. And with that, another question: Does local beer have a vetting process to ensure that each of its corporate or noncorporate partners don't take advantage of the local arts community? In the parallel universe where it's JCPenney paying for the mural, I wonder if Davidson Street boutiques are yelling into their own smartphone screens. In the real world, the argument that a local artist should be fight and turn The Man of every industry would likely result in a starved artist. We all make decisions and compromises each day on how we partake in the opportunities we're given.
The building with the mural (located at 35th and Davidson streets) is owned by Paul Sires, a man responsible for giving NoDa the "arts district" moniker. Sires and Ruth Ava Lyons moved into NoDa in the 1980s and ushered in a time when the neighborhood was known for its galleries and music venues. He's signed off on the mural, which has a six-month lifespan—a powerful co-sign for those worried about protecting local integrity. Fun fact: The same wall has carried painted Coca-Cola logos in the past.
The general trend of corporations bolstering artists has seen a resurgence in the past few years. There's much talk about the motivation for companies having on-site artists-in-residence or throwing money at street artists to do something decidedly less "street." The only resolution here is for each artist to to decide whether or not the collaboration is worth it. And considering how each of these Stella murals have varied across the board, it appears that artists have been given enough autonomy so that at least their own vision is intact.
You can make a few convincing cases on why protecting the local craft beer industry is important. Local artists can sure relate to that: They've been have been under attack for centuries longer than craft beer. For me, it comes down to two choices: 1) An artist doesn't paint a mural as to not irk local businesses due to a small portion of the painting that reminds people that a beer they already know about still exists or 2) an artist paints the mural, pays his or her bills, and six months later, paints another for a local business that wishes to wrest control of that wall.