Opinion: Unraveling the Rat's Nest of the 12th District Congressional Race
Alma Adams, Malcolm Graham are favorites in six-way race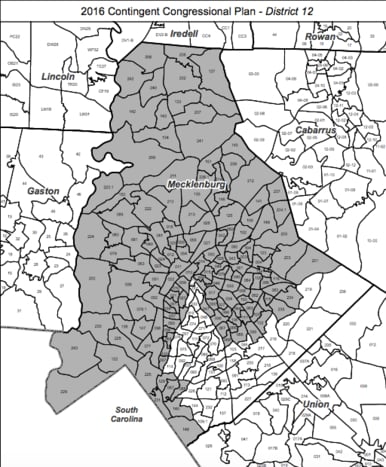 On June 7, there'll be an election in Mecklenburg County, a primary. Democrats will choose one of seven candidates, one of whom has dropped out but remains on the ballot, to represent the newly redrawn 12th Congressional District in the U.S. House of Representatives. Republicans will choose one of three U.S. House candidates. Everyone will choose one of four candidates for the state Supreme Court.
We can say a couple of things with assurance ahead of time.
One, the winner of the House seat will be a Democrat.
Two, precinct judges can pencil in June 7 as a day to catch up on their reading, because roughly five people, give or take, will turn out to vote.
There are reasons for this. The story of how and why Mecklenburg County, and only Mecklenburg County, will be voting for the 12th District Congressional representative in a primary election in June is as long and ludicrous as the old district itself. If you're really interested, I've laid it out at the bottom of this post. If you're not, I do not blame you, and here's what you should know on the off chance you decide to vote.
Here—on the Democratic side, the only one that matters—are the six contestants:
— Alma Adams, a longtime state representative from Greensboro and the Congressional "incumbent," although the 12th District she was elected to represent two years ago bears no resemblance to the one she's running to represent now.
— Malcolm Graham, a former Charlotte City Council member and state senator.
— Tricia Cotham, a state representative from Charlotte and the daughter of Mecklenburg County commissioner Pat Cotham.
— Carla Cunningham, a state representative from Charlotte.
— Rick Miller, an electrical contractor from Guilford County who has no campaign committee, no website, and is not raising money, and whom you can safely ignore.
— Gardenia Henley, a former federal inspector general and current Internet gadfly from Winston-Salem, who also has no real chance of winning.
So that leaves four serious candidates. Although Cotham and Cunningham are able legislators, by far the most recognizable candidates on the ballot are Adams and Graham, who ran for the seat in 2014 and lost. But that was the old 12th District that included Adams' home turf in Greensboro. The new one is entirely on Graham's. Two years ago, even though he lost by a nearly two-to-one margin overall, Graham led the ticket in Mecklenburg County. Adams came in a distant third.
If you're looking for huge differences in their platforms, you won't find many. Both Adams and Graham support reducing the economic mobility gap through a higher minimum wage, for instance. Both support expansion of public transit in Charlotte. Both oppose House Bill 2. Both support robust public schools.
So what are the differences? It comes down to residency and age. Adams turned 70 in May, although she's quick to reject the idea that she's in any way slowing down. Graham is 53. Graham, a Charleston native, has called Charlotte home since 1981, when he enrolled as a freshman at Johnson C. Smith University. Adams moved from Greensboro to Charlotte's Fourth Ward in early April.
That means everything, Graham says: "I think I have the youth, the energy, the background, and the know-how to fairly represent Mecklenburg County in Congress. It's evident that we should have someone from our community to represent our community."
It means little, says Adams. "I've been representing Mecklenburg County since November 2014, and I've been fighting for Mecklenburg … I'm not just talking the talk, I'm walking it."
Adams says, accurately, that she helped secure funding for Charlotte Douglas International Airport and expansion of Charlotte's light rail lines. Graham says, also accurately, that although Adams was in position to take the votes, he and other Charlotte leaders laid the groundwork for the votes to even be possible.
So it's an intriguing choice. If there's a wild card in the deck, it's Graham's eloquent calls for reconciliation and meaningful gun control since his older sister, Cynthia Hurd, was killed in the Charleston massacre nearly a year ago; since he resigned from the state Senate last year, he's run a corporate supplier diversity organization as well. Given his longtime visibility in Charlotte, it's hard to imagine he doesn't have the advantage over Adams. But you never know.
"She didn't support any of those things that made Charlotte great simply because she didn't live here," he says. "We need a representative in Congress from Mecklenburg County who knows Mecklenburg County."
"I'm just as committed to Charlotte today as when I filed to run the first time," Adams says, "when the district was this serpentine kind of thing."
So let's bring you up to speed on why the 12th District has been such a mess, geographically and politically. Follow the ricocheting ball.
1. In 1992, Mel Watt of Charlotte was elected to the 12th District seat. The district lines were redrawn after the 2000 and 2010 Censuses, the last by a Republican-majority legislature.
2. By 2013, the district resembled what most observers compared to a snake. It actually resembled nothing natural on this planet, at least on land. It stretched some 80 miles from Charlotte to just north of Winston-Salem—complete with bulges, oxbow lakes, mutant spurs, contractions the width of a roadway, and parts of six counties with some 737,000 people, a plurality of them black, which was the point.
3. The 12th Congressional earned the richly deserved title of America's most gerrymandered Congressional district. That is, its Republican drafters attempted to cram as many likely Democratic voters as possible into one district to ensure their majority statuses in Congress and the General Assembly. (It worked, too. Current North Carolina breakdown in the U.S. House: 10 Republicans and three Democrats, in a state where registered Democrats outnumber Republicans.)
4. In May 2013, President Obama nominated Watt as the next head of the Federal Housing Finance Agency. The Senate confirmed Watt in December, and he resigned his Congressional seat in January 2014.
5. It was up to Governor Pat McCrory to schedule a special election to fill the unexpired term. McCrory decided to hold the special election concurrent with the general election in November, citing cost, efficiency, and a desire to minimize voter confusion. It also meant that 12th District voters went without representation in Congress for nearly a year.
6. Adams filed to run for both the balance of Watt's unexpired term—about eight weeks—and a new term to begin in January 2015. She won both. (This somehow failed to minimize voter confusion.)
7. Skip ahead to this February, when a panel of federal judges ruled that two Congressional districts, the First and 12th, were racially gerrymandered and needed to be withdrawn, throwing the planned March primaries into question. The legislature duly redrew the entire map—turning the 12th District from one that traversed six counties to the only district contained entirely within one county—and rescheduled all the Congressional primaries for June 7.
All I'm suggesting is that everyone who bothers to cast a ballot June 7 be awarded two "I Voted" stickers and a lollipop. There must be room in the budget.