Opinion: Was It Something Nikki Haley Said?
The crazed reaction to Haley's unobjectionable speech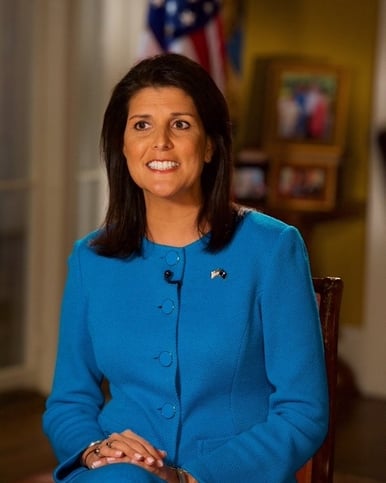 In a saner political climate, South Carolina Governor Nikki Haley's response to President Obama's final State of the Union address last night would have been taken for what it was: a reasonable, mercifully brief address that wisely gestured toward cool heads and the country's growing immigrant population and indicated an evolving, welcoming national Republican Party.
I know. Dream on. Haley's speech did earn bouquets of praise from Republicans and Democrats alike. And then the great snarling right-wing commentariat burst into the house to vomit bile all over the flowers. I'm not going to link to any of the nastier tweets by the likes of Michelle Malkin, Laura Ingraham, and Breitbart's John Nolte, a Watauga County resident (you can click here or here if you're that interested). The representative opinion came, as usual, from Ann Coulter: "Trump should deport Nikki Haley."
You can understand their vitriol, given such provocative Haley rhetoric as, "No one who is willing to work hard, abide by our laws, and love our traditions should ever feel unwelcome in this country." But another response received far less attention: A Republican State of the Union response in Spanish from Mario Diaz-Balart, a Cuban-American congressman from Miami whose language on immigration was even gentler than Haley's, as reported by the Miami Herald.
Haley, in English:
We must fix our broken immigration system. That means stopping illegal immigration. And it means welcoming properly vetted legal immigrants, regardless of their race or religion. Just like we have for centuries.
I have no doubt that if we act with proper focus, we can protect our borders, our sovereignty and our citizens, all while remaining true to America's noblest legacies.
Diaz-Balart, en Español:
At the same time, it's obvious that our immigration system needs to be reformed. The current system puts our national security at risk and is an obstacle for our economy.
It's essential that we find a legislative solution to protect our nation, defend our borders, offer a permanent and human solution to those who live in the shadows, respect the rule of law, modernize the visa system and push the economy forward.
I have no doubt that if we work together, we can achieve this and continue to be faithful to the noblest legacies of the United States.
You might perceive hypocrisy, incoherence, or a fractured party. I do, too, along with something else: niche marketing. Of course the GOP wants to reach out to Spanish-speaking and other minorities, who mostly vote Democratic and whose percentage of the population is growing. Party leaders have talked about it for years. But given the crazed reaction to Haley's speech, based in part on her perceived Otherness, why would any minority reach back?