Opinion: Welcome to the Cauldron, Marcus Jones
No Charlotte city manager has ever started under these circumstances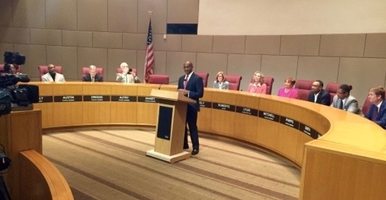 If anyone was wondering whether Marcus Jones would allude to the Keith Scott shooting and its violent aftermath in his introduction to Charlotte on Wednesday, the new city manager put the suspense to bed quickly. "I know the last few weeks have been incredibly difficult," he told the mayor, City Council, and assembled reporters and citizens at the Government Center within a minute or so of the council's unanimous vote to hire him. "We're going to listen, and we're going to perform."
Jones and his staff will have to, of course. No city manager has ever taken the reins of Charlotte's government under circumstances quite like these, not even a month after a police shooting and riots in the city center at a time of near-runaway growth, plus lost business from House Bill 2-related boycotts and a hostile state government. Jones, Charlotte's first black city manager, said the right things Wednesday, to the public during the council meeting and during a news conference afterwards. "We should never minimize the art of embracing people who may have differences," he said, and, in a line that could have been lifted from Charlotte-Mecklenburg Police Chief Kerr Putney's public statements before and after Keith Scott, asserted that police should be "a part of the community, not just patrolling the community." First test aced. There'll be more.
Jones has already taken plenty in his current home city of Norfolk, Virginia, where he's been the city manager since 2011. Norfolk has racial, economic, and social issues that in some ways surpass Charlotte's, including high levels of poverty and violent crime. Just in the first half of this year, the city's police department shot six people, five of them fatally, the latest in a string of 13 police killings in Norfolk since 2010—twice as many as any other law enforcement agency in Virginia. Ten of the 13 were black, and all were armed, according to Norfolk's daily newspaper, The Virginian-Pilot.
Some eerie parallels exist between the Keith Scott shooting in Charlotte and the Norfolk police shooting of a 43-year-old black man named Willie D. James on June 2. As with Scott, the victim was mentally impaired. As with Scott, police insisted James had a weapon, in this case a knife, when he was shot and killed in the stairwell of his childhood home; James' family insisted he didn't. As with Scott, police withheld the department's video footage of the incident; Norfolk police initially didn't even identify the officers. They still haven't released video to the public, although they allowed reporters to see it in late August, nearly three months after the shooting.
The biggest difference between the Scott and James cases is that Norfolk police allowed the local NAACP president and two others to view the video a day after James' death, and the NAACP told the public about the knife. Otherwise, or if the Norfolk video was as inconclusive as the Keith Scott video released so far, the Virginia city might have had its own episode of protests and riots. We'll never know.
It's unclear exactly what Jones' role was in all of this. The Virginian-Pilot articles about the case say Jones didn't return calls for comment. But it's apparent that Jones and the Norfolk police chief have taken steps to train officers in de-escalation and other tactics, the paper has reported:
When [Norfolk Police Chief Michael] Goldsmith became an officer in 1989, he got 12 weeks of school training and 12 weeks of field training. Now new officers get about 28 weeks of school and another 12 of field training.
"A significant amount of that time is devoted to defensive tactics," Goldsmith said. "We train for situations in order to protect ourselves and protect the public."
Vice Mayor Angelia Williams Graves said she and other council members have supported funding for more training.
"I don't want our officers to lose their lives doing their jobs, but I don't want them to go overboard and shoot first and ask questions later," Graves said. "I do believe the chief has made a good, solid effort at addressing police shootings."
Norfolk started providing crisis intervention training shortly after the fatal shootings in 2014 of Latham and Lawrence Faine, both mentally ill men armed with knives.
The program has been recognized as the best in the state, said City Manager Marcus Jones, who added he and Goldsmith share a simple philosophy: "If there's an issue, address it."
Again, good to hear, and the philosophy is in line with what Putney, who will technically serve under Jones, has tried to instill in CMPD officers. But all it takes is one incident like the Keith Scott shooting to undo the benefits of any systematic change; the ultimate goal is to make cops better at their jobs so the public trusts them more, and public trust in CMPD is at a low point after the last four weeks.
Charlotte, thank goodness, didn't have to endure five fatal police shootings in the first six months of 2016. Heaven knows what the city might look like now if that had happened. But Charlotte's a larger and more dynamic city than Norfolk, and the eyes of the nation are on it after the Scott shooting.
A reporter asked Jones on Wednesday if Scott's death and the civic unrest that followed made him think twice about taking the Charlotte job. "Absolutely, positively not," Jones replied. Whether that's the confidence of a man who knows what he's getting into or the wishful thinking of someone who doesn't, Jones will have to manage a city transformed by a stunning episode of violence—and the expectations of a nervous populace that needs proof of a competent, responsive city government. It's good that Jones is prepared to listen. Starting December 1, his first day, his new city will have plenty to tell him.