Opinion: Yes, McCrory & Co. Really Think You're That Stupid
And they may be right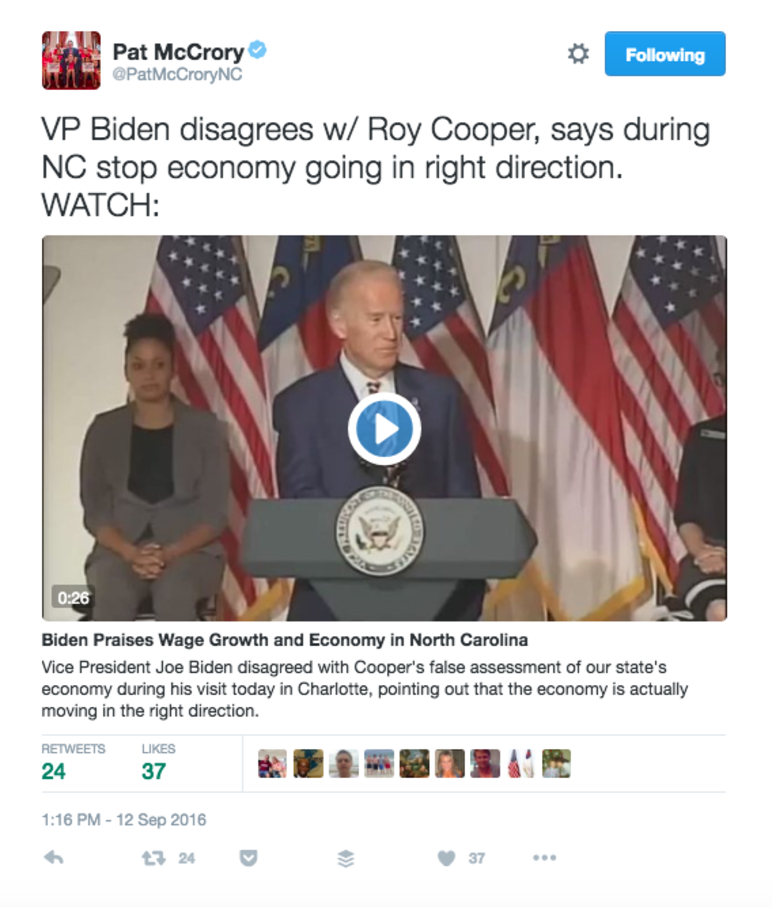 Vice President Joe Biden took the stage at Central Piedmont Community College this morning to talk about education, specifically how strong community colleges offer job skills that can build a healthy middle class. The social media wunderkinder running Pat McCrory's Twitter account drew the conclusion shown above.
Do this for me, and for your state. It'll take 30 seconds. Go to the tweet. Watch the video. Absorb what the vice president of the United States is saying. Then ask yourself if Mr. Biden is referring to North Carolina when he says real wages are on the rise and that a recent poll shows that 53 percent "of the American public," Biden's words, believes the economy is on the right track.
It's a tweet, in other words, designed to induce its target audience to mindlessly like and retweet a piece of content without viewing the content or caring that its message bears no resemblance to the message the tweeter says it does. As of this writing, it has 39 likes, 24 retweets. Yes, McCrory & Co. really do think you're that stupid, and in too many cases, they're right.