Other Voices: The Lives of Charlotte Muslims
Audio diaries from people we rarely hear: Charlotte's Muslim women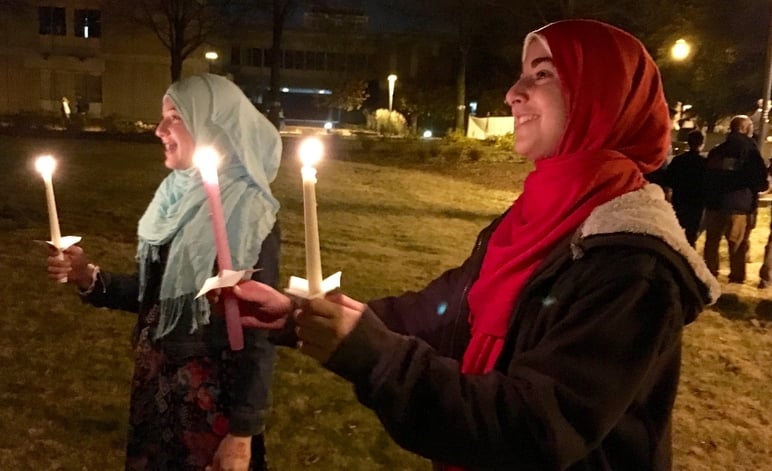 A mother and daughter are talking. The mother, Deborah Aintrazi, is worried about the daughter, for more than the usual reasons mothers worry about daughters. Deborah raised her daughter, Jamela, as a Catholic. But Jamela spent some of her school years in her father's native Lebanon, and she came back to Charlotte drawn to Islam. She eventually converted.
That was uneasy enough for her Catholic mother.
"Then she started wearing the hijab," Deborah says, referring to the traditional headscarf Muslim women wear. "We started feeling more and more uncomfortable … you know, with ISIS overseas, the problems with the terrorists and everything. We really felt unsafe for our daughter. Let's face it. I mean, we're still feeling unsafe."
Jamela attended the UNC Charlotte interfaith vigil for victims of the San Bernardino massacre on Friday. But instead of merely covering the vigil, WFAE's Tom Bullock instead asked her and some others to contribute audio diaries of their recent experiences as Muslims in the United States—as citizens for whom the hijab has turned into a cultural identifier with a decided double edge.
The Census, unfortunately, doesn't collect data on religious affiliation. What data we have indicates that North Carolina's and Charlotte's Muslim populations are minimal, minorities in every sense of the word. We hear about the vocal activists because they're vocal and active; we hear from imams because they're imams.
We don't hear often from ordinary Muslims trying to live among us in extraordinary times, and rarely from Muslim women; we hear from four others in Bullock's story. It's also the kind of approach that works for radio in a way it wouldn't for another medium. Give it a listen.