Our Roads, Our Story: Independence Boulevard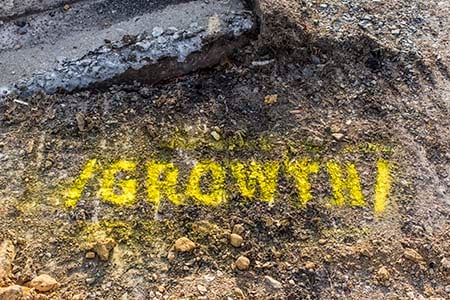 At 6:30 p.m., in downtown Monroe, the street lamps give the town a yellow tint. Yours is the only car at the intersection of North Hayne Street and West Franklin Street. It's cold, so there's not even any foot traffic. You're alone.
Not like back there, when you gripped the steering wheel and veered off U.S. Highway 74, 22.5 miles ago where the drive started, at 5:30 p.m. on a weeknight, merging onto Independence Boulevard in rush hour, trying to get here—just to say you made it.
People like the idea of making it. They set goals in the distance, and they believe when they reach them, a magical land of satisfaction awaits. Almost always, though, what they find is that after making it, there's always something else to make.
Take this road.
Near uptown Charlotte, there was once a beautiful rose garden, built in 1931. And there was a pasture at an orphanage. Two different places, where people had two different ideas of making it, yet two places that met the same fate: asphalt running across them in the name of a new goal, Independence Boulevard.
The orphanage pasture was located at about the spot where you start the evening commute, veering off 277 on exit 2B, immediately slamming into the red sea of doom.
Perhaps no other road in Charlotte better attests to the city's growth and change than Independence.
Progress has many meanings. Here, on a road that now carries about 86,000 cars a day, progress is slow. You have time to notice how much the world talks to you. A traffic watchdog sits on the shoulder, and it says you should call 704-52-ROADS. A sign says the speed limit is 50. Your speedometer says 10. A Chevrolet Tahoe says, "Life Without Jesus is a Dead End." A Nissan Altima says, "Make Some Noise."
In September of 1946, people tried that. It didn't work. Just four months after city planners made first mention of "Independence Boulevard" in the May 7, 1946 edition of The Charlotte Observer, hundreds of angry citizens gathered at Midwood School to protest. It didn't matter. The state's highway department determined that Charlotte needed "crosstown boulevards," and enlisted the help of James B. Marshall, a prominent planner, to draw up a master plan for Charlotte's roads. In 1949, Independence was born, a road unloved.
Growth is a hard thing to love. After Eastway, near exit 245B, cars in four lanes are standing still. Coliseum Center stretches for hundreds of yards on the right. No businesses. Except for Earth Angel, which has a sign out on the road: "Still Open." A woman on the radio tells you, "Careful on East Independence. A car fire is being reported near Briar Creek." You look in your rearview mirror. You see no smoke. It's 5:40 p.m. If you'd have left 10 minutes later, you might have. On the left side of the road, a sign on a business center says, "Your Name Here. Available." At 5:46, near Idlewild, car dealerships are on either side of the road, which is packed with cars.
Just 12 years after Independence opened, 25,000 vehicles were using it every day. In the 1970s, talks started about widening Independence in the sections closer to town. Residents of the east side again started showing up at public meetings. They fought. But by the mid-1980s, daily traffic was up to 69,000 cars a day. County commissioners approved a policy to make the road a limited-access expressway.
At 5:51, you're 6.5 miles in, sitting at the stoplight at Village Lake Drive. A public bus behind you has a sign atop the windshield—"Bus 74X Express to Union County," it flashes as you both sit still. You're first in line at the light this time. So when it turns green, you race a GMC Sierra, just for kicks. You are the pacesetters as you go up a hill and through a stretch of Chinese and Korean food places. The road is as dangerous as ever here, because you're now approaching 45 miles per hour, and you're still playing the game, racing with the truck, when STOP.
It took almost two decades before people saw what limited-access expressway really meant. In the 1990s, Morningside Drive, St. Julien, Westover, Bascom, Hanover, Lorna, and Wasena lost intersections with Independence as part of construction to build the Briar Creek Interchange. In May 1995, Independence was lifted onto a man-made hill that went across Pecan Avenue. Farther out, Interstate 485 was being built around the city.
At 6:01 p.m., you cross over 485, going 57 in a 55. Bring on the ticket! A sign says, "Wilmington 184." Bring on the beach! At 6:02, you stop again, in a long line in Stallings. By 6:08, you're in Indian Trail. At 6:14, you cross into the Monroe city limits. A Nissan Frontier speeds up behind you, nearly to your bumper, then whips around. The driver scowls, and as she drives away, you catch a sticker in the back window that says, "I love my beagle."
And just then, about 18 miles away from Charlotte, about 45 minutes into the drive, just a few miles short of your quiet destination, something catches your eye on the left. At Hendrick Chevrolet Cadillac, towering over a lot with hundreds of new cars ready to be released into the grips of Independence, is an enormous American flag.