Our Roads, Our Story: Randolph Road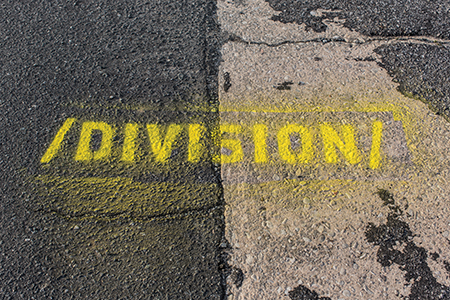 On a Thursday night in Grier Heights, the 232 bus lets passengers off onto Orange Street. It's Christmastime, so white lights hug the handrail of a small, brick home with a red bow on the front door. On the porch, people are gathered close together, smoking cigarettes in the cold.
That's not the scene across Randolph Road. In Eastover, there are no buses because there are no bus stops. People park Range Rovers and Audis, and sometimes both, in long, arched driveways. And every house has an impressive entrance, decorated with columns or gas-burning lanterns authentic only to medieval castles. The lots here are enormous and distance people from their neighbors.
You can't see any of this driving along Randolph. It's not a particularly interesting artery. It's a long, southeast stretch—usually congested—lined with repeating blocks of doctors' offices and realty firms. It gets us to work. It takes us home. But near the Mint Museum, at the intersection of Drenan Street, Randolph Road tells a story of class and elegance, of pride and heritage, and of a city divided.
Kids shoot hoops outside Billingsville Elementary in Grier Heights, a pocket of Charlotte still facing extreme division from its Eastover neighbor.
Both Grier Heights and Eastover have the same population, give or take a couple hundred people. Charlotteans in both areas live within a half-mile of a park, based on the city's Quality of Life Dashboard, a study that examines how our neighborhoods measure up with each other. Tree coverage in each is about 55 percent. That's where the similarities stop.
In Eastover, a typical family earns nearly $225,000 a year, four times the county average, while in Grier Heights, families bring home about $18,000. That's more than three times lower than the average family in the county. This type of extreme financial hardship often leads to extremes in reported crimes. Charlotteans living on Orange Street or Skyland Avenue are 45 times more likely to be raped, killed, or assaulted than their neighbors on Hempstead Place, less than a mile away. This is based on police reports from 2011, when the annual number of violent crimes in Grier Heights was 1,885. In Eastover, that number was 41.
Billingsville Elementary has a long history of serving the children of Grier Heights and the surrounding community, according to the Charlotte-Mecklenburg Schools Web site. Across Randolph from Billingsville in Eastover, though, more than 70 percent of children attend private schools. In Grier Heights: less than 2 percent.
Investigating the history of a place can help us understand why it becomes what it is. "Randolph Road is a relic of how Southern cities were settled and developed," says Owen Furuseth, associate provost for metropolitan studies and extended academic programs at UNC Charlotte. Grier Heights dates back to the late 19th century, when former slaves established it as a farm community. Grier Town, as it was called, was a low-income pocket on the edge of some of the city's wealthiest neighborhoods, where many African Americans worked as hired help in the neighboring homes of Eastover and Myers Park. "Randolph is not an imposing barrier," Furuseth says. "It's not the Berlin Wall or a river. It looks like any other road in Charlotte, but it's more of a marker—a psychological barrier—left from the rules of development."
Geographical barriers also come into play. The two areas are separated by Briar Creek and Eastover Park, and as a result, no streets connect the two neighborhoods, says Laura Simmons, a social researcher with the UNC Charlotte Urban Institute. "I expect these physical barriers and lack of connection have probably contributed to the diverging fortunes of these two neighborhoods," she says.
Few straddle the line like Rubie Britt-Height. As the director of community relations for the Mint Museum, she crosses Randolph to work with children in Grier Heights every week. For a decade, the museum, which neighbors some of the largest, most extravagant homes in Charlotte, has worked to build a cultural bridge through its Grier Heights Community Arts Program. The goal of the program is to give children from the surrounding community a safe place to learn life lessons through art. African masks, Britt-Height says, illustrate the lesson of the dangers in masking one's true self, of being ashamed.
Bre'Anna Washington, 18, grew up attending the program. When she and her mom moved to Charlotte from Chicago when she was three, they moved into the Grier Heights area. "I was raised in that program," she says. "That's like my family. We learned self-respect. And we learned that the foundation of a house is love." Growing up around Grier Heights, Washington says she never thought much about the other side of Randolph. "In a smaller community where people aren't as … financially blessed, we kept close and helped each other out. If someone didn't have groceries for a week, you all just helped them out." She says she never envied her neighbors for what they had or how they lived. "I didn't start to notice that there were differences until I went to Myers Park [High School]. It's diverse, but we students segregated ourselves. People who live in the same neighborhoods tend to stick together. It was our way of surviving."
On Wednesday nights at Grier Heights Presbyterian Church or one of the Mint locations, visitors who range from Charlotte-Mecklenburg Police Department Chief Rodney Monroe to pediatric dentists, to experts in fashion or the performing or visual arts, share their experiences. They talk about hard times, and how they endured them. And they talk about the good times, and how they remained focused and positive. "We teach them about where they come from, about Africa to America history, about Grier Heights' history, the history of Charlotte, of Queen Charlotte," Britt-Height says. "We help teach them about resilient people right here who have overcome great adversities, and how they can do they same."
Sometimes, overcoming adversity starts with finding the courage to cross the street.