Our Roads, Our Story: Wilkinson Boulevard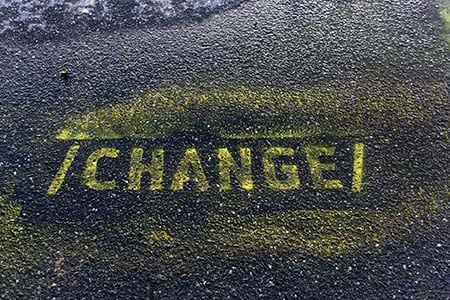 Drive west on Wilkinson Boulevard, beyond uptown's gleaming glass towers, and the past surrounds you. Amid the industrial warehouses and barbed-wire fence lots filled with tractor-trailers, faded neon glows on the rusted signs of converted service stations, roadside motels, and drive-in restaurants. In other parts of town, developers would have long since bulldozed these buildings for a condo project or a Harris Teeter parking lot. But on Wilkinson Boulevard, they are a source of pride.
Few places are more familiar on Wilkinson than Bar-B-Q King. Follow the curved arrow of its sign, and most days you'll see a lot full of cars. Behind the counter, a static buzz fills the room as co-owner Gus Karapanos flips on the speaker system.
"Same one we've had for 40 years," he says. "People love to hear it." The sign, too, has been the same since Karapanos's uncles opened the place back in 1959. Except for a few days after Hurricane Hugo knocked it down in 1989, that sign and the billboard–sized, ice-cream-eating Inuit at Dairy Queen next door have remained constants in a changing neighborhood.
Bar-B-Q King gained national attention after Guy Fieri featured the restaurant on his "Diners, Drive-Ins and Dives" in 2007. But longtime regulars still make up the bulk of business here, Karapanos says. Two things set the drive-in restaurant apart from many restaurants—consistency and a willingness to work hard.
In this buttoned-down town, we tend to think of work as something you do in an air-conditioned cubicle. A trip down Wilkinson Boulevard shows that many Charlotteans still know how to roll up their sleeves and work with their hands.
***
Like most other things in Charlotte, Wilkinson Boulevard has its roots in banking and mills. William Cook Wilkinson, president of Merchants and Farmers Bank uptown in the 1920s, landed a spot on the state's new highway commission during the first construction boom that transformed many old wagon paths into paved highways. He pushed for an east-west route that would pass through Mecklenburg and Gaston counties and connect two mills he owned. When Wilkinson Boulevard opened in 1926 as a section of U.S. Highway 74, the first paved, four-lane highway in the South, The Charlotte Observer touted it as "a showplace of the South." From the beginning, though, this was no bankers' boulevard. In the 1920s, Charlotte nearly doubled its population, from 46,000 to 82,000, and began expanding outward. Wealthier residents clustered in the southern and eastern sides of town, leaving the less affluent to the north and west sides. By the 1930s, the neighborhoods along Wilkinson became havens for truck drivers and mill workers, plumbers and pavers.
West side people made things—clothes and houses and tons of steel. In its nine decades on Wilkinson, the Southern Engineering Co. produced arches for the Wells Fargo skyscraper uptown and support beams for the I-77/I-85 interchange. The sprawling plant, which sat across the street from Bar-B-Q King, was dubbed "Little Pittsburgh." Its owners wore the nickname with pride, painting it in large letters on the roof so plane passengers landing at the nearby airport would see.
West side people fixed things, such as the countless cars that passed through each day. U.S. Highway 74 stretches west to Asheville and east, where it becomes Independence Boulevard before heading on to Wilmington on the coast. Before I-85 opened in the 1960s, U.S. 74 was the main highway route to all points west. Wilkinson carried vacationers to unspoiled mountains, Gaston County mill owners to their money in uptown banks, and mill workers to the shops and movie theaters in Charlotte. Service stations and roadside motels sprang up, especially as Americans' prosperity and love of cars blossomed in the 1950s. New restaurants, such as Ranch House and Copal Grill, many built by newly arrived Greek immigrants, also provided entertainment.
But not everything was vintage Americana. As early as the 1930s, the rural stretch of Wilkinson near the Gaston County line was home to several taverns that sold illegal liquor to farmers and mill workers. Closer in, motels such as Greenwich Village Road House drew complaints of loud and drunken parties and hourly room rentals. Neighbors succeeded in shutting the place down in 1937, but the experience foreshadowed worse problems to come.
When I-85 opened in 1965, the slowdown in traffic hurt many of the businesses on Wilkinson. During the next decades, the Gaston County cotton mills and many other manufacturers in the area fell on hard times. By the 1980s, Wilkinson Boulevard became better-known for its dangerous nightlife than for the hardworking people who still lived there. Farther out toward the county line, some roadside saloons came under biker gang control.
After years of neglect, businesses have begun to rediscover the area. A Wal-Mart opened in 2006, bringing a much-needed grocery store and spurring smaller retail shops to open nearby. A few miles to the west, just across the street from the faded sign on the shuttered Ranch House restaurant, a futuristic airport parking deck glitters in the sun.
***
Back at Bar-B-Q King, the early dinner crowd starts to trickle in around 4 p.m.
"I'm 58 and I've been coming here for 50 years," a man in a postal uniform says, slapping Karapanos on the shoulder.
Can he stick around to talk some more?
"Can't," he says, opening the door. "Have to get back to work."