Our Sanctuary, Ravaged: Orlando Shootings Hit Close to Home for Charlotte LGBT Community
A gay writer who grew up in Florida wonders if there are any safe places left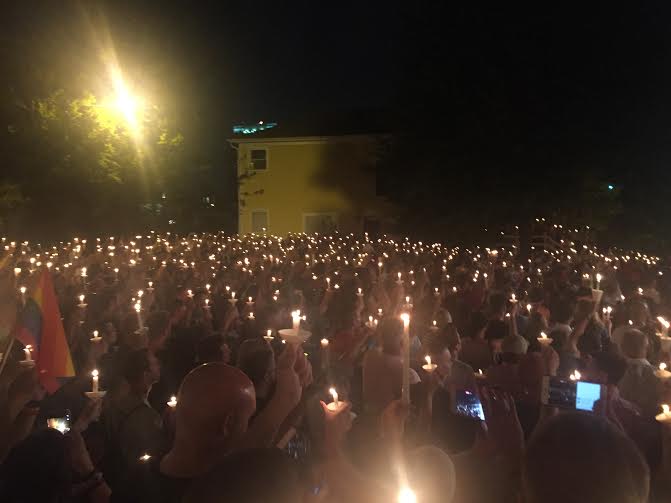 STRUGGLING FOR WORDS, Jason Boone opened Facebook Sunday morning and wrote a short message to the 585 members of the Charlotte Stonewall Sports players group.
"Give your teammates an extra hug," the founder of the Charlotte chapter of the lesbian, gay, bisexual, and transgender sports league wrote at 9:30 a.m., several hours before a full slate of Sunday afternoon volleyball games at Renaissance Park. "Let's remember how lucky we are to have each other while we keep our brothers and sisters in Orlando in our thoughts."
Six hours later, after Sunday's volleyball games ended, after dozens of tank top-clad men and women headed to The Bar at 316 for Stonewall Sports' weekly after-party and cookout, Boone posted online again. This time, he passed along a link to a GoFundMe.com page supporting the cause of a former Philadelphia Stonewall Sports kickball player, Angel Santiago, who was wounded in the chaos and gunfire of the Orlando nightclub massacre that left at least 49 dead and 53 wounded.
Later Sunday evening at Cathode Azure nightclub, another of Charlotte's popular gay bars, the weekly Sunday Funday went on as planned. As it does every week, the bar provided free pizza from Fuel, poured potent-as-always $4 Long Island iced teas, and welcomed drag queens Angela Lopez, Rylee Hunty, and Mocha to the dance floor.
The show, after all, must go on.
But the horror of the day, after 29-year-old Omar Seddique Mateen unloaded hell and hatred early Sunday morning inside the central Florida gay bar Pulse, hung over everything. As several men chatted on the white leather couches on Cathode Azure's patio, two police officers arrived. The men wondered what the police were doing there. Were they there to protect them? Were they looking for suspicious people? Were they safe here in Charlotte at a gay bar?
While the nation celebrates Pride Month, the questions seemed out of place, wrong. Charlotte's gay bars tried to maintain a sense of normalcy, and they tried to provide a haven for their community, but too much had happened to turn away. A sanctuary had been ravaged, and a congregation wondered where it could gather.
Cathode Azure's bartender Sunday evening slung mimosas and Long Islands for his customers while wearing only a pair of skimpy briefs and an electrifying smile. That much seemed to follow the Sunday routine. But on the bar's countertop, he printed a plea, a prayer to the community: All tips he earned Sunday evening would go to help the victims of the mass shooting. Give generously, he pleaded. The flock needed tending. This was his attempt at trying to sew a community back together.
Nearly two weeks to the day of the 47th anniversary of the Stonewall Riots, when New York City police officers stormed the Stonewall Inn to arrest the bar's LGBT customers, people at Cathode Azure weren't wondering if the men in uniform were here to raid the gay bar and arrest its drag queens and customers. Instead, we were left to wonder if the police had come here to arrest someone who wanted to kill us.
***
I WOKE UP SUNDAY MORNING to several text messages from my mother asking if I had heard the news about the mass shooting. I told her I hadn't, and I went about making coffee and fetching the newspaper from my front yard.
"Shooting" is losing its edge, its fury, its sinister connotation. Monotony unleashes apathy instead of action.
When I went online a little while later, though, I knew this was different. My social media feeds were a scene of chaos, a deluge of friends marking themselves as "safe" to let others know they were some of the lucky ones.
While the Orlando massacre undoubtedly shook all of us, it was deeply personal to me.
I am a gay man who grew up in Clearwater, Florida, and attended college at the University of Florida in Gainesville, both only an hour and a half away from Pulse. The massacre in Orlando struck me in a deeply familiar spot.
Pulse was the bar friends would drive to for an escape from the mundane of Gainesville's lone gay bar. It was a legend, an oasis in the swamps of central Florida.
It was, indeed, a sanctuary.
Pulse was where my best gay friend in college, Mick, met his then-boyfriend Jasson on the patio after a Robyn concert in November 2010. "It was special," Mick told me on the phone Monday afternoon.
Pulse was where my then-18-year-old friend Misha would have his also-underage friend John score him drinks before he hid in the bathroom and drank them. Pulse, not surprisingly, was also the place where Misha drank too much before vomiting at the Dunkin Donuts across the street.
Images of that same Dunkin Donuts are all splashed across the news this week, clouded by red and blue police lights and bystanders carrying bloodied bodies down the sidewalk.
A gay bar is a place of salvation, of safety, of refuge in a world that so often demonizes us in our bathrooms, in our families, in our school yards.
It's easy for those on the outside of the LGBT acronym to scoff at the comparison of a gay bar to a place of refuge, to compare a bar to a place of worship. But a sanctuary is defined as a place of safety. Is this not what a gay bar is—a place of safety for those persecuted on the outside?
A gay bar is not simply a glittery place where bartenders wear briefs to serve drinks. It is a place of salvation, of safety, of refuge in a world that so often demonizes us in our bathrooms, in our families, in our school yards. Here is where we go to escape the sideways glances we get elsewhere. Here is where we go to shield ourselves from things like HB2, the controversial new North Carolina law that makes it legal to discriminate against people like us. Here is where we go instead of churches that don't want us in their pews. Here is where we go to hold a boyfriend's hand without worry, to dance, to kiss the person we love. The outside world becomes a faraway place, forgotten, even if just for a while.
Inside a gay bar, I don't think about the time in elementary school when, completely unprovoked, a girl spit in my face and yelled "Faggot." I don't think about the time, this past April, when in Asheville for a friend's wedding, a man taunted my boyfriend Nate and me, praising the benefits of HB2. I leave behind worries of what hosts, servers, or other diners might think when Nate and I sit down to eat at some of our favorite restaurants.
Instead, I celebrate the haven, the sanctuary that lies within the walls of a gay bar. Here, we're all safe.
Or at least we thought.
To attack a gay bar—no, to annihilate our brothers and sisters inside a gay bar—leaves us then not only with nowhere to dance, nowhere to meet. It leaves us nowhere to feel safe.
It leaves us nowhere to simply be.
As the nightlife writer for this magazine who has the privilege of spending much of his time in Charlotte's bars and nightclubs, I'm shaken by the fact that a bar finds it necessary to stage a candlelight vigil—as The Bar at 316 did Monday night. A bar is not the place for a vigil. A bar is not the place for remembrance, for somberness, for weeping and knowing it could have been me, knowing it still very well could be.
***
AT ABOUT 10:30 MONDAY NIGHT, two hours after The Bar at 316's candlelight vigil began, where hundreds—perhaps a thousand, according to some estimates—of Charlotteans came to remember their fallen brothers and sisters, Dillon Baio stood outside with three friends.
They, like Boone, are members of Charlotte's Stonewall sports league, and several of them wore their bright blue tank tops in solidarity.
After the candles had been put out for the evening, after the news crews had left, after all but three of the crowd-controlling police cars had left, Baio stood with his friends and looked on at the flowers and candles snaking The Bar at 316's stairs in a makeshift memorial for the dead.
"I've made so many more friends in the community since I joined Stonewall. I can come out any night of the week basically and see 10,15, 20 people that I know and I feel like they're all part of my community family now," Baio said. "Fifty people died in Orlando and that could be any one of the 50 new friends I've made. That could have happened here. That could have been all of us."
Jared Misner is a frequent contributor to this magazine. Contact him at jaredsmisner@gmail.com or send him a Tweet @Jared_misner.