Our Staff's March Madness Picks
Will the Tar Heels win another national title?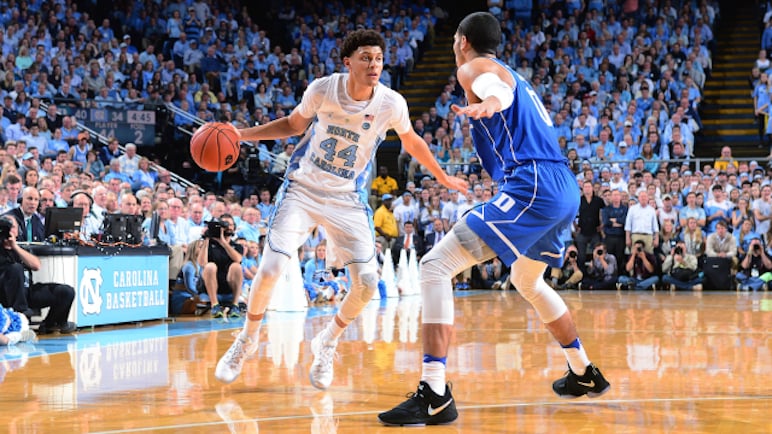 Michael Graff, editor
Final Four: Maryland vs. Duke, UNC vs. Louisville
National Championship: Maryland vs. Louisville
Winner: Maryland
Every year I pick Maryland to win it all, and every year people think I'm totally crazy. Not this year, though. No, in 2017, I'm confident that with a little luck and a few breaks here and there, it'll be like the 75th most crazy thing you'll read today.
---
Kristen Wile, senior editor
My final four is usually all teams with animal mascots, but preferably not birds. No one has invited me to be part of their bracket this year, though. Sad trombone. Maybe that's why?
---
Adam Rhew, associate editor
Final Four: Kansas, Carolina, Arizona, Duke
National Championship: Carolina vs. Duke
Winner: Carolina
I went to Carolina and there's no way I live through this game. (The ceiling is the roof or … something.)
---
Katie Gates, associate art director
Final Four: Baylor, Louisville, Gonzaga, and UNC
National Championship: Louisville vs. UNC
Winner: UNC
These are completely uneducated guesses. Until the Hawkeyes can start winning and get to the tournament, I'll cheer for Carolina.
---
Greg Lacour, contributing editor
Final Four: Villanova over Notre Dame in an all-Catholic semifinal. Louisville over UCLA in the other semi.
Winner: 'Nova beats the 'ville in the championship game on another three at the buzzer because why not.
A caveat: I paid virtually no attention to college basketball this year. I used to love it, but the one-and-dones and straight-to-the-NBAs, plus the ridiculously overcompensated coaches, wore down my enthusiasm.
---
Matt McKenzie, writer
Final Four: North Carolina, Villanova, Arizona, and Louisville
National Championship: Villanova vs. North Carolina
Winner: UNC
Last year was v bad for sports in the Tar Heel State with crushing losses and heartbreakers left to right. In 2017, UNC will start the charge of resurgence. Cue Bob Marley's 'Redemption Song,' watch as Joel Berry becomes the face of the tournament and get ready for a whole lot of 'golly gees' from Ol' Roy as the Heels trim the nylon nets come April.
---
Alyssa Ruane, writer
Final Four: Kansas, Duke, Gonzaga (what a fun name!), and UCLA
National Championship: Duke vs. Kansas
Winner: Kansas
Well, I think Duke is supposed to be good, and my crazy uncle is from Kansas, so that seemed like a fun matchup. I honestly stopped caring about basketball after my all-star year in 8th grade as the point guard who lobbed a lot of backboard-three-pointers. But hey, they went in, so … #HumbleBrag