Out for Lunch: A Visit to Rockin' Rolls Sushi Express in Elizabeth
This conveyor belt delivers spicy tuna rolls, edamame, and (imitation) crab wontons—but is it good? Here are our first impressions.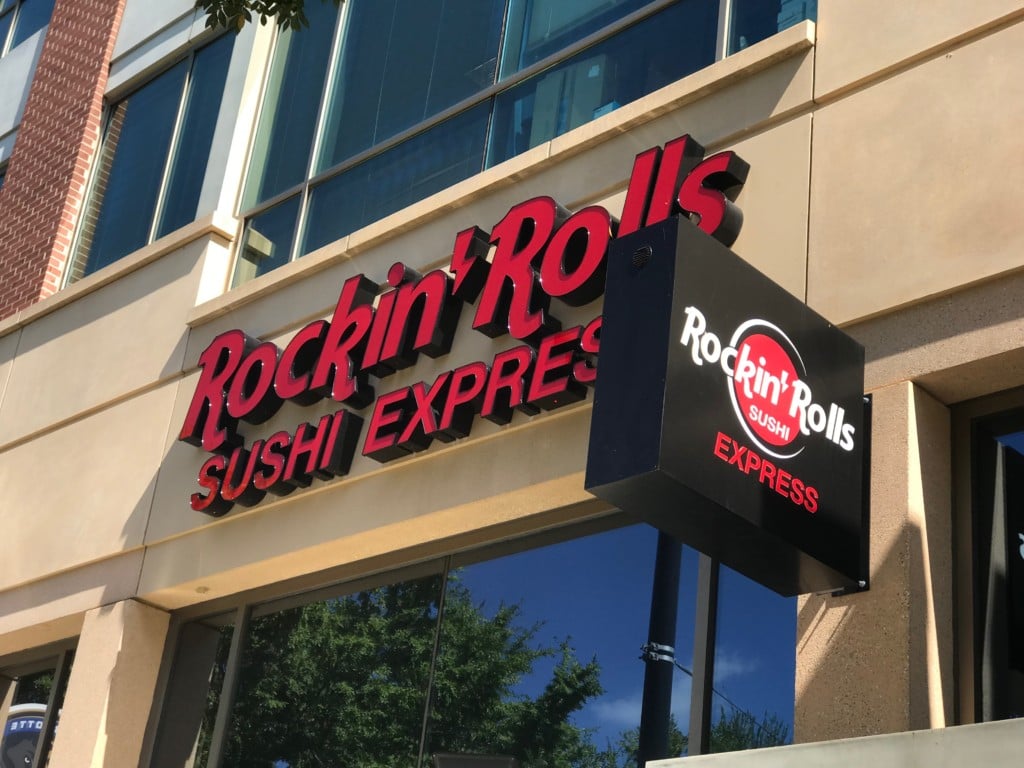 As part of our "Out for Lunch" series, we—Taylor, food + drink editor, and Emma, editor of Charlotte magazine—have lunch at a spot neither of us have tried before, and order a few things that jump off the menu. (Tough job, eh?) Then, we'll report back to you with a few thoughts on our meal and leave you with a scorecard.
All-you-can-eat sushi is not a new concept in Charlotte—but this new Elizabeth spot takes that a step further by parading colorful dishes around a conveyor belt a.k.a. "kaiten-zushi" as it's called in Japan. You can grab whatever you want as it passes your table, plus order hibachi and other sides, all for $12.99 ($16.99 for dinner).
We weren't expecting an epicurean tour de force; when a restaurant promises 50 different sushi rolls coming out of the kitchen on a continuous loop, chances are it won't be artfully prepared with locally sourced produce and the fresh catch of the day. But the concept sounded so fun that we were willing to lower our sushi standards for the conveyor belt experience. Here's how that went.
What we ordered:
TAYLOR: You don't order off a menu like a traditional restaurant—there's actually very little human interaction after the hostess explains how it all works. You pay for your meal up front (read: you tip before the meal), get a table number, grab your own chopsticks and soy sauce at the drink station, and seat yourself. On each table, there's an iPad where you can order anything that's not sushi (i.e. spring rolls and hibachi). But that's of no interest to me when sushi rolls on colorful plates are—quite literally—passing me by. You slide open a clear glass window and take a plate of whatever catches your eye … spicy tuna, shrimp tempura, volcano roll. And it's not just sushi—there are plates of edamame, seaweed salad, and desserts too. The plates are small, but it's easy to fill the entire surface of the table—then forget which roll is which.
EMMA: Unlike a traditional restaurant, there's no lag time between when you sit and the arrival of your food. I was immediately overwhelmed and grabbed as many plates as I could. Because there's no menu, it's very hard to tell what you're actually eating. There are labels for each dish, but you'd need a pen and paper to remember all of what you pull off the belt. I snatched up the eel roll and rainbow roll, and I ordered gyoza, shrimp hibachi, and spring rolls from the tablet.
Thoughts:
T: When a conveyor belt is cranking out food, you can bet service will be quick. But consistent? Not so much. By the time the belt reached us, many selections were already snatched up. Or worse, they looked like they'd made that loop quite a few times already. So crunchy, tempura-style rolls like the volcano roll still tasted warm, while the crust on the Vegas roll was room temperature. Others like the Raleigh roll had globs of spicy mayo, while some had just a drizzle of eel sauce. The California roll, which I wouldn't waste my appetite on at the fanciest of sushi restaurants, clearly stated it had imitation crab. (But high fives for transparency, Rockin' Rolls.)
E: One of my gripes with all-you-eat-sushi restaurants is there is never enough pickled ginger. Before I even start eating, I always ask for more. That's not an issue here, where you can serve yourself as much as you want from the drink and condiment station up front. As far as the reasons why I'd return to Rockin' Rolls, the list probably ends there. That's not to say the experience of plucking your food off a moving target wasn't fun, but it didn't make up for the gloopy mayo-based sauces on top many rolls, low-quality fish, and inconsistent assembly. A classic eel roll was probably my favorite with just a drizzle of the thick eel sauce.
Scorecard:
Ambience – 2/5
Notes – The lunch hour wasn't too busy or noisy, but it's sensory overload as soon as you sit down. The sushi comes at you so fast it's hard to have a conversation, or even form a complete sentence before you pause to slide the window open to grab a sexy-looking roll. I wouldn't come here on a first date, or any occasion where you want to hold someone's attention and have meaningful conversation, but I would totally bring my kids here for lunch. Take-what-you-want-when-you-want-it food on a conveyor belt is the stuff dreams are made of when you're six.
Service – 4/5
Notes – There was no wait time for a table, and service was lighting fast, because, conveyor belts. It's on you to keep track of your utensils, condiments, and drinks, so so naturally we excelled at that. Stacking our plates required a bit of maneuvering once our table filled up with rolls, but otherwise there was no need for an attentive wait staff.
Food – 2/5
Notes – It was no surprise that the sushi was below average. If you're down for supermarket-quality California rolls, this place will be your jam. But if you're expecting sushi-grade tuna or wild caught salmon, stick to O-Ku or Sushi Guru.
Overall – 2.5/5
The concept is sheer genius, but the sushi is less than awesome. It's also a bit presumptuous to request a tip before the meal. But it's a fun lunch spot if you want to change up the fast-casual routine; just be aware that you'll get what you pay for. It's a great option for parents with picky eaters, or if you want to introduce your child to sushi in an informal, interactive setting. And if the conveyor belt doesn't entice them to try sushi, direct them to the iPad and let them order some fried rice.