Out for Lunch: Pink Cactus in SouthPark
Millennial pink, cactuses, and all things Instagrammable for your next G.N.O. Here are our first impressions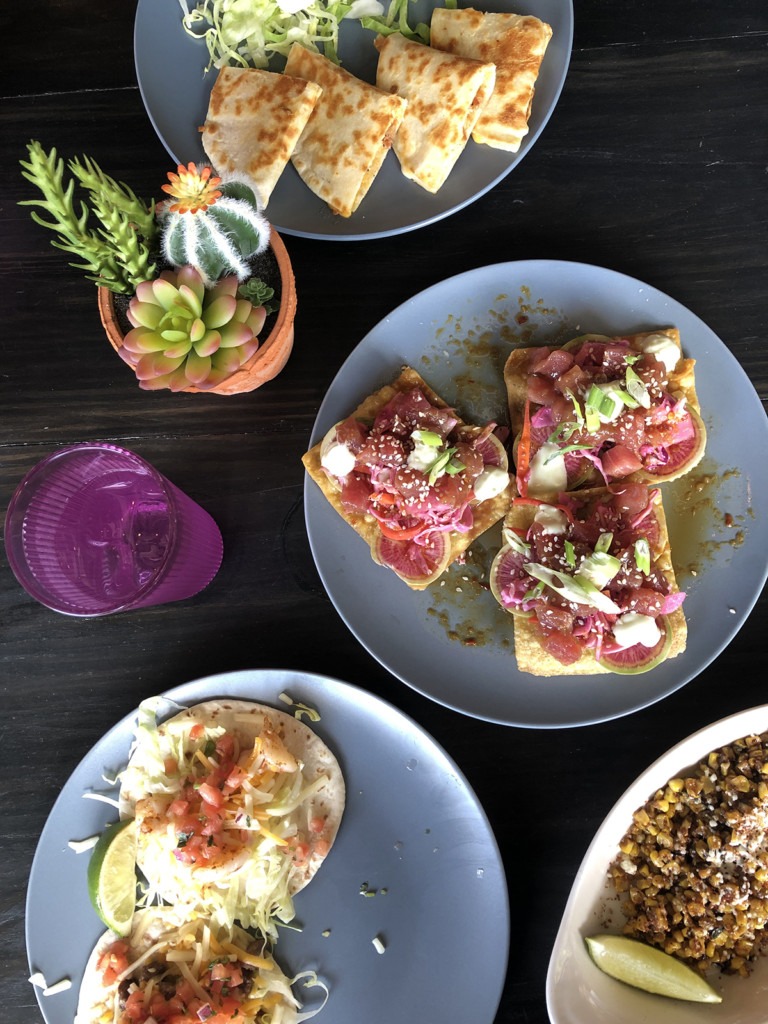 AS PART of our "Out for Lunch" series, we—Taylor, food + drink editor, and Emma, editor of Charlotte magazine—grab lunch at a spot neither of us have tried before, and order a few things that jump off the menu. (Tough job, eh?) Then, we'll report back to you with a few thoughts on our meal and leave you with a scorecard.
For this month's lunch outing, we visited Pink Cactus Bar + Kitchen in SouthPark. It's a Southwest-inspired restaurant and bar in the space formerly occupied by Treehouse Whiskey and Fork. Since opening in March, the restaurant has gotten mixed reviews: It has 3 stars on Yelp and had a shaky start according to Justin Burke-Samson of Unpretentious Palate. So we wanted to investigate for ourselves.
What we ordered:
TAYLOR: My eyes landed on the West Coast Ahi Tuna Nachos ($13) on the shareables part of the menu, so I started there. It wasn't the plate of wonton chips I was expecting; instead it was three oversized wonton squares topped with ahi tuna, watermelon radish, and wasabi mayo. The presentation was pretty (with pops of pink!) and it was a good portion for two (or three) to share.
Since the Two Tacos and a Side ($10) lunch came with our choice of tacos, we chose one grilled asada and one shrimp. For our side, we got the Cali Street Corn salad. The tacos were pretty standard, topped with shredded lettuce, cheese, and tomato and garnished with a lime wedge. The street corn was the right consistency, but the sweet flavor of the corn got lost under the seasoning.
EMMA: Along with the tacos, the $10 lunch deal also includes a burger, chicken wrap, wings, a variety of salads, and quesadillas. I was looking for some comfort food to cure a case of the Mondays so I ordered the Chicken Bacon Avocado Quesadilla. I had my first bite without any sauce, and it was a pretty average-tasting quesadilla—under-salted, but a balanced ratio of chicken and bacon to cheese. I'd eat it again, but it also felt like something I could make at home. The star of this plate was the avocado sauce, but I wish it was drizzled on instead.
Thoughts:
T: The nachos had good sushi-grade tuna, and the watermelon radish made it extra refreshing on a hot summer day. But they got a bit heavy-handed with the wasabi mayo, and it's hard to look dainty eating this appetizer. If you eat it with your hands, you'll have wasabi mayo and ponzu sauce running down your fingers after one bite. I probably wouldn't order this one on a first date.
I opted for the shrimp taco, which tasted like something I could make at home with store-bought tortillas and shrimp out of my freezer, so I jazzed it up with avocado sour cream left over from the quesadillas. The tacos are small enough to eat in three or four bites, so this isn't a lunch that will weigh you down.
E: My favorite dish was definitely the nachos. The dish was colorful and well-salted, but I agree with Taylor the mayo felt unnecessary. I like wasabi, but the globs were prettier to look at than they were tasty. It was messy, yes, but the crisps actually held together better than I expected considering the pool of ponzu sauce on the bottom of the plate. I'd order this again. My least favorite dish was the asada taco. The flour tortillas were chewy and room temperature, and the beef was under-seasoned so I followed Taylor's lead and added the creamy avocado sauce, too.
Scorecard:
Ambience – 3.5/5
The lunch hour was quiet, particularly on a Monday, so you won't encounter tons of lunchtime chatter—just the murmur of the flatscreen TVs over the bar. The patio hasn't changed much since its Treehouse days, so it's still a great place to sip an al fresco cocktail. The décor is Southwestern and a little kitschy—with lots of cactus artwork and table-toppers, round white bulbs strung across the ceiling, and pops of pink and purple in every corner—but it fits for a restaurant called Pink Cactus.
Service – 4/5
Since the lunch hour is typically slower than happy hour or dinnertime, there's no wait time for a table, and service is quick and attentive. Our dishes all arrived at the same time, and in less than 10 minutes. Our "lunch hour" was closer to a half hour by the time we got the check.
Food – 2.5/5
Out of the three dishes we sampled, the ahi tuna nachos was the favorite. The tuna tasted fresh and the ponzu sauce gave it a nice tang, but the wasabi mayo felt unnecessary and weighed down the dish. The lunch portions are smaller than we expected, so order a few plates and share.
Overall – 3/5
Pink Cactus isn't a particularly memorable lunch destination; it seems like a better choice for a girl's night out or a happy hour