Out for Lunch: The Blue Taj
A drive to Ballantyne for the 'spiciest' vindaloo and extra naan. Here are our first impressions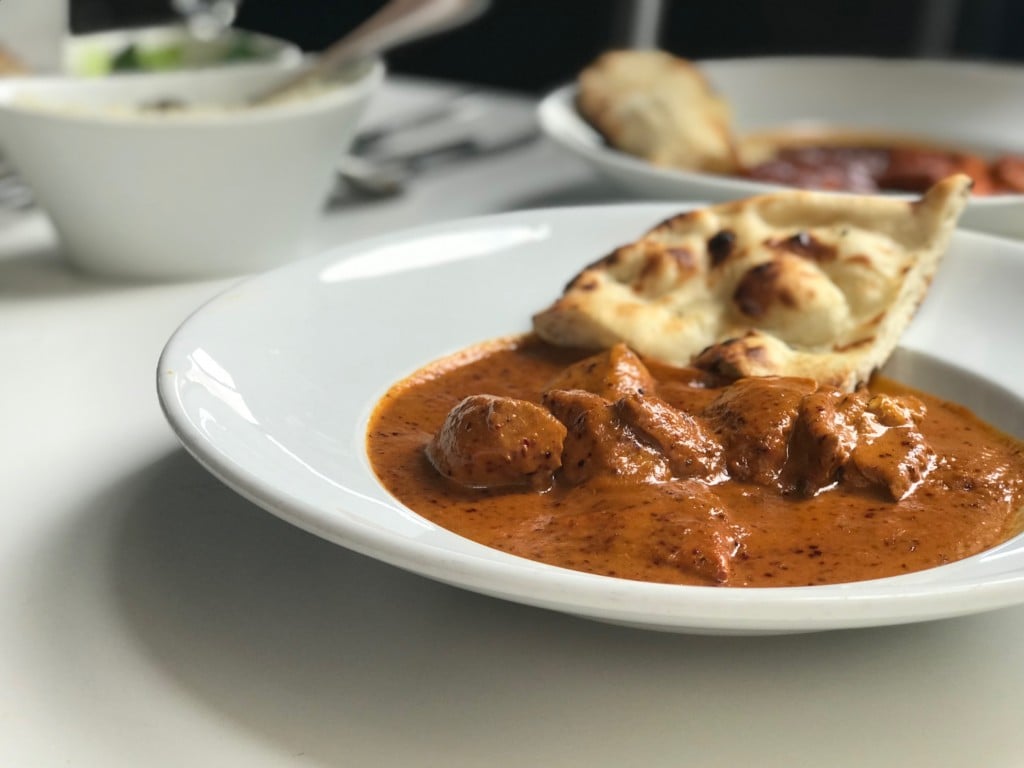 AS PART of our "Out for Lunch" series, we—Taylor, food + drink editor, and Emma, editor of Charlotte magazine—grab lunch at a spot neither of us have tried before, and order a few things that jump off the menu. (Tough job, eh?) Then, we'll report back to you with a few thoughts on our meal and leave you with a scorecard.
For this outing, we visited The Blue Taj, an upscale Indian restaurant in the Ballantyne Village shopping center, where you can also catch a movie, get a haircut, or upgrade your smartphone. Its location, tucked on the backside of Building A, makes it tricky to find. (Conventional wisdom would suggest a restaurant that calls itself Blue Taj might opt for blue signage, but that's not the case here.) But once you locate the entrance, you'll see a cozy interior with flowing fuchsia and orange curtains, dim lighting, and a decorative gold-plated ceiling—a lovely backdrop for a romantic date night. For our purposes, we opted for the outdoor patio to get a better view of the Indian dishes we were about to sample. Here's how that went.
What we ordered:
TAYLOR: I've never met a chicken tikka masala I wouldn't try, but as my Indian friend gently pointed out recently, that's like the Applebee's order with Indian cuisine. So I perused the express lunch menu for something not so basic. You get to pick your sauce and protein or vegetable, so I went with the Southern Indian Style Aromatic Curry with shrimp and scallops ($13). Each express lunch comes with your choice of soup or salad, a side of naan, and a bowl of rice. We also ordered an appetizer of Masala-Chili Cauliflower Florets ($6) to start.
EMMA: I went a little rogue and asked our server to recommend the spiciest dish on the menu. He pointed me toward the Goan Style Spicy Vin d' Alho with chicken ($11), and I ordered it at a five out of five spiciness (if you want to see why I put myself through this, read our October issue). I also ordered a Mango Lassi ($4) to help cool down the furnace my mouth was about to become.
Thoughts:
T: Our salads showed up almost immediately, likely because it was bagged lettuce topped with store-bought croutons. The mango dressing had a sweet zip to it, but I didn't waste my appetite on more than two bites. The cauliflower wasn't far behind, and those batter-fried, two-bite morsels were dee-lish. The crispy shell and tangy chili glaze make you forget you're eating a vegetable.
My entrée arrived with chicken instead of the shrimp and scallops I'd ordered. Our server offered to correct it after I pointed out the mistake, but in the interest of time I just went with the chicken. The presentation was very clean and precise—the oversized bright white bowls made the orange curry sauce pop. They allow you to choose your level of spice on a scale of one to five, and my level four curry, while tasty, didn't fire up my taste buds as I expected it to.
E: On the flip side, I felt the fire. My vin d' alho (also spelled vindaloo) arrived a bright brick red color with a side of naan. It was a slow burn at first. After a few bites, though, I started to sweat and fanned my face with my hand to cool down. The sweet lassi soothed my tingling mouth, but I'd definitely crank the heat down to a three if I was going to order this again. (To be fair, I asked for the spiciest dish on the menu, and I made it out without crying.)
Scorecard:
Ambience – 2/5
The lunch hour wasn't busy, and we had the patio all to ourselves. The view of the parking deck and the murmur of traffic on Ballantyne Commons Parkway didn't offer much in the way of ambience. Inside, The Blue Taj feels more upscale and intimate with floor-to-ceiling sheer curtains dividing each dining space.
Service – 3/5
There was no wait time for a table, and service was relatively quick. Our water glasses were never less than half-full, and clean utensils were readily available for each dish. The server could have been more helpful with the chicken and seafood mix-up, though, especially since the shrimp and scallops were his recommendation.
Food – 3/5
Between our three dishes, we hit a variety of the tangy, sweet, savory, and spicy flavors of India. The cauliflower appetizer was the most welcomed surprise, and the dish we'd most likely order again. But the best part of the meal—and this is the case at many Indian restaurants—was dipping the naan in curry sauce. The lunch portions were generous, so you can easily take half of it to go and eat the leftovers for dinner.
Overall – 3/5
Blue Taj is an excellent choice if you're looking for modern and upscale Indian dishes in Ballantyne. The prices are very reasonable for lunch ($10-$15) and the mood is right for a romantic dinner date. Considering the 25-minute drive from our office in South End, though, we probably won't rush back.