Outmanned Old Party: The GOP in Charlotte, Past and Present
Not long ago, the Republican Party was a political force here, exerting influence on budgets and policies even when they lacked majorities on the City Council and county commission. Those days have gone, and plans for the 2020 Republican convention collapsed. What happened—and what might make the pendulum swing back?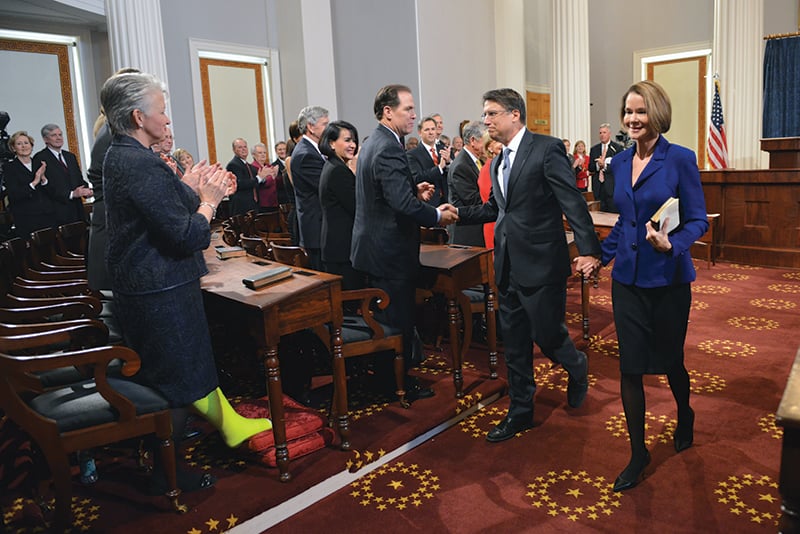 The longtime politician, a man who for years practically defined what it meant to be a Republican in Charlotte, ponders a question: If you ran again today, what do you think the result would be?
There's a pause on the other end of the line. "It'd be a …" He chuckles. "Ah …," he says, still thinking. "I could make it close. But it would be a very difficult race, and the only reason it'd be close is that the mayor's elections are off-year elections."
Pat McCrory would know. In another era, he won seven of them.
***
It seems contradictory: Charlotte agreed to host the 2020 Republican National Convention in an era when the Democratic Party dominates local politics as it hasn't since the mid-1960s, when the ideologies of the two national parties began to realign during, and largely because of, the civil rights movement.
Democrats have held a 9-2 majority on the Charlotte City Council since 2011, through five election cycles. The Mecklenburg County Board of Commissioners, which last had a Republican majority in 2004, in 2018 went all-Democrat, 9-0, for the first time in 54 years. (Some members of the Charlotte-Mecklenburg Board of Education are Republicans, but school board races in Mecklenburg County are, like most nationwide and in North Carolina, nonpartisan.) The county's legislative delegation consists of 12 representatives and five senators. Of the 17, 16 are Democrats.
For now, the only electoral seats in Mecklenburg County you could accurately describe as "reliably Republican" are for City Council districts 6 and 7 in south Charlotte, represented by Tariq Scott Bokhari and Ed Driggs. Last year, Bokhari had to fend off a respectable challenge from Democrat Gina Navarrete, a neuropsychologist and Latina immigrant who won 41 percent of the vote. (Bokhari's 2017 Democratic opponent had won 32 percent.) The unusually strong performance by a Democrat in a traditional Republican stronghold—the wealthy, mostly white area that fans out from SouthPark—didn't shock the second-term councilman.
"In top-25 cities like Charlotte, the data is showing it's trending more and more progressive," Bokhari tells me in late May. National GOP leaders, he adds, "are not thinking about these progressive strongholds, and we need to maybe not adjust our principles but adjust our messaging to say how conservative principles can help upward mobility and equity and affordable housing, right? Because that's what people around here want to talk about."
The city's acceptance of the RNC in 2018 was less a contradiction than an accommodation, one that thousands of Charlotteans didn't want city leaders to make. Throughout the United States, and especially in the last decade, cities generally have grown increasingly multicultural, left-leaning, young, and Democratic as their outlying suburbs and rural areas have turned ever whiter, older, and more Republican. Nationally, the election of Barack Obama in 2008 helped widen the existing partisan divide between the two; the election of Donald Trump in 2016 threatens to turn the divide into a lasting rupture. In Charlotte, job opportunities have drawn young people from other cities also dominated by Democrats. Their presence; the city's continuing transformation from a mid-sized industrial city into a major metropolis; the dwindling availability of land; the higher taxes and fees that pay for urban public services; and other factors have driven Republican voters into rural areas and what demographers call "outer-ring" suburbs.
Charlotte's growth has forced the outer ring into the counties that surround Mecklenburg, from the "inner ring," the city's fringe a generation ago. State voter registration data show that Republicans far outnumber Democrats in all five growing North Carolina counties that border Mecklenburg: Union, Cabarrus, Iredell, Lincoln, and Gaston. That's been the case for years. But in Mecklenburg, where the total number of registered voters grew 48 percent from 2006 to 2020, the number of registered Republicans actually fell 5 percent. (York and Lancaster counties in South Carolina are booming with former Mecklenburg County residents, too, but it's hard to calculate the partisan effect; unlike the N.C. State Board of Elections, the S.C. Election Commission doesn't track party affiliation.)
The most recent twist, of course, came in early June, when Charlotte's convention plans crumbled. The city and state governments and the national Republican Party had negotiated in apparent good faith over an altered convention under coronavirus-related health restrictions. Then Trump, via Twitter on Memorial Day, demanded that Governor Roy Cooper guarantee a capacity crowd in the 19,000-seat Spectrum Center for the convention in late August. After a series of exchanges over the next eight days—including the Republican National Committee's formal demand that Cooper guarantee not only a full arena but at-capacity hotels, restaurants, and bars—Cooper responded that he couldn't. "Neither public health officials nor I," the governor wrote, "will risk the health and safety of North Carolinians by providing the guarantee you seek." Trump announced that the GOP would look for another host city. On June 11, the party announced it would hold the bulk of the convention in Jacksonville, Florida, one of the few large American cities with a Republican mayor and Republican-majority city council.
It was a shambles unlike any in modern American history—the famously chaotic 1968 Democratic convention in Chicago at least happened where it was supposed to—and a blow to a local business community desperate for an estimated $200 million in economic impact, especially after months of lockdown from the virus. Charlotte-area Republicans, who had looked forward to showcasing their marginalized party, had to absorb their own disappointment. "On behalf of the 10,000 volunteers that were excited to share Charlotte with the world and prove that we could offer diversity of thoughts, opinions, and ideals while showcasing our hospitality, we are saddened," the Mecklenburg County GOP said in a release. "For those of our volunteers that gave so much of their time and treasure, we are truly crushed."
Not long ago, Republicans were a genuine political force in Charlotte—less than dominant, and with their own brand of business-oriented politics that usually distinguished them from their culture-war GOP compatriots, but competitive. For now, that force has evaporated to almost nothing, at least in terms of winning local elections. In a city and county of a deepening shade of blue, are they doomed to stay in that shadow forever?
***
Edwin Peacock III, though he's hardly an old man, is reminiscing. "I'm just thinking of some of those women who were part of my childhood," he tells me in late May. The women were officeholders in Charlotte and Mecklenburg County soon after his father, Edwin "Ed" Peacock Jr., served for three terms on the county Board of Commissioners. The younger Peacock mentions former commissioner Carla DuPuy and former City Council member Lynn Wheeler, both Republicans.
Then Peacock mentions another woman, a Democrat—Liz Hair, the first woman to chair the county board, who died in 2014. Ed Peacock and Hair served on the board together; Hair chaired it from 1974 to 1977, Ed Peacock from 1978 to 1980. "My dad loved serving with Liz Hair. He became a lifelong friend of Liz Hair's," says Edwin Peacock, 50, the president of his family's financial services firm. "It was just a different environment." Not that it's impossible for elected officials from different parties to form friendships today, Peacock says. But at the time, local political issues tended to remain local; national partisan enmity seldom bled into the discussions.
The fabric had altered by the time Edwin Peacock ran for office. He's the most recent Republican in Charlotte to win a citywide election—11 years ago. His bid for a third term in 2011 failed when he came in fifth in a race for the council's four at-large seats. Then, like his father, he ran unsuccessfully for mayor. Ed Peacock lost his election in 1983, in the momentous mayoral election won by Harvey Gantt, the first Black person to hold the office. Edwin Peacock lost to Patrick Cannon in 2013 and Jennifer Roberts in 2015. Still, the younger Peacock's name recognition had helped him win two at-large elections to the City Council, in 2007 and 2009. He doesn't think he could pull it off now without a healthy slate of qualified Republicans running with him.
"Locally, 2018 was obviously a whitewash," he says. "Here we are in 2020, and I think the numbers could balance themselves out, and you could see some resurgence back in the local Mecklenburg (GOP), either in the state delegation or maybe even on the county commission. There is a path out of the wilderness, let's put it that way. I think there is. It's just going to take time."
What changed in Charlotte politics between Ed and Edwin Peacock was in part a local mirror of national polarization that, in an internet and social media-driven age, soaked into cities and counties throughout the country. In Ed Peacock's time, local political issues typically began and ended within city and county boundaries. By Edwin Peacock's, the neon-lit local issue was a proposed nondiscrimination ordinance on the rights of gay and transgender citizens, a potential third rail in cities nationwide.
Ed Peacock, who also served a City Council term in the early '80s, ran for office and won during a grand reshuffling of the partisan deck in the United States. Starting in the mid-'60s, national Democrats' increasing embrace of civil rights alienated what had been the segregated, Democratic "solid South." Those voters began to migrate to the Republican Party, drawn by Richard Nixon's promise of "law and order" in 1968 and Ronald Reagan's conservatism and massive popularity in the early '80s. In Charlotte and Mecklenburg County, from then well into the 2000s, the partisan composition of local boards shifted from election to election, and Republicans influenced policy even when they were in the minority. Starting in 1977, Republicans occupied the Charlotte mayor's office for 28 of the next 32 years—the last 14 by Pat McCrory.
"It was something I bragged about when I used to recruit companies to Charlotte, the political diversity that we have, which really didn't start until the late '70s, early '80s," says McCrory, now the host of a morning radio show on WBT, who emphasizes that he doesn't intend to run for mayor again. "Because it always was a Democratic city, and then we had a 20-to-30-year span where Republicans started gradually getting influential." He points to Sue Myrick's 1987 upset victory in the mayor's race over Gantt, a two-term incumbent: "That was the beginning of the real peak of Republicans having at least a balance of power on the City Council, school board, and county commission, and I ran for City Council two years after that." Myrick eventually served 18 years in the U.S. House, and her son Dan Forest is North Carolina's lieutenant governor and Cooper's opponent in this year's gubernatorial race.
The period McCrory refers to ended abruptly in 2008, when he decided to run for governor. McCrory lost that race to Bev Perdue, then won in 2012 and lost to Cooper in 2016. In the 2009 Charlotte mayoral race, Democratic council member Anthony Foxx defeated longtime Republican council member John Lassiter. That year, the council shifted from a 7-4 to an 8-3 Democratic majority. Two years later, Edwin Peacock lost his council seat, and the balance went to 9-2. There it's remained, and no Republican candidate for mayor has won since.
A transforming Charlotte's enthusiasm for the newly elected Obama was probably the main factor that kicked the balance so strongly Democratic. The suburban and rural backlash against Obama in 2010 helped secure Republican control of both houses of the N.C. General Assembly for the first time since Reconstruction, and the GOP's legislative majorities have held for a decade, swelling to a veto-proof supermajority from 2012 to 2018. Both have contributed to Charlotte Republicans' difficulties in finding and developing candidates who might appeal to urban voters.
"We've gotten into a cycle in the Mecklenburg GOP," Peacock says, "where the people who are choosing to run, for one reason or another—and this is not specifically directed at anybody—but we've moved away from some of the traditional candidates in the '70s, '80s, '90s, early 2000s, when they were coming with a specific professional résumé of an attorney, a doctor, a banker, a lawyer, a CPA. What we're finding now is people who are just more partisan."
***
Then again, attempts at more measured conservatism tend to falter when the party's standard-bearer is Trump. As I write this, the nation enters Day 11 of the convulsions that have followed the police killing of George Floyd in Minneapolis and months of an outbreak of disease, exacerbated by a president who traffics in turmoil. One result has been some of the lowest approval ratings of his presidency. Even if Charlotte Republicans forcefully condemned Trump—and they haven't—it's hard to imagine it swaying non-Republicans, and it would infuriate the president's followers.
Trump's presidency is, in part, the product of an already right-wing party's rightward lurch, which picked up momentum during the Obama era. Republicans like McCrory, considered a moderate as Charlotte's mayor, quickly realized as governor that the post-2010 GOP in North Carolina was a more aggressive version of the party he was used to, says Dr. Michael Bitzer, a politics and history professor at Catawba College in Salisbury—McCrory's alma mater—and an expert on Southern political history. Trump has only accelerated that ferocity. Bitzer tells me it's led to this prevailing attitude in the national party: "If you don't play nice with Trump, you're not a Republican. Well, you know, it doesn't matter what your governing philosophy is anymore. It's beholden to one person who embodies a kind of stark conservatism that has been asymmetrical in terms of how far the Republican Party has moved to the right versus how the Democratic Party has moved to the left."
McCrory's Republican predecessor as Charlotte mayor, Richard Vinroot, says he "can't remember any real partisan decisions to speak of" when he was in office from 1991 to 1995. "I mean, the Republicans on the council were always more concerned about financial matters: 'Let's not spend too much, let's not waste money,' and the Democrats were more traditionally, 'Let's see how much we can do.' In various areas they were, in my view, more pro-spending than we were. But we otherwise pretty much saw things the same way."
Vinroot, 79, is a lifelong Republican and attorney who ran unsuccessfully for governor in 1996, 2000, and 2004. In recent years, Vinroot has called on Republicans and Democrats to cooperate on efforts to curb or end partisan gerrymandering, an extreme version of which Republicans enacted after they won control of the General Assembly. His and others' efforts haven't gone far. Though he says he agrees with some of the Trump Administration's stances on matters like American attachment to global entities—like the World Health Organization, from which Trump has announced American withdrawal—Vinroot thinks the president violates more fundamental standards. "It's somewhat disappointing that there's not more substance to what is a Republican," he tells me. "I mean, it's Trumpism. It's shouting, it's berating—it's just not the way I thought we were supposed to behave."
Yet even with his criticism, Vinroot admits he sometimes wants to defend Trump against his political opponents. He mentions Democrats' continuing criticism of Trump for his alleged collusion with Russia, which Vinroot believes is unfounded. "He's right about a lot of things," Vinroot says. "I just wish he would say it in a more diplomatic, measured fashion. I wish he'd say it in a way that would make people like me more attracted to it. Why does he have to say it in the bullying fashion that he does? Why does he have to be a jerk?"


***
Republicans have two distinct choices in any attempt to reestablish themselves in Charlotte and other cities: Change their tactics and positions on urban matters or cede the cities to progressives and concentrate on their base outside them. For the time being, the national party has placed its bet on the latter.
A route back to relevance in Charlotte might be to hang back and let time do its work. The political pendulum swings, and in recent years, it's swung wildly. Backlashes breed backlashes in American politics. Political parties that achieve dominance assume its permanence. Again and again, they're eventually proven wrong.
During our conversation, I ask McCrory if his political principles, at least for local government in Charlotte, have changed since 2008. "No," he replies, "not at all." When he was mayor, he says, he concentrated on public safety, transportation, and government efficiency, "and to me those issues are still bedrock issues of Republicans, no matter where you are in North Carolina or in our country." If Republicans want a prominent voice again in local politics, he says, they should drive stakes into that ground and recognize the possibility that local Democrats will overplay the hand voters have dealt them. Sooner or later, he tells me, the public pushes back against established orders that go too far.
I'm about to offer a response, something along the lines of: Dominant political parties overplay their hands, you say? You'd know a thing or two about that, wouldn't you? To my surprise, McCrory beats me to it.
"That's true with both sides. That happened with me as governor with my Republican supermajority legislature," he says. "If the Republicans come back, it's because the Democrats got drunk with power." The voting public can at times appear predictable, even docile. But it has a habit of confounding anyone's efforts to tame it.
Greg Lacour is the senior editor for this magazine.