Over the Mountain
Local band Overmountain Men, featuring David Childers and Bob Crawford (the latter of the Avett Brothers) have a glorious new release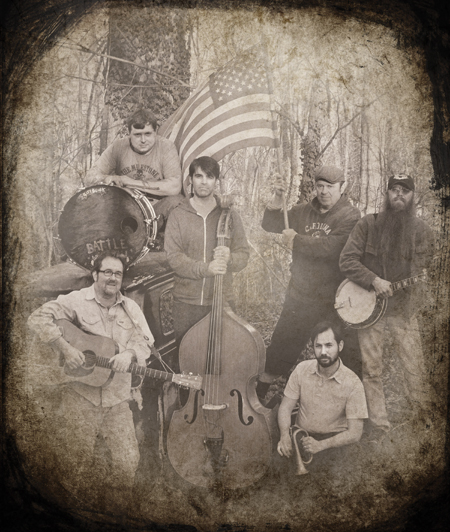 Local band Overmountain Men isn't just a simple side project for Concord-based Avett Brothers bassist Bob Crawford. It's clear from the solid classic country songs that Crawford's heart was in the band's new release, Glorious Day, a collaboration with singer-songwriter David Childers, Childers's drummer son, Robert, and string picker Randy Saxon. The foot-stomping tempo and driving banjo of "Some Place Along the River" is the kind of swinging acoustic jam that'll have crowds sloshing raised beer mugs while belting the "We'll all be moving on" chorus. The picking is impressive as well on mandolin and banjo solos and the fluttery Spanish guitar on the instrumental version of "Angola." Robert Childers's experimental "aural collages" add an unusual layer between tracks. The tribal percussion, samples, and faraway screams provide a surprisingly fitting transition from the bluegrass stomp of "River" to the R&B groove of "Coney Island Express." The entire album is an eclectic, quality project.
More New Local Releases:
Cement Stars

Geometrics
There's a sense of romanticism and a nod to eighties new wave in the sweeping yet danceable tunes of this rock trio's debut. Its hypnotic beats indulge your head and hips.




Harvard

The Inevitable and I
With the help of famed hardcore/indie producer Brian McTernan (Darkest Hour, Circa Survive), who spent a month recording the band at his Maryland studio, the long-running Charlotte rock outfit fully realizes the promise of its epic, expansive songs.

Listen to "An End Weight"

Plaza Family Band

Playground Hootenanny
This children's music project came together when musician parents including Clifton Castelloe, Mike Strauss, Hope Nichols, and Aaron Pitkin met while picking up their kids at the Plaza Presbyterian Weekday School. It features familiar standards and clever originals.

Listen to "Boom Boom Crazy"

Soulganic

From the Storm to the Sun
On its sophomore album the soul funk outfit tackles heavy lyrical topics while adhering to the qualities that made it a local favorite—fluid playing; classic Latin, rock, and R&B influences (Buddy Miles, Santana); and Anthony Rodriguez's searing falsetto.

Listen to Soulganic – "Temporary Thrill"

Seahorses

Musical Beds Vol. 1
Justin Huey takes time out from his day job as multi-instrumentalist for national touring quintet Steel Train (based in New Jersey) for this rootsy indie pop effort with girlfriend Emily Moore, who is currently opening for Jack's Mannequin as part of the band the Fun.

Transmission Fields

Self-titled
This sunny alternative rock act continues to channel R.E.M. and Matthew Sweet. Memorable hooks and hummable choruses add darker moods, and an epic lullaby closes this sophomore release.

Listen to "Did it Wrong"