Panthers Host Inaugural Flag Football Bout for Military Members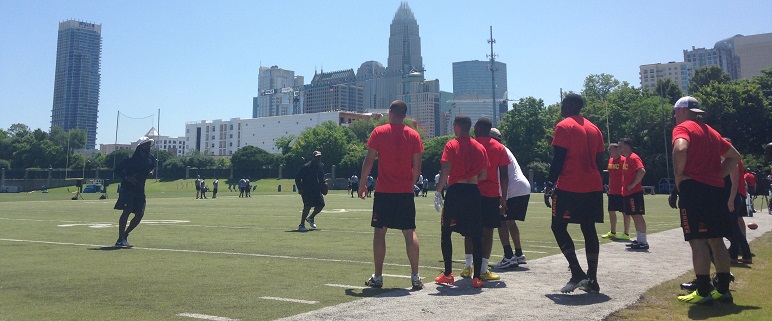 ON MONDAY AFTERNOON, Carolina Panthers cornerback Charles Tillman is shouting and laughing on the sidelines of Bank of America's practice fields. He backseat-officiates; he doles out advice as players move within earshot. It's all light-hearted—and it's what he was asked to do today: guide and encourage players in the inaugural Military Football Fantasy Camp.
"I'm able to play football because guys like these," Tillman says. "I know liberty isn't free. Sometimes, those guys pay the ultimate price. So for us, to come out here, and coach and cheer them on while they play the game they love, that's nothing. That's peanuts."
As for the team he wants to win? "I'm neutral right now," Tillman laughs. "I have both Marines and Army in my family. I've just been trying to give them a little bit of insight into what I do. I've visited many military installations, and they've always shown me what their job is. So I'm just trying to reciprocate the favor. I just want to see a good game."
The flag-football event, formed from a partnership between the Panthers and USO of North Carolina, invited 12 active-duty U.S. Army troops from Fort Bragg and 12 Marines from Camp Lejeune. During the morning that preceded, the players worked with Panthers staff, including quarterbacks coach Ken Dorsey and assistant head coach Steve Wilks. Both said they had long anticipated the day, providing rapid-fire instruction for the troops as they bounced between the offensive and defensive classrooms. Head coach Ron Rivera opened the day with a presentation thanking the group of 24 for taking part in the inaugural event.
"The USO of North Carolina and the Carolina Panthers have been working together for many years," says John Falkenbury, president and COO of the USO of North Carolina. "We were brainstorming, and we thought, 'How do we bring the military to the Panthers stadium beyond training camp?' We do take troops down to Spartanburg. We do a lot with base visits. But never have the troops truly experienced what the players experience. So we decided on flag football, and we want it to grow to have all the services represented."
Falkenbury says the day was a welcome break for many of the troops, who ranged from recently enlisted to having two decades of service. "Even during the training for this event, we lost some players because a couple Marines had to get deployed," he added.
Thomas Grant, a 41-year-old gunnery sergeant originally from Lumberton, Miss., handles administrative duties at Camp Lejeune. He says he's been with the Marines for 15 years, and he's played flag football for every one. "This is just what I do, and I love to do it," Grant says. Earlier in the day, Grant practiced with a GoPro video camera strapped to his chest, hoping to share footage of the day when he goes back to camp this week.
A day of classes, practice sessions, and laughter followed, with Panthers players like Luke Kuechly, Greg Olsen, and Mario Addison appearing on the sidelines. At the end of the 30-minute bout, which resulted in a 26-13 victory for the Marines, Thomas Grant accepts the inaugural trophy. He commends his fellow Marines, and then moves on to the entire group. "When it's time to do stuff like this, we know we have to represent each service well," Grant says. "No ignorance, no stupidness."
And no hard feelings for Army players like Spc. Wendell Jones, a Fayetteville native and member of the Army for four years. Today, he was cheered on by his wife, Tiacoilyia, and two sons. He maintains that the experience was still fun—and more than worth it just for the up-close NFL experience. "You know, the opportunity came, and I've always wanted to play in a professional stadium or be in the atmosphere. I was like, 'Sign me up.' It was still a wonderful experience."
"And we'll be back," warns another Army soldier, adding another vote to make Military Football Fantasy Camp an ongoing event.