Paper or Plastic: A Guide to Grocery Shopping in Charlotte
With Publix opening stores from Ballantyne to Cornelius and a Whole Foods planned uptown, the options for grocery shopping can be overwhelming. Whether you're an avid coupon collector or dread pushing the shopping cart, these tips will help you navigate the aisles.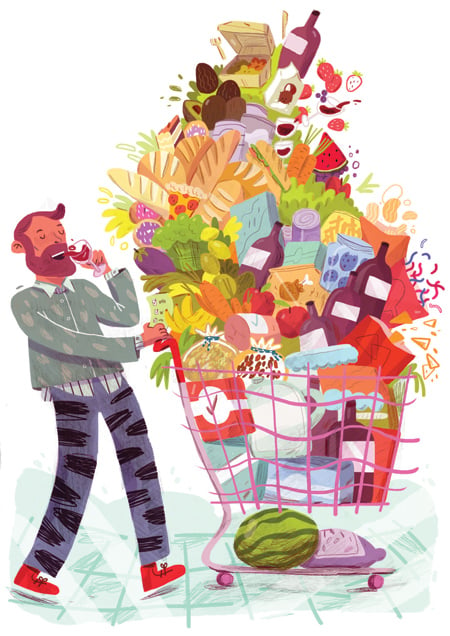 Click on each store to see its "Store Locator" page.
Whole Foods
You don't have to spend your whole paycheck here. Grab a free sample of carrots, dip two or five, then head over to the Queens Corner bar for a glass of chardonnay before cruising over to the produce section. It will be easier to convince yourself to buy $2 organic avocados.
Harris Teeter
The Morrocroft Village location in SouthPark has a reputation for being the Taj Mahal of Teeters in the city. A salad bar that seems to go on for miles is loaded with toppings. But beware: Although this starts off as a healthy lunch option, the temptation of fried rice and General Tso's chicken lies across from the lettuce.
Publix
This recent addition to the grocery scene has stores in Steele Creek, Huntersville, Mint Hill, and South End, among others. Start with the bakery. Fresh bread, including the Italian Five-Grain and White Mountain, is baked in the store.
Trader Joe's
Here's where you can stock your freezer and pantry without emptying your wallet. Store-brand items range from cookies to the infamous "Two Buck Chuck" wine (which is now $2.99). Gourmet frozen food options include garlic fries and mandarin orange chicken, and if that doesn't convince you, grab an extra sample of the bargain-priced Brie.
Food Lion
When you want to cure your late-night cravings, head straight to the candy aisle here. The large selection of snacks ranges from chocolate with almonds to sour gummy worms. Don't have a sweet tooth? Grab a family-sized bag of salt n' vinegar chips. No judgments here.
Healthy Home Market
The local and organic produce is bright and fresh. The bulk food is abundant, including dried fruits, nuts, grains, granola, and quinoa. Then there's the vegan selection, stocked with seitan pulled pork, soy whipped cream, and non-dairy Alfredo sauce made of tree nuts. Go ahead, embrace your inner hippie.
Earth Fare
This Asheville-based chain pledges not to have antibiotics or synthetic growth hormones in its fresh meat or dairy products. With that in mind, head to the glass case displaying beautiful pieces of prosciutto, truffle mousse, and Fra'Mani pancetta. Then scoop your own ravioli and take home a fresh bag of porcini mushroom agnolotti.
Fresh Market
Weekly specials are handwritten on a chalkboard outside the Fresh Market on Providence Road. Step through the doors into a floral department reminiscent of an old-school flower shop, with classical music playing in the background. Not looking for a bouquet of tulips and irises? Come to this Greensboro-based grocery chain for your caffeine fix. Your nose will direct you to the bulk bins of coffee beans with flavors such as Chocolate Cherry Kiss and Red Velvet.