Paper Proof
How to apply for a marriage license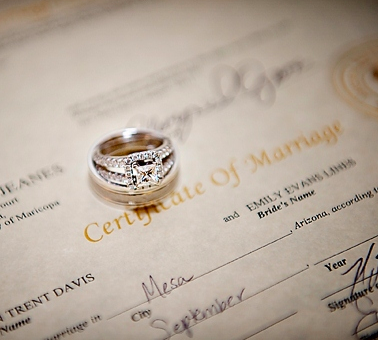 From the moment he pops the question, visions of stationery, bouquets, bridal confections and a lifetime of bliss dance around in one's head. A marriage license, however, does not. Nonetheless, this certification is an obvious essential to be obtained before 'I do.' So plan to take care of this legal matter about a month before the wedding. Though there's no wait time in North Carolina for processing, as most matters in life, it's simply best not to put off until the last moment. In case you're cluelessly pondering the steps required to do so, I've spelled it all out for you, and–bonus, it's an easy feat anyhow. So grab a seat with your love and read up on everything you'll need to know for tying the knot legally.
County Counts
Though the process is the same throughout any North Carolina county, you and your fiancé will both need to appear in the courthouse of the county in which you reside. This can also be done in the county in which you'll be holding the ceremony. If only one of you is able to appear in court, he or she must present a notarized affadavit from the other person. You can obtain an affadavit in the Register of Deeds office.
ID Check
You'll both need to show a valid form of identification, such as a passport, driver's license, etc. You'll also need to present a document that shows proof of your Social Security number. This could be a Social Security card, W-2 or statement from a Social Security office. If either one of you has not been issued a SSN or is not eligible for such, he or she will need to have a signed and notarized affadavit to present at the time of applying.
Paper Goods
Next you'll fill out the application form.
Pay The Toll
Once you've filled out the necessary paperwork, you'll need to pay a fee. The current rate is $60, and only cash is accepted.
In Case Of
If you've been married previously, both of you will need to verbally acknowledge the month and year of the divorce. And if the divorce has taken place in the last 60 days, you'll need to present a judge-signed copy of the divorce decree.
Thinking Ahead
If you plan to change your last name, now would be the time to request a certified copy of the marriage license. Said copy is an additional $10 (cash only). You'll need this to take to the DMV as well as send into the Social Security office to complete the name change.
Expiration Date
A North Carolina marriage license is valid for 60 days. In order to finish tying the knot, you'll need two witnesses and an officiant (an ordained/licensed clergymen or magistrate). Be sure to bring the license to the rehearsal to give to your officiant for him or her to sign following the ceremony.