Paper Tongues Goes Rogue
The Charlotte band drops manager Randy Jackson to chart its own course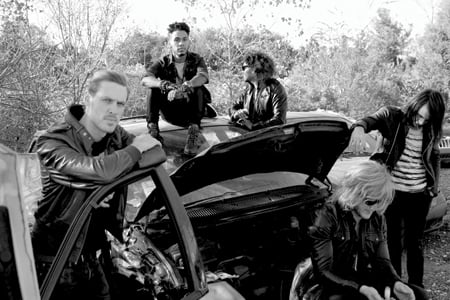 A major label record deal and American Idol's Randy Jackson as your band's manager—the combination sounds like a young band's dream. But local quintet Paper Tongues has traded in both for creative freedom and the chance to plot its own course through the quickly changing music industry.
Paper Tongues has long done things in reverse. The band didn't spend years, or even months, tweaking its anthem pop rock live show on small local stages such as The Evening Muse or The Milestone. It wasn't technically even a band until its members, who'd met playing crowd-drawing outdoor jam sessions in the middle of uptown, began recording together in Los Angeles in 2007. Jackson signed on as manager after front man Aswan North, with trademark bravado, spotted him at a restaurant and unapologetically interrupted his lunch.
The band spent the next three years touring the country with an album topping Billboard's Heatseekers chart (which predicts the next big thing), songs featured on American Idol, tours with Linkin Park and Neon Trees, and a booking on Late Night with Jimmy Fallon. But in 2011, after releasing its self-titled debut on the A&M/Octone label, Paper Tongues took what many observers would call a confounding detour. It left the label and its celebrity mentor behind.
"The hardest thing was asking Randy to step down," North says, sipping coffee inside 7th Street Public Market. If its gamble failed, the band didn't want to harm Jackson's reputation. "He's winning on everything he touches. I'm about to try something that's not being advised by [Jackson] or the label. I was told you can't get back into radio [without a label]. You can't be mixing. You can't be producing."
Proving they can succeed on their own helps bands gain more creative control, if and when they decide to rejoin a label. And so far Paper Tongues is defying the odds. Its new singles are gaining airplay locally and in markets like Tampa and Denver. North produced the band's new Crowd Surfing EP with Patrick Boyd of Charlotte's Sioux Sioux Studio and longtime collaborators Nicolas Balachandran and Jared Logan. The group also retained its West Coast publicist and is aligned with manager and industry veteran Bill McGathy, whom North likens to a coach.
North says he's taking calls from labels but is not ready to hire anyone yet. He approaches each call by saying: "We [would be] a debt to you now. Delay this meeting until we've sold 100,000 albums or a million singles."
That may sound ambitious, or counterintuitive, but it's the kind of independent strategy that helped bands like Metric and the Avett Brothers—who built a following with relentless touring and smart business decisions—play ball in the majors. If Paper Tongues pulls this off, it could be a model for younger, regional artists to follow.
"I'm paying attention to the business," North says. "Why not change the model?"