Party After Prince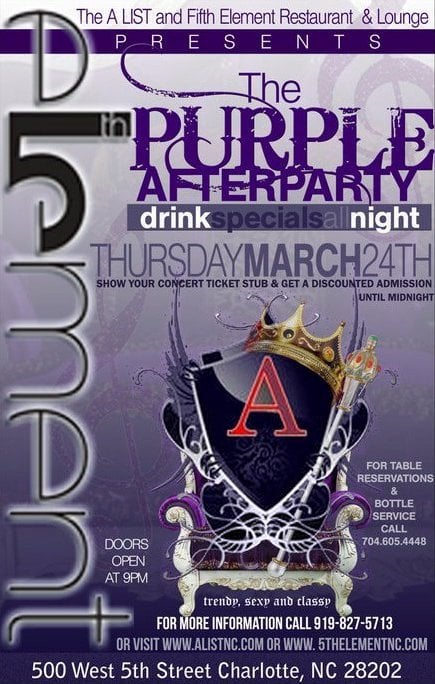 The incomparable Prince brings his "Welcome 2 America" tour to Time Warner Cable Arena on Thursday, as he makes his six-city trek through the Carolinas. Charlotte is rolling out the purple carpet for the legendary performer (native Anthony Hamilton is the opening act). And if you want to keep dancing after the show is over, here are a couple of after-parties to choose from.
Purple Rain
It's only fitting that the Breakfast Club would hold an after-party since it's an '80s dance club that often plays Prince's music. You're asked to get in the spirit and wear purple, and there will be a purple vodka drink special. There's no cover charge, and with the club located across the street from the arena, fans might make a beeline there after the show's over. 9 p.m. Breakfast Club, 225 N. Caldwell St. that80sclub.com.
The Purple After Party
Popular party promoters The A List have partnered with 5th Element and invite you to party like it's 1999—in style. Your concert ticket gets you discounted admission until midnight. VIP and bottle service is available. The dress code is stated as "trendy, sexy, and classy." 9 p.m. $10 and up. 5th Element, 500 W. Fifth St. 5thelementnc.com. For advanced tickets, visit purpleafterparty.eventbrite.com.