Party Girl
How to host the perfect bridal shower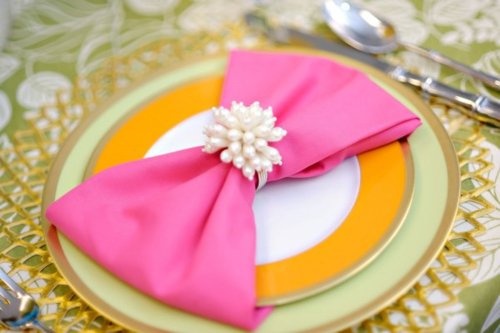 Maid of honor or designated close friend to the girl-of-the-hour, age-old tradition states that the bridal shower is in your hands. Should space restrictions in your own home necessitate such, it's perfectly acceptable to throw the soiree elsewhere. However your role as host is set in stone. The shower should be held between two months and two weeks prior to the wedding day. If you've been named MOH, plan a timeline of all your responsibilities, and, when the time comes, get going on the shower. Like any event, the bridal shower can become a pretty involved undertaking. No need to stress however. After all, this occasion is meant to celebrate the bride and her groom. So have fun with it and follow the simple steps I've listed below for you.
1. Tea Time
The appropriate time of day to host a bridal shower is early afternoon. But should the scheduling not work out, it's no problem hold it later in the day. Should the event end up during a meal hour, you must be prepared to serve a full meal. Otherwise an assortment of heavy hors d'oeuvres, tea sandwiches and canapés will be just fine. (Don't forget the cocktails!)
2. The List
Create a guest list and gather all full names and addresses. Having a definitive head count will help you determine event location, appropriate theme and all other decor details. Note: Don't feel obligated to invite guest's children to the event. This is a sophisticated, old-world tradition that does not include rambunctious little ones.
3. Motif Master
The theme for a bridal shower can venture as far as one wants into the girly realm. This party is, after all, about the bride. Always keep her in mind while ruminating design and decor concepts. A white tabletop is always an elegant option and crowd pleaser. Line a runner with vases of pink peonies and a few tealight candles for a pop of feminine color. If you'd like to designate a more defined theme, here are a few options that are less kitschy: Around the Clock (guests will be individually assigned to a certain time of day and will bring gifts that coincide with that time of day. For example, a coffeemaker for morning); Holiday Party (guests will bring a gift useful for a holiday of choice. For example, a box of ornaments for Christmas); or a bar-themed party (guests will bring gifts to stock the newlyweds' bar cart. For example, coasters, martini glasses, well-aged wine).
4. You've Got Mail
Keep budget in mind when deciding upon invitations for the event. You want to be sure you're able to evenly distribute funds for all aspects of the shower. Should you choose to, a letterpress or calligraphed invitation from a local stationery shop will be sure to garner attention and excitement from invitees. However, if it means skimping on the event itself, stick to print-it-yourself options (which can still be designed through a stationery company) or paperless post.
5. Foodie
Investigate dietary restrictions of the group and always, always keep the bride's favorites in mind when planning the menu. Choose food items that are able to withstand sitting out on a buffet table for several hours. With hors d'oeuvres, you'll want guests to feel like they can come and go with snacks throughout the event. Keep seating in mind as well. Will guests remain seated or will they mingle standing? This will help you decide whether to stick with mainly morsels and finger foods or more involved bites that require utensils. Choose a signature cocktail for the event. Something using champagne and juice is ideal, given the time of day it will take place. Also have an assortment of wines on hand as well as non-alcoholic options like soft drinks and sparkling water. Desserts should include an assortment of sweets as well. Try to include options for multiple tastes (ie lemon, chocolate and red velvet).
6. Playtime
When planning activities for the afternoon, less is more. Keep them understated and classy. For instance, distribute decorative cards on which each guest can scrawl a few words of advice to the bride on married life. Set up a DIY photo booth with your iPad to keep things light and fun. Create a quiz about the couple and print it up on pretty paper.
7. Do Me A Favor
Party favors are a lovely touch to the bridal shower. They can be as involved as gift bags or as simple as a mini box of macarons with each guest's calligraphed name written on the top that doubles as a place card for the table. The favor is an easy way to tie in the theme of the event. Is it a tea party? Give each guest a DIY teacup candle. Paris theme? Dole out a box of french chocolates for each invitee.
8. Delegate
Feel free to enlist friends or family to help plan or fund the event. If it feels overwhelming, just ask for help. Those who know and love the bride will be happy to do so.