Party Pooper
Sorry to rain on your premature victory parade, Charlotte. But Atlanta's been through this too many times before.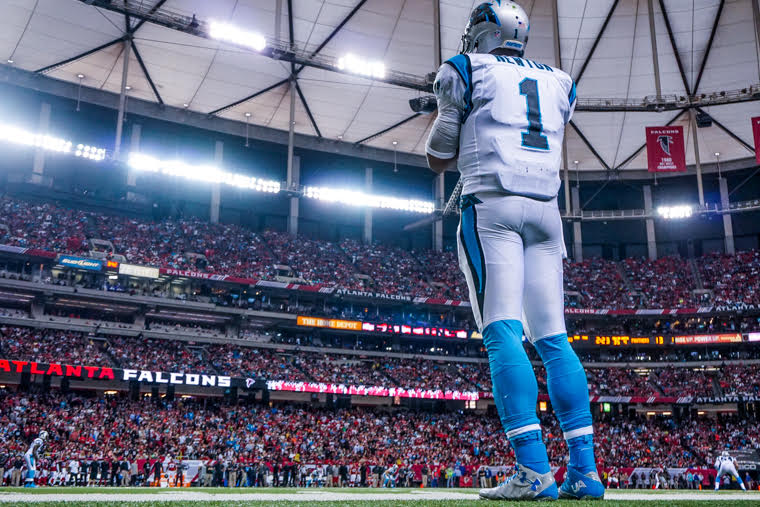 WELL, WELL … if it isn't the Second City of the South all decked out in Panther blue and black for your return to the NFL playoffs. Best record in the league, huh? Are those little Lombardi trophies I see in your eyes?
Bless your hearts.
Sorry to burst your Goodyear Blimp, little brother. It's just that: A., We generally resent anyone else's success, especially a so-called "rival," B., as true Southerners we know football season ended Monday night with yet another national title for the SEC (stick to hoops, ACC), and C., when it comes to the pros, we've been through this before.
Professional sports first came here in 1966, and in the five decades since, we've seen some things. As a metro that could only be described as "major league," we've been home to a Scrabble bag of acronyms: MLB, NFL, NBA, NHL (twice), and soon MLS. Those franchises have built up our civic pride with individual feats and division titles and conference finals and World Series and Stanley Cup Playoffs and even a Super Bowl. You want No. 1 seeds? We've had enough to sew a garden.
Fifty years? One lousy world championship.
Our grief is quantifiable and well documented. Forbes named us the No. 1 most miserable sports town in America; The New York Times ranked us second only to Cleveland among the most cursed. You probably didn't notice—just two more lists we topped you on.
Meanwhile, Charlotte is relatively new to this whole charade, so we don't blame you for being all excited. It sort of makes us nostalgic for that youthful naiveté. After all, have you forgotten what happened the last time you went to the Super Bowl?
Sour grapes? Sure, perhaps a little. But don't think for a second that these crisp, tags-still-on Seahawks jerseys we're wearing are a sign of jealousy. One championship parade in 50 years is still a lot more than none (just ask your Stanley Cup-hoisting neighbor, Raleigh). And don't forget Week 16, little brother, when we had to paddle your behinds and send the '72 Dolphins a case of champagne to apologize for your trespass upon true greatness.
So go on, enjoy yourself. Warm your hands in the national spotlight aimed at Cam Newton's impeccable cheekbones. But when it all comes crashing down, likely in the most creative and heart-wrenching way possible, don't come crawling and bawling down I-85. We're long out of sympathy.
Tony Rehagen is an Atlanta-based freelance writer whose work has appeared in ESPN The Magazine, Men's Health, The Bitter Southerner, and Atlanta. Follow him on Twitter @trehagen or on his website tonyrehagen.com.