Party Pressure
Sick of in-home party invites? You're not alone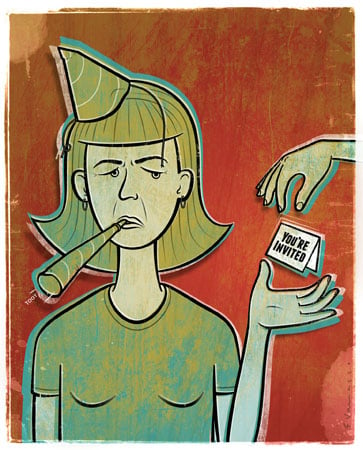 You can't escape them: invitations to house parties where friends, neighbors, and coworkers tempt you with measuring spoons, chunky necklaces, lunch totes, and even sex toys for purchase. Noticed an increase in the invites to said parties in the past year? You're not alone. In the last twelve months, lines like Stella & Dot, Cabi, Thirty-One, Pampered Chef, and bamboo pink, to name a few, have seen an uptick in sales, which means you've likely seen a surplus of invitations to the parties. (Thirty-One, for example, boasted that it sold its millionth order last November, only to proudly announce that it sold its 2-millionth order just five months later.)
But while the sellers of these products can rake in the cash, invitees are tiring of the push to attend these parties on a monthly and sometimes weekly basis. Several chat boards at TheNest.com and Yahoo feature posters complaining about the excessive invitations to attend the parties. "Unless it's a dear friend who saved my life at one point in time, I decline all invitations," says thirty-six-year-old Carly*, who lives in Park Crossing in south Charlotte. "For the most part, I'm a bargain shopper, and house parties are the ultimate guilt-induced shopping experience. You buy something you don't need in order to support your friend, or more importantly, so you don't look like a jerk who just stopped by for the appetizers and wine."
"I hate all those at-home parties period, I don't care what you're selling. A coworker had two of them then also got another coworker to host one. I made excuses not to go to any of them." —via TheNest.com
But while the pressure continues to mount for many—particularly those in the suburban set—to attend the parties, some have no problem saying no. "Everybody I know is selling something," says Waxhaw-based Frederica Coleman. "I don't find it annoying because I don't feel pressure to buy."
Now that school is back in session, fifty-four-year-old Joan*, who runs her own business, worries that her friends will have more free time and the influx of invites will increase yet again. "I know it's going to start up again and I'm going to feel obligated to buy things I don't want," she says.
"Sometimes it's the price of being a good neighbor."
*Names have been changed.