Party with the 'Best of the Best' on May 31
Charlotte magazine's BOB Awards Party brings out the city's movers and shakers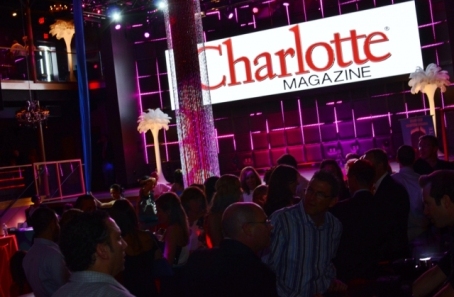 I write about a lot of parties here on Dusk Till Dawn. And this event is one of the best… literally. Not because it's put on by the boss, meaning Charlotte magazine, but because it brings together many of the city's best. The 2014 BOB Awards Party is taking place Saturday, May 31, 7-10 p.m. at The Fillmore Charlotte.
BOB, which stands for Best of the Best, is an annual tradition led by
Charlotte
magazine. The BOB Awards issue arrives each spring (the
May issue
), highlighting the best in Charlotte dining, nightlife, arts, shopping, family, and more. After the pages have been perused by readers, and the winners congratulated by patrons (and visited by new ones), it is then time to party. And that time is upon us.
Many of you attend the BOB Awards Party each year; I've had the pleasure of going each of the last eight years (the BOBs have been around much longer than that). But for some of you, this will be your first time—we'll say it's because you're new to Charlotte, and not that you've been sitting on the sidelines. Either way, you'll experience what this event is most known for: serving food from several of the BOB Award-winning restaurants (included in the cost of admission). You must learn to master the art of holding the food in one hand and your drink in the other, as you bounce from one restaurant display to the next. Sitting will only slow you down; there is food to be gobbled.
But first, you'll be able to walk the red carpet and have your photo taken (maybe get your next Facebook profile pic out of the situation). And there'll be great entertainment again this year. The event has a casino theme, so you can play games like blackjack, surrounded by festive décor. Popular radio personalities Ramona Holloway and Kelly McKay are returning as hosts, and DJ Complete will play your favorite tunes.
There are sure to be surprises, which you'll have to come out to see. And also new this year, which you veteran BOB Awards partiers have likely concluded: the event is taking place on a Saturday, instead of its traditional Thursday night slot. I suspect that will make the party even livelier (no work the next day, yeah!). And there's a new presenting sponsor, Autobell Carwash, which you'll have the opportunity to win prizes from in the casino games.
So, the party is at
The Fillmore
at
NC Music Factory
(1000 NC Music Factory Blvd.). General admission is $18, and tickets can be purchased online.
And for you, our loyal Dusk Till Dawn readers, there's a 20 percent discount off of general admission
if you type BOBDUSK where it says "Enter promotional code" on the ticket page. There are also VIP tickets for sale.
Be sure to bookmark www.charlottemagazine.com/Blogs/Dusk-Till-Dawn to stay plugged into Charlotte's nightlife and social scene. Click here to sign up to receive the weekly Dusk Till Dawn e-newsletter. Follow me on Twitter @HollidayInk; email me at jarvish@grownpeopletalking.com.