Passing LGBT Protections: The Economic Case
What does Charlotte want to be when it grows up?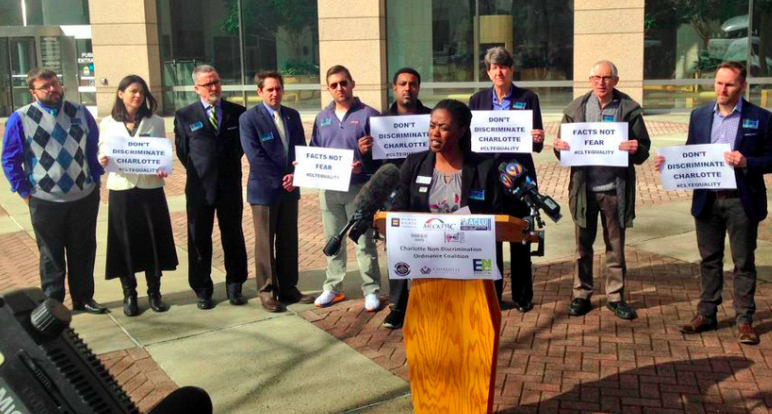 We're a few hours away from one of those rare moments in the life of a city, when the people and their elected representatives decide what it wants to be when it grows up.
Before the City Council tonight are some changes to a series of city non-discrimination ordinances. The changes would add sexual orientation, gender identity, and gender expression to the list of "protected characteristics" that prevent discrimination based on race, color, religion, sex, and national origin.
The vote will be tight. The supporters and opponents have spoken, and will speak for hours tonight before the vote. If you haven't examined their arguments, you can probably guess them.
What makes this vote so momentous isn't the practical effect it will have on individuals and businesses, which as far as I can tell will be next to nil. What the City Council will decide tonight is a matter of self-definition, and the city's economic future.
I think council members ought to adopt the changes. Here's why.
One: Since 1992, when the council voted down a somewhat similar set of protections, Charlotte has grown from the nation's 35th-largest city to its 16th-largest. The city has built a pro football stadium, an Uptown events arena, an Uptown baseball stadium, a series of new museums, new skyscrapers. It's courted businesses and professionals from around the nation, lured by the promise of jobs and a rich urban life—in a city that welcomes and appreciates anyone who wants to contribute.
Two: Studies from around the nation and world in the last decade have demonstrated, over and over again, that any kind of gender-based discrimination by government or business carries a cost—not just a moral or ethical cost, a literal one. "Discrimination is toxic to profit margins," one of them says bluntly. Americans' attitudes toward gay, lesbian, and transgender people have changed remarkably in the last 10 years. They'll continue to.
Now put those two together. It's taken a generation for Charlotte to evolve from a respectable, mid-sized American city competing on a mainly regional stage to a growing economic engine competing with national and international cities for coveted jobs and highly educated workers. Many of those competitors—Washington, D.C., Tampa, Orlando, Atlanta, New Orleans, and Austin among them—have passed non-discrimination ordinances that include gender identity.
When you cut through the noise about symbolism, religious freedom, inclusion, and the cartoon specter of male perverts in wigs flocking to women's bathrooms to prey on young girls in the stalls, you're left with something hard, cold, and practical—money. It's an economic development issue. Does Charlotte want to keep pace with the league of progressive, dynamic American cities or not?
I'm willing to bet it does. If there's one thing Charlotte prizes more than "traditional values," it's commerce. Or, put another way, surely the City Council isn't willing to make Charlotte look less advanced on social policy than Myrtle Beach.