Passion8 Prepares for James Beard, A Rebrand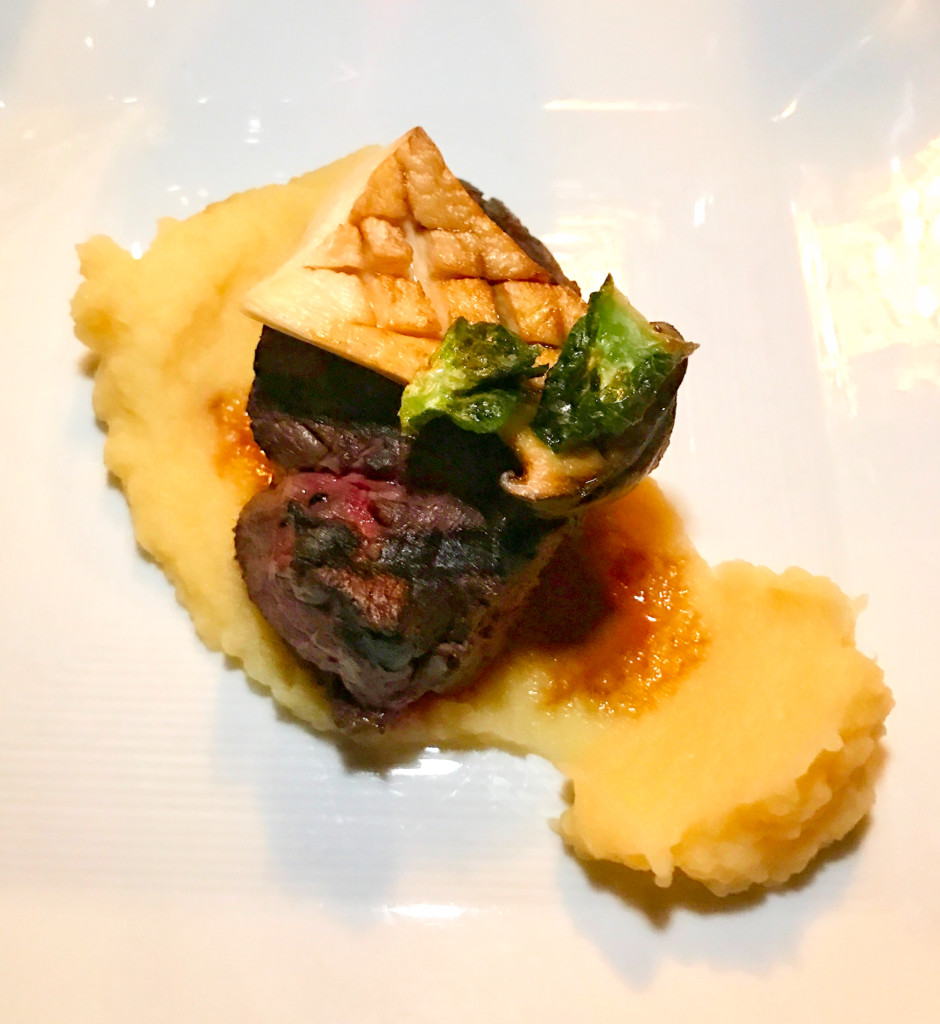 Diners gathered last night at Passion8 restaurant to help send Chef Luca Annunziata and two of his colleagues, Chefs Sylvain Rivet and Marc Pauvert, to the James Beard House in New York with some practice under their belt. The James Beard House is a restaurant managed by the James Beard Foundation, whose stated mission is to "celebrate, nurture, and preserve America's culinary heritage and future."
Getting a chance to cook there comes by invitation only, and requires that chefs, among other criteria, can demonstrate excellence in a particular discipline and a consistent use of the best ingredients available. "Going to James Beard [House] is kind of like your bucket list," says Annunziata.
Passion8 hosted a rehearsal dinner for the three chefs as they prepare to cook at the House on January 27. Highlighting the disciplines of each chef, they dubbed the special meal "The Butcher, the Baker, and the Chef." They left the kitchen briefly to introduce themselves before the first course, displaying a lighthearted camaraderie that will be helpful in the notoriously tight kitchen up north. "It's the butcher, the baker, and me," says Luca. "They're driving me crazy because I gotta deal with two Frenchmen."
Luca explains to guests that the chefs are going for flavor, sound technique, and a good representation of quality ingredients. The first course, a bread course, speaks to French dining traditions, offering guests a choice of three rolls made by Chef Rivet. That trio is followed by another from Chef Pauvert, several preparations of duck that show off his charcuterie technique. (The foie gras torchon with onion jam and a chicken liver mousse h'ors d'oeuvre served as guests arrived show that Pauvert has a strong handle on all things liver.)
A gnochetti prepared with Rappahannock oysters and lamb ragu came next, followed by beef tournedos (beef tenderloin). While many of the dishes maintained a focus on technique over artistic flair, this course and the next perhaps best represented the kitchen's philosophy. A local trumpet trumpet mushroom, scored and roasted, rested on top of medium-rare beef, enhanced only by a simple jus and a couple of perfectly crispy Brussels sprouts leaves. Chef Annunziata chose puréed celery root over the more expected potato mash, giving the dish more complexity but a lighter feel at the same time.
The other dish showing off technique was Chef Rivet's creme brulee, a dish served so many times at so many places, it's hard to be impressed anymore. Not so with this preparation, which was remarkably creamy and brightened by some blood orange. Also not to be forgotten was the bacon tuille, a rif on the traditional French cookie wafer that will likely impress diners at the House.
Chef Rivet didn't stop there, however, serving a trio of desserts that were hard to put down despite all the food that came before. Rivet had some fun while showing off his patisserie chops, making a playful popcorn macaron, a chocolate brownie bomb, and a vanilla puff that made diners slump happily in their chairs.
He didn't stop there either. To end the evening, all three chefs made their way around the dining room, passing out gift boxes of three more pastries to enjoy in the morning (or at night, if impatience settled in).
Guests sent the three chefs off with a fond farewell, then said another farewell—to Passion8. Jessica Annunziata, who manages operations for the restaurant, took a few minutes to announce that the restaurant would change names and menus in a few weeks. The new name, Luca: A Modern Italian Kitchen, will better tell the story of Chef Annunziata's Italian heritage and his legacy as the son of a butcher.
At Luca, diners can still expect to find a strong presence of local ingredients throughout the menu, but they'll be recast in updated interpretations of traditional Italian dishes.