Pat McCrory, Bumbler
This is customer service?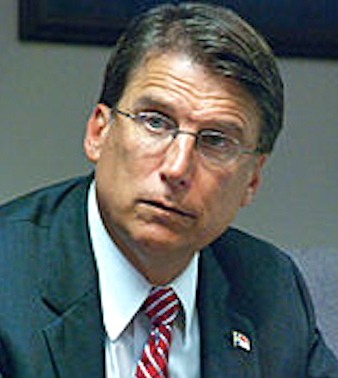 The only thing worse than a despot, the saying goes, is a bumbling despot.
But there's something even worse: A bumbling, powerless despot.
This afternoon, the General Assembly is expected to convene to override Gov. Pat McCrory's vetoes of two bills (one of which, H.B. 392, which would require drug testing of Work First and food stamp applicants, is a particularly nasty and stupid measure McCrory was right to veto). The override votes will likely be quick, efficient and passed with a minimum of discussion.
They represent what we've all seen this legislative session: a governor in the peculiar and humiliating position of having to accede to the more powerful and ruthless members of his own party. Governors generally pilot the ship of state. Not this governor, as the N&O's Rob Christensen writes:
During a critical time in his governorship — when governors have their most political capital — the legislature grabbed control of the agenda. Republican lawmakers had a two-year head start being in charge, and they started more quickly than McCrory, who was still assembling his team.
Nearly every major decision was initiated by the legislature — including abortion restrictions, major cuts in income and corporate taxes, sharp cuts in unemployment benefits, refusal to expand Medicaid health insurance to 500,000 North Carolinians, and passage of one of the country's most restrictive voter ID bills …
There are a number of reasons that McCrory has struggled, according to interviews with gubernatorial watchers. He had less Raleigh and legislative experience than most recent governors. His time as mayor and his background as a Duke Energy midlevel manager did not provide him with deep executive experience. And because Republicans had been out of power for 20 years, finding people both qualified and willing to serve took longer than usual.
There was also a bit of an ideological division, with McCrory working with a legislature dominated by rural conservatives heavily influenced by the tea party movement.
"He was brand-new as governor and had to be filling his Cabinet positions and getting a budget ready and doing the housekeeping things at the beginning of the session," said Phil Kirk, chief of staff to the state's two previous GOP governors. "I thought he got off to a relatively cautious and slow start with the legislature."
The governor's approval ratings have dropped consistently since he took office. His failures of leadership are bad enough, given his prior emphasis on that magic word.
But what's even worse are his WTF? moments, those governmental and PR missteps that make you wonder where the hell his mind is:
·      His "I don't know what's in the voter ID bill" revelation, coupled with a reference to the state's non-existent online voter registration system.
·      His appointment of twenty-something campaign staffers to plum state jobs they were clearly not qualified for, then claiming they were.
·      His double-whammy insulting of the state's media, followed by a shot on North Carolina's teachers' unions (which, like online voter registration, do not exist).
·      His complaining about the "terrible, terrible budget" he inherited from "the previous administration" when the budget he inherited actually came from the last GOP-controlled legislature.
·      The cookies. For the love of God, the cookies.
Charlotteans have played the "what the hell happened to Pat?" parlor game all year. Now I'm wondering whether he was just managed particularly well as Charlotte's mayor. A gubernatorial performance this buffoonish can't be just the product of inexperience and displacement. Can it?