Pat McCrory Is the Right's Man for the Job
Former Charlotte mayor Pat McCrory finds himself with more power than any Republican in North Carolina history. So what's he going to do with it?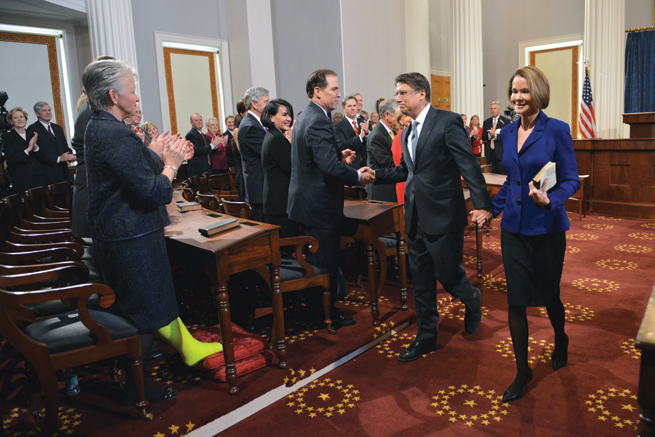 It's 12:30 on a dreary January Saturday afternoon in Raleigh, and the North Carolina State and Duke basketball teams have just tipped off in one of the biggest ACC games of the season. Six miles away, a bespectacled gentleman is holding open a side door to the North Carolina State Capitol.
It's Patrick Lloyd McCrory, who minutes earlier was formally inaugurated as the state's 74th governor. He's the first Republican to hold that title in more than 20 years.
His wife, Ann, clings to his arm, and they flash smiles as they greet well-wishers with hugs, welcoming legislators and old friends into McCrory's new office building. It's much older than the Bank of America Corporate Center he recently vacated.
Minutes earlier, outside on the grounds of the capitol, McCrory delivered a sea change of an inaugural address. He signaled a new era of conservative politics that would unleash the private sector. "As I look out toward Main Street with government at our back," he said, "I see unlimited opportunity. Government should not be a barricade or an obstacle to progress."
More North Carolinians were probably paying attention to the basketball game than to McCrory's speech. But his words represented a paradigm shift in tone for a top North Carolina leader. Hoops fans may have missed it, but Democratic leaders did not.
Only six other Republicans have ever found themselves governor of the Tar Heel State. The last time one had a supporting majority in the North Carolina General Assembly was in 1870, and when Democrats took it back, they impeached Governor William Woods Holden and ran him out of office.
Which means that Pat McCrory—Pat McCrory!—is the most powerful Republican in the history of the state. Until this past year, North Carolina Democrats might have said, well, if it's gotta be a Republican, it might as well be McCrory, who had the reputation as a moderate during his seven terms as mayor of Charlotte. Republicans might have wished for someone with stauncher conservative credentials.
But, in the throes of his campaign and especially since taking office, McCrory has showed a conservative side few thought he had. He's made some curious moves and even curiouser hires, one of whom is Art Pope, the mastermind of the Republican takeover of the state legislature and the man who financed it. All of which brings up the question, just what kind of governor will Pat McCrory be? And, given the veto-proof Republican majority in the General Assembly and all of the far-right money that helped finance his campaign, how much say does he even have in the matter?
The running myth is that this historic moment wasn't supposed to happen, because McCrory's 2012 campaign wasn't going to happen. "The day I walked out of the mayor's office in 2009, that was my ending at the age of 59," McCrory said in a phone interview a week after he was sworn in, paraphrasing his own repeated assertion that he was done with politics after losing the governor's race in 2008.
Going into 2008, McCrory the moderate was the man who could break the statewide curse that had dogged former Charlotte mayors Eddie Knox, Harvey Gantt, Sue Myrick, and Richard Vinroot, each of whom lost attempts at statewide office. After surviving a pack of conservative true believers like state Senator Fred Smith in the 2008 gubernatorial primary, McCrory faced the lackluster Lieutenant Governor Beverly Perdue in the general election. It was his race to lose, and he lost it.
McCrory lost by roughly 145,000 votes. The official story was that he was done, deciding only to run again in October 2011 after waiting hours for service at the DMV. That was the perfect political cover story for a man trying to seem reluctant and idealistic. But it doesn't explain why McCrory kept traveling the state after his loss while working for Charlotte law firm Moore & Van Allen.
"I don't think there was any doubt [that he would run again] after 2008," says Andrew Taylor, a professor of political science at North Carolina State University. "He had run very close in a year that was supposed to be good for Democrats, when a Democratic presidential candidate won North Carolina for the first time since 1976, and [Democrat] Kay Hagan won handily over [Republican] Senator Elizabeth Dole."
So it was worth trying again. "He worked hard to make sure he wasn't going to get a primary challenge by burning shoe leather," Taylor says. "He was the presumed Republican gubernatorial candidate early on, long before any filing deadline, from convincing every interest and every wing of the party."
There was a plan, and it started with McCrory on the road, eating generic chicken lunches and dinners at events stocked with upper-middle-class party faithful. "He was in demand in a lot of areas to speak at Reagan Day dinners or help campaign for other local elections," says Brian Nick, who ran communications for McCrory's 2012 campaign. "He was generating earned media," which is consultant-speak for free press.
Meanwhile, the Perdue administration was dealing with campaign finance scandals and public relations blunders, and the recession. "We saw her numbers and knew she was going to have a challenge," Nick says. "But we certainly had the expectation that she was going to run again."
Barely three months before the primary, Perdue announced she would not seek reelection. Lieutenant Governor Walter Dalton entered the race the next day, with the fire in the belly of a man close to realizing a dream. But the Democratic primary soon turned into a three-way comedy of errors.
Every other word out of former Congressman Bob Etheridge's mouth was "education," and, just like when he ran for lieutenant governor four years earlier, Dalton ran ads that shamelessly repeated his name over and over in hopes of boosting recognition. "They were basking in the glow of [Perdue's] failures without the money to overcome those failures," says Richard Vinroot, a Republican former Charlotte mayor who ran unsuccessfully for governor three times.
In a year when Amendment One created a divide between young and old voters, McCrory increased his percentage among young voters from 28 percent in 2008 to 40 percent in 2012, even though he supported the amendment outlawing gay marriage. Liberals never called him out on it.
Still the race was never inherently about gay marriage or other testy issues like fracking, charter schools, or voting rights. "The McCrory campaign wasn't built around specific positions, which has led to the interest now in what kind of governor he will be," Taylor says. "He campaigned as a right-of-center, pragmatic business type, a man of action rather than words, and that was appealing."
McCrory outspent Dalton three-to-one, using $12.3 million in contributions (a good chunk of it from Art Pope–affiliated organizations) to hammer home a message of unbridled capitalism and reforming a broken state government. McCrory's ads featured him alone in an abandoned warehouse, and you could not help but want to free him. The messaging worked. He cruised to victory, and went to bed early on election night.
The next day it was off to Raleigh to prepare for a new job. "Not many people are given a second chance," McCrory likes to say now. "I was given a second chance and so were the voters."
On Inauguration Saturday around the capitol grounds, it was hard to miss the bronze statutes of state Democratic icons like Charles Aycock and Zeb Vance.
There was even one of Andrew Jackson on horseback. This was not exactly Republican turf.
McCrory's election and the Republican super-majority in the General Assembly were the culmination of years of hard field work by Republicans. Unprecedented campaign spending, President Obama's unpopularity, and Governor Perdue's blunders created a perfect storm for Republicans, who increased their margins in the state Legislature, took control of the congressional delegation, and got their governor.
Inauguration Day was part revolution, part victory dance. It looked like a reunion of 1980s College Republicans, many with a significantly younger-looking wife and college-age kids. Present were pillars of Charlotte social life and Raleigh's chattering class, a few Democrats there to kiss the ring, and plenty of big-business types sporting cigars to celebrate expected new tax cuts.
Many members of the new regime had come of age during the 1970s, and their politics were similarly shaped. "The first person I ever voted for was President Reagan," says Speaker of the House Thom Tillis, a Republican from Cornelius who couldn't help but flash the occasional smirk while sitting next to outgoing governor Perdue during the inaugural proceedings. "It was a time when the country was at a low point in the century, and I got to observe how [Reagan's] optimism worked in my formative years."
These disciples of the Gipper grew up at a time when everyone had long hair, and because of Watergate and Vietnam, nobody believed in anything. So the way to rebel was to rock short hair and read P.J. O'Rourke. Idealism meant becoming a businessman, not going into the Peace Corps, and now these real-life Alex P. Keatons were all grown up and in charge.
McCrory and Tillis now face the challenge of holding together the conservative movement that has taken over Raleigh. Both seem more comfortable with an Eisenhower-style "dynamic conservatism" which uses the government to create opportunity in the private sector. By contrast, a host of legislative freshmen, many of whom found their way to Raleigh via friendly redistricting, are inexperienced pols from Bible Belt districts, caught in cloud-cuckoo-land, with fever dreams of packing the state Supreme Court, making it a statutory crime for a woman to go topless, and summarily firing the members of eight nonpartisan boards and commissions.
McCrory and Tillis are from the banking wing of the GOP, not the Southern Baptist one. But Tillis has his eyes set on Washington. "His interest may be different. There is talk he could run against Hagan in 2014, and that could lead to conflict with the governor's office," Taylor says. "So on the surface there may be harmony, but beneath there will be competition."
To have any chance in a primary, Tillis will have to toe the line on those reactionary whims in the General Assembly. As for McCrory, a man who fought for a tax increase to fund public transit and generally shied away from social issues, his true allegiances remain unclear. But he is all that stands in the way of the far right remaking North Carolina in its image.
The night before the inauguration, the Inaugural Ball was held at the Raleigh Convention Center. It was the party of the century for state Republicans. The food came from around the state, the Avett Brothers played, and everywhere you looked was another blonde bombshell in a white dress.
As the party died down, only a dozen or so people remained on the floor. One of them was James Arthur "Art" Pope, the state's new budget director. He carried on a couple conversations with bow tie–sporting Young Republicans, relishing the moment. And why not? He earned it.
"The McCrory campaign wasn't built around specific positions, which has led to the interest now in what kind of governor he will be."
Art Pope is poised to become the most important name of McCrory's first term as governor. The libertarian ideologue and retail magnate is a one-man reason for stricter campaign finance reform, having spent more than $40 million in the last decade funding conservative think tanks and Republican campaigns in the state.
Pope made his fortune selling cheap foreign-made goods in poor neighborhoods, out of chain stores like Rose's and Maxway, where most employees make close to minimum wage and have few if any benefits. With a passion for politics, Pope served three full terms and part of another as a state representative from 1988 to 1992 and again from 1999 to 2002. He ran unsuccessfully for lieutenant governor in 1992.
He gave up public political life for business but stayed active behind the scenes. While Democrats like Jim Hunt, Mike Easley, and Perdue wielded power, Pope was establishing a conservative government in waiting through organizations like the John Locke Foundation and the John W. Pope Civitas Institute.
In August 2009, McCrory appeared at an Americans for Prosperity rally against the proposed national health care bill. For a moderate who claimed to be done with politics, it was a strange place to show up. But Art Pope served on AFP's board of directors, and there was favor to be won.
In 2010, Pope invested millions in 22 Republican candidates for the General Assembly. Eighteen of them won. Pope was kingmaker. Now all he needed was someone to sit on the throne.
Real Jobs N.C., which Pope cofounded, spent $430,000 on outside advertising for McCrory in 2012, and Americans for Prosperity pitched in $469,894 on the gubernatorial campaign and selective legislative races. So when McCrory named Pope head of his transition team and then made him budget director, it raised the eyebrows of media and watchdog groups.
It was either a cunning move to keep him on a tight chain, a stubborn middle finger to Raleigh's liberal establishment, a moment of sheer cowardice, or an act of loyalty to the man who bought him his throne. One view: after capturing the General Assembly in 2010 for the first time since Reconstruction, Republicans needed a front man to sign the bills and cut the ribbons. After falling short to Perdue, McCrory coveted redemption. It was an unholy alliance.
McCrory says that Pope was "the best qualified for the job," pointing out that Pope has extensive public- and private-sector experience and, as a successful businessman, knows his way around a budget. And the fact is, the governor had to bring someone in. "Although he'd been mayor of the largest city in the state for nearly a decade and a half, he didn't have strong connections, or his own people that had worked with him for a long time in the city," Taylor says, noting the lack of Charlotte influence in the new cabinet. "He didn't have his own people to bring in."
As far as the inner circles of Raleigh are concerned, Pat McCrory really is an outsider. He's originally from the Midwest and went to Catawba College instead of UNC Chapel Hill or Duke. He got a teaching degree and never went to law school. He dug ditches for Duke Power before climbing the corporate ladder. The man never even served a day in the state Legislature or on the Council of State, normal breeding grounds for the governor's mansion.
So most don't know what to make of him in the capital, except for one old acquaintance. "I've known Pat since he was in the fifth grade, when his family moved to Jamestown," says North Carolina Supreme Court Justice Paul Newby, whose mother taught McCrory in junior high. "Pat knew no strangers, loved to laugh and make other people laugh."
McCrory was student body president at Ragsdale High School and was originally a Democrat, an early fan of Jimmy Carter. He decided to change parties the night Ted Kennedy refused to shake Carter's hand at the 1980 Democratic National Convention; he says the party had become too liberal and too dogmatic.
During college in Salisbury he student-taught at North Rowan High School, with plans to make a career out of teaching history and civics. He worked summers at Duke Power, the precursor to Duke Energy.
He's also a music buff who reveres the classic rock gods of his era like the Rolling Stones, and he occasionally finds a chance to hop on the drums to jam. He's a fan of George Orwell's 1984, and like any self-respecting history buff, enjoys Stephen Ambrose's World War II collection.
His wife, Ann, is more stylish, though she's very reserved. They're each on their second marriage and seem happy.
McCrory's affability is his secret weapon. "When he smiles, he smiles so hard that he squints and can hardly see," says Jim Martin, who lives on Lake Norman and was the state's last Republican governor. "But that says that he's an engaging man, and it will be difficult for people to say no to him."
The question is, what will McCrory ask for? Considering that his party hasn't had this much power in 143 years, it may not be completely up to him. "We have to make sure we have the capacity to get done education reform, tax reform, and regulatory reform," Tillis says. "But that doesn't mean we won't do hundreds of other things; in the last two-year term, we've passed [more than] a thousand bills."
By mid-February, the General Assembly had rejected the Medicaid expansion offered to states by the federal Affordable Care Act and voted to cut unemployment benefits. All the while, McCrory was hiring new cabinet members at a significant premium to those of his predecessor.
When he appeared on conservative Bill Bennett's radio's program, he criticized collegiate liberal arts programs and "educational elites" and promised future legislation that would fund higher education "not based on how many butts in [are] seats but how many of those butts can get jobs."
Liberals are spooked that Pope will use the state budget to shift education funding to charter schools and end the pre-K program Smart Start, and that paths will be cleared for fracking and offshore drilling. The same proposed bill that would lift the moratorium on fracking would also cut regulators from the N.C. Mining & Energy Commission, including the state geologist.
There is legislation to bring back predatory lending, and many in the General Assembly want to eliminate the estate tax and the state income tax and move to a consumption-based model that places the burden of funding the government on the poor and middle class.
McCrory coveted redemption. It was an unholy alliance.
The new administration says it is battling to remain competitive with our neighbors in the Southeast. "We hope to see where North Carolina can compete with Virginia, South Carolina, and Tennessee being able to recruit jobs because we have a better tax structure," says former state Representative Fred Steen, McCrory's legislative liaison, about his boss's stated desire to lower rates on businesses. Critics respond that competing with those states is merely a race to the bottom.
"The whole nation is looking at North Carolina," Newby says, referring to what he sees as a clash between President Obama's ideals and those of McCrory. "Nationally the political movement is going toward European socialism," says the Supreme Court justice, who was elected in 2004 and again in 2012, "but North Carolina is trying to reestablish the fundamentals of free markets and capitalism."
Democrats remain a loyal opposition, for now. "We've started down a road where I don't think people have a clue how bad it's going to get," says state Representative Beverly Earle, a Democrat from Charlotte, referring to the start of the legislative session and how the majority's policies will affect the poor and minorities.
There have been flashes of the maverick McCrory that Charlotte voters continually returned to office, like naming former Salisbury mayor Susan Kluttz, a Democrat, as his secretary of cultural resources. And he's proven to be comfortable enough in his own skin to stay the course in the face of criticism and pressure. "I am an outsider, stepping on toes not to cause pain, but to break up the status quo," he says.
And it is broken. Tillis has the gavel in the state house, Republicans have an unofficial majority on the nonpartisan state Supreme Court, and Art Pope is writing the budget. Every day Pat McCrory walks back and forth between the governor's mansion and his office inside the State Capitol, down streets and around buildings where Democrats wrote the history of North Carolina. Now the man who wanted to be a history teacher gets to write a new chapter.
This would have sounded crazy five years ago, but McCrory could end up being a Reagan-like figure for North Carolina. After years of corruption and general distrust of Raleigh, McCrory can make it work again. He can change the image of state government, if he can channel Reagan's optimism that attracted his generation to the Republican party in the first place. But Reagan never had a majority in Congres on his side. McCrory must avoid the pitfalls of unprecedented power, if he is to do something good with it.
If he can, his friends think it's only the beginning. "My belief is if Pat is successful in North Carolina he will emerge on the national scene as someone many will look to for guidance and leadership," Newby says. The man sure has a rendezvous with destiny, but a radical entourage trying to take him there. The question is who's leading whom, and how far will they go?
Michael Cooper, a native of Wilkesboro, has covered politics for Creative Loafing. This is his first story for this magazine.