Patrick Cannon, The Selfie and The Future
Charlotte's recently-convicted ex-mayor is going to federal prison. Can a big smile soften the blow?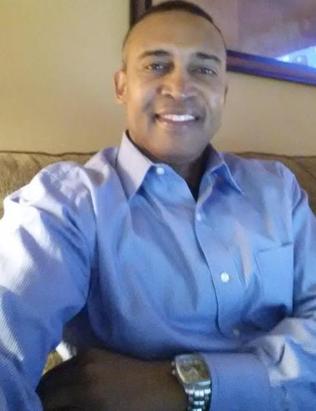 You've seen the Tom DeLay mug shot right? If not, know this: Soon after the former House Majority Leader was booked on money laundering and conspiracy charges in 2005, he went before a camera and beamed in his booking photo. One theory was that if he smiled, the picture couldn't be used against him in any future political ads.
We've yet to see a mug shot of Patrick Cannon, Charlotte's mayor for a minute, the guy who pleaded guilty to taking bribes in office, the man whose statement after pleading guilty sounded more like a post-election concession speech than the words of a man who is going to go to federal prison. He hasn't been seen much since his arrest in March, and other than the statement and a few words to a judge, he hasn't said much either.
So, it shouldn't come as much of a surprise that when he changed the profile picture on his Facebook page last night, Facebook blew up. The picture shows a smiling Cannon wearing a blue button up shirt and a nice watch, watching TV on the couch. It is… a selfie.
Of COURSE the Charlotte Observer saw it and ran with it. Of COURSE the TV stations followed suit. Of COURSE I'm writing about this. Nobody can say for sure that this was a calculated move, but when you're a former mayor with the heat on him who's only seen once or twice since his arrest, you have to know any morsel of insight or information is going to be magnified. The naive don't get elected to office over and over and over again.
The post received more than 100 comments and 500 likes before it was taken down. The reaction was… positive. A lot of the comments were from people saying they're praying for him. Only God can judge you, others said. Some people said yes, they'd vote for Cannon again. Only a few outliers said wait, didn't this guy admit to being a corrupt politician who took money in office?
If this seems odd to you, then just know the story of Congressman Jim Traficant from Youngstown, Ohio, an outspoken son-of-a-truck driver who wore tacky polyester suits and a terrible toupee (irony: his wife was a hairdresser). In 1983, he became famous for defending himself in court against federal racketeering charges. He won, and the publicity got him elected to Congress eight times without serious opposition. Traficant was a funny guy. He gave bizarre one-minute speeches from the floor of the House like he was rehearsing for Evening At The Improv. He came and spoke at my high school once. I got to ask him a question. It was about NAFTA, and I knew he hated NAFTA, and I got exactly the exasperated over the top funny-but-serious response that I wanted. I liked the guy. I thought I'd vote for him. Everybody else did, it seemed.
In 2002, he was convicted of, among other things, taking bribes. He was expelled from Congress, but that didn't keep him from trying to regain his house seat. In the next election, one in which it was clear that Traficant was running FROM FEDERAL PRISON, he received 15 percent of the vote.
Traficant, a Democrat, made other Democrats uneasy. Cannon, a Democrat, also made other Democrats uneasy. Both men were longtime politicians who were somehow able to take a barrage of constant questions and turn them around and use them as a positive. Those are rumors, they'd say. People just want to take me down. Nobody's ever been able to prove anything.
Of course, eventually people were able to prove a lot of things against both men, and both paid the price. Traficant was released from prison in 2009. In 2010, he ran for Congress again, and received 16 percent of the vote. So far, Cannon has yet to be sentenced. But just check out that smile. Does that look like a man who's ready to disappear from the public eye?