Paul Hastings' Paintings Invite Young Patients to Places Beyond Hospital Walls
His works appear inside Levine Children's, CaroMont Regional Medical Center, and other places across the region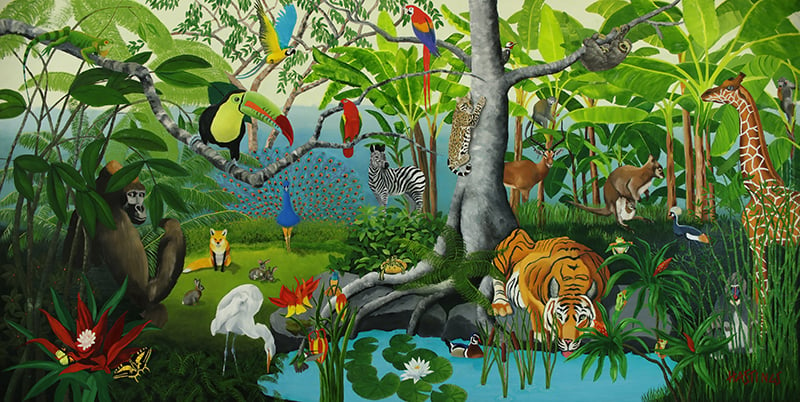 Inside Levine Children's Hospital, the corridor that leads to the chemotherapy suite contains a densely populated jungle.
Before treatment, nurses often park wheelchairs in front of the 16-foot-wide tropical scene and ask young patients to help them find animals scattered across the two canvases. Some of the wild beasts, like the tiger having a drink at a watering hole, are easy to spot. Others, like a neighboring baboon, hide in the foliage and beckon onlookers further into the brush. The painter of "Friendly Forest" is 73-year-old Charlotte artist Paul Hastings, who says his works at Charlotte-area hospitals have the same goal: "Each is there to take the children's mind off of what they're doing that day and the reason why they're there. The paintings are there to take them somewhere else."
Levine Children's also commissioned an African savanna scene, equal in length to "Friendly Forest," from Hastings—and another after that, a colorful collection of songbirds native to the Southern Piedmont that hangs near pediatric surgery. The painter relishes this relationship and contrasts the vibrancy of Levine Children's, a modern facility opened in 2007 with several playrooms, programming, and a broadcast media studio, with the sterile medical environments of his youth. Staff regularly tell him that his paintings soothe patients that range from toddler to teenager before harrowing procedures. "I've had so many of the nurses tell me that the paintings brighten their own days, too," Hastings says in early May, "which is just so good to hear now."
Hastings' landscapes, cityscapes, and fauna-filled works adorn corporate and private walls across Charlotte. The Federal Reserve Bank and Mecklenburg County Register of Deeds Office display his interpretations of the city skyline; a Dick Tracy-style version of Charlotte hangs at AC Hotel by Marriott Charlotte City Center. All carry his distinct sensibility, which Hastings describes as "landscapes and cityscapes you can walk into, with exaggerated perspectives."
Like many people who pass his paintings each day, Hastings once worked in Charlotte's corporate sector. A job as a buyer with Belk brought the Valdese native to Charlotte in 1978. Twenty-two years ago, he made the "scary" leap into full-time painting, and today, he toils away at his oil paintings inside a studio at Dilworth Artisan Station in South End, where he's affectionately known as "The Mayor" among the tight-knit collection of visual artists. The 95-year-old building is inhabited by a couple of dozen practitioners who work in private studios. Hastings moved in 11 years ago, and his space now is cluttered with half-finished portraits and reference photos of exotic birds, urban structures, and pastoral landscapes for paintings commissioned by homesick urban dwellers. The slow-drying nature of oils means long waits between adding layers, so he works on, and is constantly surrounded by, several pieces at once. When we talk in May, his latest commission is from a Kiawah Island resident who commissioned a "storybook-style" scene with animals native to the barrier island.
Before he moved his studio to the station, Hastings was a member of NoDa's once-thriving gallery and studio scene. Though he's known primarily for representational work, he describes surrealism as his first love. His first piece that appeared in a Charlotte-area hospital was in the latter vein, with swirling goldfish ascending into the air. "Sky is the Limit" hangs in the CaroMont Regional Medical Center's pediatric emergency waiting room in Gastonia, another place where kids and parents need distraction. Similar works have followed this motif: The goldfish-filled "Sky Pilots" was sent to Nuvole Rooftop TwentyTwo in uptown and a recent commission of skyward schools of tropical fish to a private residence in Tega Cay, South Carolina.
The image of a fish that escapes its imprisoning bowl has an obvious appeal to a child confined by illness. Over lunch a few years back, a friend offered Hastings his favorite appraisal: "You're an escape artist."
"You know, I like that," he responded.
"The Escape Artist" has headlined his Instagram page ever since. Lately, Hastings says he's noticed his work has a particular resonance with young viewers. This is especially true for the surrealist ones, in which the rules we accept for our lives are rendered invalid. "(Kids) don't question all this stuff so much," he says. "They just accept what they see. They just immediately get it, appreciate it, and let it transport them."
On the Carolinas Medical Center campus, Hastings isn't known just for his own paintings. He regularly joins a group of artists in an effort organized by Sherrard Georgius, co-founder of the Levine Children's-supporting Dreamcatcher Society. The team, which has included artists Hastings, Adrian Chu Redmond, Christina Dowdy, Marcy Gregg, Angela Nesbit, and Greg Barnes, works with patients inside the eighth-floor playroom to create paintings displayed in their own rooms or auctioned off at the Levine Children's annual gala. "I've worked with people who had been there their entire lives, even teenagers," Hastings says. "We each have one student, but when they're wheeled in with a wheelchair and IV tree—and their nurse and parents—it's a roomful by the time we get everyone in. Sometimes, they're very skeptical and not convinced they can do it. But by the time they leave, they're thrilled and can't wait to have it in their rooms."
In some cases, the visits require extensive preparation. Hospital workers fashion specialized gloves for patients without fingers or hands. When he describes one of these instances in detail, his voice cracks. "The last time I was there, I painted with a young girl, a tiny thing," he says. "Her mother came in with her, and we had to put on gloves and masks to work together because she was so susceptible. That day, she painted a sunflower, and she was just so proud of it."
Hastings pauses. "Two days later, they called me to tell me she had died. But she loved that painting, and that's why we do it."
Andy Smith is executive editor of this magazine.