Paul Verica Opening Provisions Food & Drink
The chef at Heritage in Waxhaw is getting ready for another venture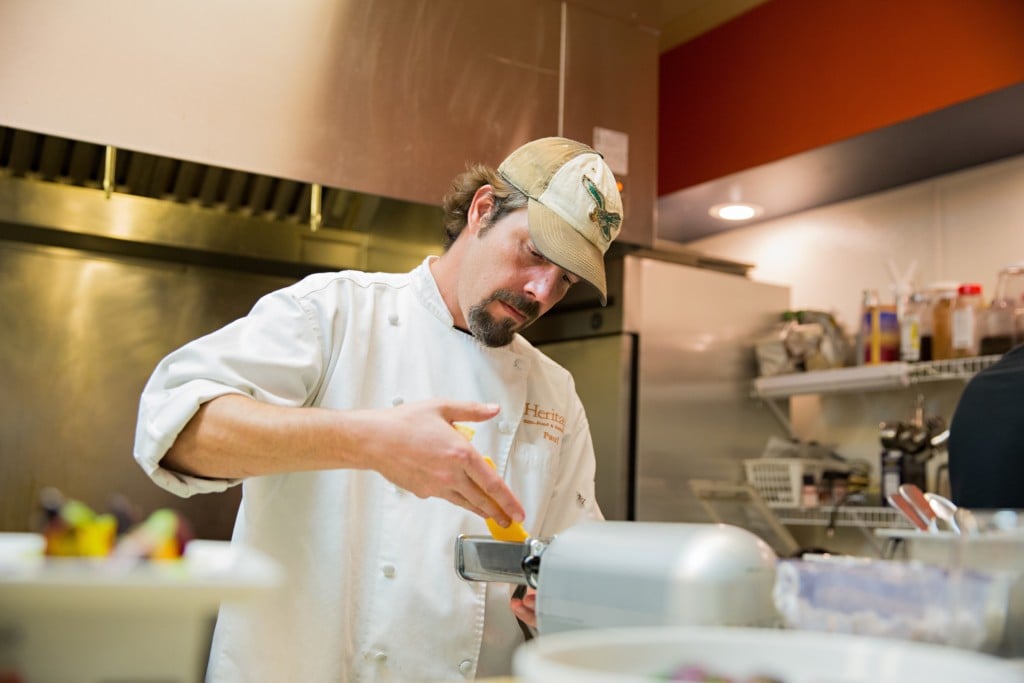 If you haven't been down to Waxhaw's Heritage restaurant, run by owner and executive chef Paul Verica, put it on your to-do list. Excitingly, the farm-to-table eatery is soon to have a sister restaurant. Verica will open Provisions Food & Drink this Saturday, July 25, leading the kitchen team along with with his former sous chef, Walter Drozd, running day to day operations.
The casual cafe, which will be located in historic downtown Waxhaw, will serve salads, soups, sandwiches, and prepared food. The eatery's focus is on sourcing the best local and regional ingredients whenever possible then showcasing them in a creative and approachable way; the menu will be seasonal.
The mission is "Fresh, Food, Fast" and Verica says all of the items carried in the eatery will either be made from scratch in the kitchen or sourced from a network of local farmers, bakers, and craftsmen. "The deli meats will all be from North Carolina (with the exception of turkey at the moment) and cheeses are largely from Ashe county. We also have Carolina Artisan Bread doing all of our breads for us," says Verica.
Provisions will be open seven days per week from 11 a.m. to 7 p.m. and cater to the more casual crowd, complete with both counter service and call ahead for a packed and ready-to-go meal once you arrive. There will also be quick bites for dinner.
CREDIT: PROVISIONS FOOD & DRINK
Breakfast items will also be available on weekends but"we'll phase that in … we just want to get the doors open," says Verica.
A few menu items we're excited to try are:
Chilled cucumber and local yogurt soup with herb pesto
Roasted tomato bisque with grilled cheese croutons
The Dog – a Hebrew National hot dog complete with guacamole, onion, hot pepper relish, pork cracklings and cheddar cheese
Carolina Artisan Bread sourdough, roast beef, blue cheese, onions, arugula, tomato, Swiss cheese, and horseradish cream
The roasted chicken salad sandwich with fresh mozzarella, basil, and tomatoes pressed together on Carolina Artisan Bread focaccia
Plus the option to build our own sandwich or have a combination soup/salad or soup/sandwich!
It's worth the trip down to Waxhaw for the step-back-in-time, old town and down home feel. "We've got one of the coolest views in town; our two big storefront windows see the train tracks, the water tower — it's just really cool. And we're thinking about building a stage so we can have some live music. It'll just be a place to come and hang out with a book, grab a bite, and just sit."