Peak Season
Five simple projects for fall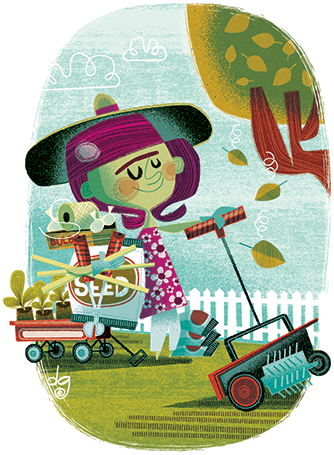 As the temperatures and the leaves start to fall, it's tempting to light a fire in the chiminea, mix up a steaming mug of cocoa, curl up under a plaid blanket, and relax. But before you turn your backyard into a scene befitting a Ralph Lauren ad, there are still a few landscaping projects that need your attention. Here are five quick, simple projects to add to this season's to-do list.
1. Tend to the turf
Fall is the best time to aerate and overseed the lawn, according to Peter Grimaldi, horticulture manager at Daniel Stowe Botanical Garden. Aeration relieves soil compaction, which helps oxygen reach the roots, and overseeding (spreading grass seed over an existing lawn) leads to a lush lawn in the springtime. "The roots grow better when the soil is less compacted, and grass seed needs cool nights to germinate," Grimaldi says. When it comes to choosing grass seed, look for a fescue blend that grows well in the Carolinas. Grimaldi suggests reading the label to ensure the mixture contains no more than 2 percent fillers.
2. Make your moves
Plants experience far less stress when they are transplanted in the fall. Use a sharp spade to divide perennials like hostas, daylilies, and phlox in late September or early October, when temperatures are cooler. However, leave the perennial grasses alone until spring, says Grimaldi. "[Plants] seem to have a better chance of reestablishing [in a new location] if they're transplanted right after they come out of dormancy," he says.
3. Cut back the branches
As the seasons change, growth slows, making fall the perfect time to prune trees. "The pruning cuts heal so much faster in the fall because the trees aren't as active," explains Bob Lubbers, owner of Piedmont Tree Experts and president of the Charlotte Arborists Association. If your trees require expert care, enlist a pro after the leaves have fallen, when arborists are better able to assess possible damage and bark deterioration that could signal bigger problems. It's also much easier to climb trees with bare limbs, which helps arborists complete their work quickly (and slashes your bill).
4. Offer support
Both newly planted trees and damaged limbs often require cables or other supports to keep them stable. Drilling into the trunk to attach cables is less stressful in the fall when trees enter their dormant phase, according to Lubbers. "The tree can use its energy to heal the wound [created by drilling]," he says.
5. Plan ahead
The sight of daffodils and crocuses pushing through the soil signals the start of spring—but to get the colorful bulbs to bloom next year, now is the time to plant them. "Planting bulbs in the fall gives them time to synchronize with the seasons and [prepare] to come out of dormancy in the spring, when the weather is warmer," Grimaldi explains.