'Peeping' into the past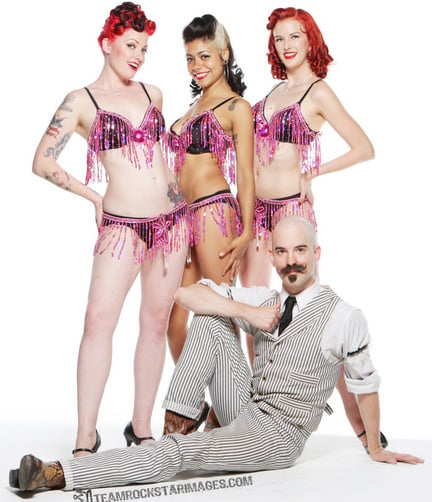 Take a peek into the past with the The Pretty Things Peepshow visiting Charlotte Febuary 2 with its vintage vaudeville extravaganza at Chop Shop in Noda, 399 E. 35 St. Sideshow. It's a spectacle of stunts, classic burlesque, circus acts, and live music by the Pretty Things houseband, The Peeping Toms.
The show consists of 22 acts including sword swallowing, juggling, glass walking, contortion, hula hoops, whip cracking, comedy, magic, beautiful dancing girls, among other high-octane acts.
It should go without saying this is an adults only performance.
The current cast includes: The Impresario of Undress: Go-Go Amy, The Midget of Mischief: Lil Miss Firefly, The Headmistress of Hula Hoops: Vivacious Miss Audacious, and The Dapper Dan of Danger: Mr. Donny V, all accompanied by The Peepshow Trio: The Peeping Toms. So grab your gal and put on your best pressed suit and get yourself down to this amazing night of entertainment.
Tickets to the Chop Shop show are $10 and doors open at 7 p.m.
Along with their eclectic names, they come with a long list of credits. Some of those include touring the globe, Harley Davidson's Thunder in the Rockies Festival with the band Foreigner, OZZFEST 2010 with Motley Crue, Rob Halford and Ozzy Osborne. Members of The Pretty Things Peepshow have also appeared in a number of TV shows and music videos.
Find more information about them at www.prettythingspeepshow.com, www.twitter.com/prettythingsps, www.facebook.com/pages/Prettythingsproductions.
For more information on the Chop Shop or any of its upcoming shows visit chopshopnoda.com or call 704-765-2466.