Penelope Needs a Home
The world through the eyes of the animals at Charlotte-Mecklenburg Animal Care and Control, where there's no time like right now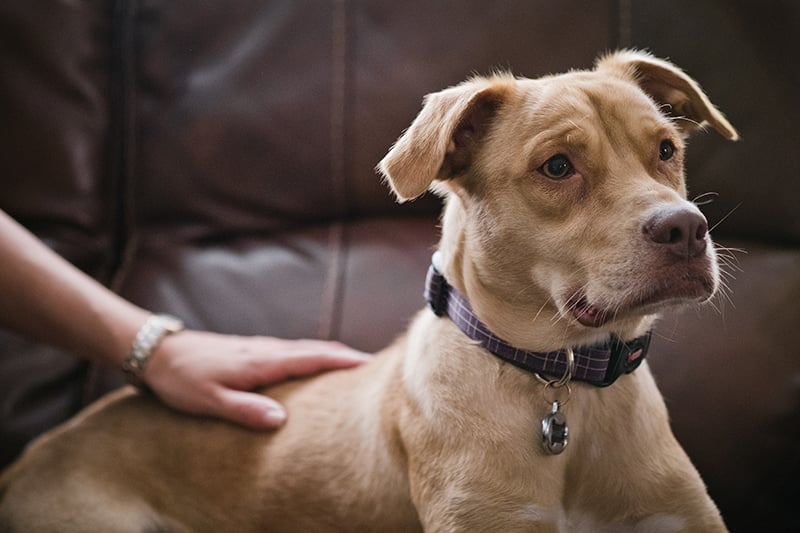 DURING HER first temperament test, Penelope hid under a chair. That was a week ago, after her owner surrendered her at Charlotte-Mecklenburg Animal Care and Control. The owner was moving and unable to take Penelope with her.
A week is a long time here. Dogs are social creatures, and shelter life runs counter to their nature. Out in the world, dogs face cues that precede interaction: they see a person, they receive pats on the head; they hear noises, they investigate. But in a shelter, stimulation is followed by isolation, inaction. The environment can break a dog's spirits, sometimes irrevocably. A dog can deteriorate mentally in a shelter in about two weeks, until it's no longer capable of calming down. Some dogs handle it longer than that; other dogs last just days before the stress conquers them.
Penelope's lucky. During her first week, she received training sessions, walks, and playtime with other dogs. She's grown confident, happy. So Karen Owens, a trainer at Animal Care and Control, wants to evaluate Penelope again to update her profile for potential adopters.
This time, Penelope's ready for her test. She sits at the end of her leash, looking up at Karen, awaiting instructions. Penelope is pure mutt, more closely resembling a character in a cartoon than an entrant in a dog show. She has a curled tail, an under bite, big round eyes, and a wrinkly brow. She looks perpetually on the verge of a big idea.
Owens begins the test with nothing. Literally. If she sits down and does nothing for one minute, what will the dog do? Penelope wanders around, then sits by Owens' side. Perfect. Next, Karen strokes her back three times, then ignores Penelope for five seconds. Penelope looks back at her like, "Hey, how 'bout some more petting?" Both results show high sociability. The tests slowly build—evaluating if Penelope guards her food, how she reacts to being handled, how well she shares toys. The dog performs well in all.
Penelope's focus shifts, however, when Katy Johnson enters the room. Johnson, another staff trainer, worked with Penelope earlier in the week. Owens releases the dog to greet "her Katy," and Penelope bounds after Johnson, the mellow dog suddenly a playful puppy. Johnson welcomes her with a snuggle and says, "You're not supposed to get attached, young lady!" When I ask whether she's talking to the dog or herself, Johnson laughs. "Exactly! And therein lies the problem."
***
STAFF TRAINERS at a government animal shelter are a rarity, especially in North Carolina, which doesn't have a stellar record with animal control. Montgomery County made headlines in 2011 for euthanizing 98 percent of the dogs that came to its shelter. Last year, the animal control director of Martin County was fired after he euthanized a dog by shooting it with darts filled with euthanasia solution. Until last year, it was legal for North Carolina shelters to euthanize dogs in gas chambers, in which dogs' final moments were often spent chaotically trying to claw out of a metal enclosure.
Charlotte's Animal Care and Control shelter, while better than most, hasn't always been as progressive at it is today. Before 2011, more than half of the dogs who came here were euthanized. But changes over the past five years have cut that by half, down to 27 percent in 2016, making this a standout shelter nationally. In March, when I started working on this story, the runs of adoptable dogs at AC&C were mostly empty. At the organization's popular monthly adoption event at SouthPark Mall in early April, only seven dogs were available and all seven found homes that day.
But keeping the numbers down requires constant work. With mid-April comes puppy season, and the runs began to fill up again. The dogs who aren't claimed by adopters or rescue groups tend to resemble each other. Odds are, they're adults. Usually they're mixes, especially pit bull mixes.
Grants and sponsorships by the ASPCA, Petfinder.org Foundation, and Petco—in addition to private donations—supplement the shelter's operating budget, allowing it to provide more medical services and adoption promotions as it tries to move as many dogs through the system and into new homes as possible.
Some of the new programs are far from ordinary, but they work. Take, for instance, Dogs on the Run—basically, field trips for shelter dogs. Vetted volunteers can take a dog out for a few hours for a jog at a park or for a leisurely day at the Whitewater Center, giving the dog exercise, socialization, and a break from the shelter. Each pup wears a leash with an "adopt me" vest during the outings as a way of making an introduction to potential adopters beyond the shelter walls.
But the biggest change may be the trainers themselves. A grant funded the position for Owens in 2011. She was so effective in enabling successful adoptions that the county continued her role after the grant expired a year later. Now she's joined by two part-time trainers, Johnson and Dana VanSickle.
They train dogs for owners they'll never meet. They don't know what cues the owners will use or which language they'll speak. So they work on basic obedience— sit, stay, down, wait—to increase the dogs' adoption chances while giving them mental stimulation.
"The key to helping dogs maintain in the shelter is training and enrichment. Training, because it stimulates their brains in positive, constructive ways. … And enrichment, because it helps alleviate boredom and building up repetitive stress behaviors that are an indication that they're deteriorating," Owens says. Stress behaviors—pacing, crying, and barking—can become part of a dog's behavior if repeated enough, and they're signs that the dog is starting to break down in the shelter environment.
"Once the scales start to tip [toward deterioration], it's so hard to bring them back."
***
ONE SUNDAY MORNING in April, six volunteers gather at the shelter, each holding a mat and a leash. Kanine Karma—or doggy yoga, as most here call it—starts at 9. Jerry, a 70-pound bulldog/pit bull mix, is the most unlikely yogi in the group. He breathes with the rumble of a diesel engine, and when he walks, he struts and waddles. And, the yoga class learns, he has gas. Bad.
"Transfer your calm to your dog; give them your kindness." Instructor Robin Clay, also a volunteer, plays classical music as she guides the class. Human yogis transition from warrior one into warrior two while holding leashes. "Take a deep breath in, and look toward these dogs' futures. Nice and bright."
Lab mix Breyer stands at a window, looking at the play area where he'd probably rather be. Pit bull mix Jill runs in circles, shedding fur over her yoga mat. Polly, however, is into yoga from the start. When her partner, VanSickle, enters child's pose, this pit bull mix lies in front of her. Their heads join at the top of the mat. With mountain pose, Polly politely rests her paw inside VanSickle's open hand.
Eventually, the other dogs settle down, too. Breyer sits on his yoga partner's stomach during bridge pose. Madison splays out in a form of canine savasana. And Jerry. Jerry waits until the worst possible moment to let another one rip.
"Oh, no. Right to the face. I felt that one." Jerry's partner, Jennifer Youse, rises from triangle pose to excuse Jerry for a walk.
The point of doggy yoga isn't to teach dogs tree pose; it's to create calm interactions with people. The shelter will open to the public in two hours, and when it does, these five dogs will be more relaxed for people looking to take one home.
***
FOR MANY dog lovers, it's tempting to reduce shelters to a good-and-evil dichotomy: No-kill shelters are good, and shelters that euthanize are evil. It's more complicated than that.
Most no-kill shelters are rescue groups that can be selective in the types and numbers of dogs they accept. Even then, no-kill shelters can euthanize up to 10 percent of animals and still retain the designation. But government animal shelters such as AC&C must accept all dogs, regardless of health, age, breed, or behavioral problems. What about dogs who are highly aggressive? Or seriously ill dogs who would require thousands of dollars to treat? Which dogs do you allot limited county resources to help?
The shelter falls under the Charlotte-Mecklenburg Police Department, so its first mission is public safety. "My ultimate goal: I don't want to send out any animals that have the likelihood of hurting people or animals," says Owens, a trainer for 20 years.
Owens and Johnson are both dog lovers. Owens has two dogs of her own, one of whom was a former trainee at the shelter, and Johnson has five.
Deciding which dogs will be euthanized is the hardest part of their job.
"You can't have a no-kill movement and appropriate dogs in the community not doing scary things and dogs that are not being warehoused and having absolutely no quality of life," Owens says. "Being kenneled, not getting any enrichment or training, not getting any exercise, but they're alive? What kind of life is that? That's torturous. And they slowly lose their minds."
"There isn't a home for every dog," Johnson says. "Say there's a dog that needs intensive behavior modification, who doesn't get along with other dogs, can't be around kids—OK, so we find one person who can deal with that dog, but we can have a hallway almost full of those dogs sometimes. A lot of people say, 'Well somebody's out there! Somebody can do it!' but nobody's stepping forward. Where are all of these somebodies?"
So the shelter expands its reach of somebodies to save as many dogs as possible. Almost 100 dog rescue groups— including the Humane Society of Charlotte, the Greater Charlotte SPCA, and S.A.F.E. Animal Haven—come here to pull dogs for their organizations. This frees valuable space and resources in the shelter.
Adding to the somebodies are about 270 AC&C volunteers. While grants fund new programs, these volunteers give those programs the manpower to succeed. They walk the dogs, foster them, assist at adoption events and clinics, take pictures for the website, and even do laundry.
Sarah Griffin has volunteered here for nine years, fostering six dogs from the shelter and helping at adoption events. She's also volunteered to assist during dog euthanasia. People would be surprised, she says, how tender the vet technicians and volunteers are when they put a pet down: They talk to the dogs during the procedure; they pet them. "[The dogs] know they're loved on the way out," she says.
Ann Francis has become something of a patron saint of senior dogs. In April, she fostered Jack, a 16-year-old Jack Russell Terrier. Jack's family had him for 14 years, and even though he's still healthy, they didn't want an old dog. Given his age, he didn't draw much attention from adopters. Francis took him in.
Several years ago, she took in a mastiff and a Great Dane who were likely raised together but surrendered in old age because their owners didn't want to be the ones to put them down. "They wanted us to do their dirty work for them," she says. The dogs had another year together, one dying six months before the other. "I was so blessed in that year to have them. It was one of the best experiences I've had," she says with wet eyes. "They both died in my arms."
***
IN LATE APRIL, three weeks after her arrival, Penelope remains at the shelter. She exhibits signs of stress. One evening around closing time, Johnson sits in a room with her, but Penelope no longer stays at the trainer's side. Penelope paces, whines. Johnson looks down, putting her head in her hands.
The trainers are out of ideas to find Penelope a new home. They've posted videos and photos of her on Facebook and Instagram, put her on WCCB as the Pet Project of the week, asked volunteers and rescue groups to foster her, and put her adoption status as VIP, reducing the adoption fee from $103 to $10. No takers. In nine days, Penelope is scheduled to attend the SouthPark adoption event, but the trainers fear she may deteriorate before then.
As week four begins, however, Penelope finds her somebody. A volunteer offers to foster Penelope for the week before the adoption event to give her a break from shelter life.
Dear reader, I confess: I'm the volunteer.
When I propose the idea to my husband, I tell him it's a commitment to in-depth reporting with an important source. "What would Edward R. Murrow do?" I ask him. He argues that Edward R. Murrow never took Nikita Khrushchev home for a week. But Nikita Khrushchev didn't have an under bite and a curly tail.
Penelope's calm returns after she's out of the shelter. Even when she has my yard to explore, she prefers to sit by my side. We take walks in Freedom Park, play marathon games of fetch, and I rub her belly until she snorts with glee. Penelope wags constantly—not only her tail but her entire butt. At night, she conks out, snoring and dream-twitching in her crate.
In the shelter, the concern was that Penelope wouldn't maintain the emotional health needed to make it to the adoption event. In my home, the concern is that I won't maintain the emotional distance needed to take her to the adoption event. You're not supposed to get attached, young lady. But I already have two dogs, and adding another is hardly a matter to take lightly. So I doll her up with a new collar/harness ensemble and even make her a résumé to distribute to potential adopters. It lists her education, skills, opportunities for growth, and reference (me). When the adoption event comes, she'll be ready.
On Saturday morning, dog résumés in hand, I put her in the car and we make our way to the mall. I consider pulling a U-turn at each intersection to take her home. But true to my role as foster, I deliver her to the adoption event and into the hands of the volunteers. When I kneel to say good-bye, Penelope jumps on my lap and covers my face in kisses.
As I walk away, I turn around to see a man and a boy approach her, rub her head, and ask a volunteer about her. I almost make it to my car before crying.
***
DURING THE COURSE of reporting this story, I spoke with more than 20 shelter staff members and volunteers, and I asked: Why? Why do you do this to yourselves? I spent six days fostering a dog that resulted in an emotional breakdown in the SouthPark parking lot, and here are dozens of people who do this— and much harder stuff—regularly. Why? They, without exception, replied with a version of the same answer.
"Most of my friends and neighbors say to me, 'How can you volunteer there? They're the ones who kill,' " says Joann Moore, a retired teacher. "But I tell them that if only they could see what the staff and volunteers do to save these dogs and get them adopted. These dogs are the lucky ones. They're taken care of. They're fed. They're trained, and they get so much love."
Like many volunteers, Moore began her work here after adopting a dog from AC&C. Two years ago, CMPD confiscated a litter of pit bull puppies found in inadequate conditions. Moore adopted one and named it Joy.
"She could have been in such a horrible situation," Moore says of Joy. "But now she couldn't be loved any more."
Most people who adopt dogs from AC&C don't know about the staff and volunteers who train the dogs, take them on field trips, or risk canine flatulence during doggy yoga. They don't know about the staff working to secure grants and donations to supplement the county budget. They don't know about the fosters who welcome dogs into their homes and get attached to dogs they'll never keep. By the time these dogs get adopted, it's likely that dozens of people worked anonymously to connect them with their new homes, volunteering time and risking heartbreak for the chance to create a happy ending.
Speaking of happy endings: All the dogs in the yoga class found their somebodies. Jill, Breyer, and Polly all found homes. Jerry was pulled by the Atlantic Rottweiler Rescue and Friends the day of his doggy yoga class, and his foster mom reports that Jerry—now known as Shorty—loves squeaky toys, car rides, and anyone he meets.
And Penelope. No one adopted her at the SouthPark adoption event, so she came back home with me. I continued to foster Penelope 11 more days before she was adopted.
Reader, another confession: That was me again. I adopted Penelope. Or, as rescue types say, I foster-failed. My husband and I renamed her Phoebe, although we considered Nikita. As I write this, she lies behind me, snoring and dream-twitching in her fancy new dog bed.
Jen Tota McGivney is a freelance feature writer in Charlotte. You can read her portfolio at jenmcgivney.com, reach her at jennifer.mcgivney@gmail.com, or see her around Charlotte, likely holding a leash or three.
---
Programs to Help Pet Owners in Charlotte
Animal Care and Control doesn't just serve homeless animals; it offers services for all county residents who have pets or who want to help them. For information, visit animals.cmpd.org
Spay/Neuter Assistance
The most crucial component of controlling the animal population is spay/neuter programs. Thanks to grants and private donations, AC&C offers free and low-cost spay/neuter services for the pets of eligible Mecklenburg County residents.
Rabies Vaccines
About 20-40 cases of rabies are found each year in Mecklenburg County. To protect pets, AC&C holds clinics each month offering free rabies vaccines for dogs, cats, and ferrets of county residents.
Microchipping
AC&C encourages owners to microchip their pets, which enables their officers to return lost dogs quickly to their homes. For $10, residents can bring their dog to a microchip clinic to get their dog chipped and registered in the county and national databases.
Food Bank
Some pets who are surrendered here are far from unwanted; rather, their owners cannot afford to keep them. Donations are accepted for the AC&C food bank, which assists incomeeligible families with pet food to allow more people to keep their pets.
Volunteer Programs
Make a shelter dog's day by taking it for a walk or out on a field trip. Take pictures to jazz up animals' online profiles, or give doggy yoga a try. The shelter is looking for volunteers who can assist with events and help care for animals who need a little extra love.
---
This article appears in the August 2016 issue of Charlotte Magazine
Did you like what you read here? Subscribe to Charlotte Magazine »
---