People Are Talking About … Lefty Williams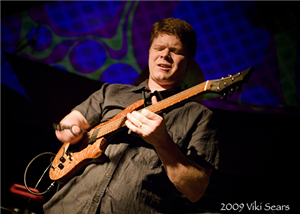 This is an occasional column on what other people — from big media outlets to blogs and student newspapers — are saying about an artist, performer, or musician headed to Charlotte. The Queen City has plenty of homegrown talent, but we're also a stop on the paths of some unsung musical, theatrical, or otherwise artistic heroes you may not know much about. In some cases, I may not know much about these folks at first, either. But, when I discover there's buzz on someone coming our way, "People Are Talking About … " is how I'll pass it along.
This isn't a column about undiscovered talent. It's a column about talent other people discovered before I did.
The most significant fact about guitarist Lefty Williams — there's no getting around it — is that he was born without a right hand. But people say you forget that as soon as hear his Southern rock and blues.
CNN said it recently on a piece they did on Williams. According to CNN, "can't" isn't in Williams's vocabulary. Check out the clip and see how he's mastered guitar playing using just one functioning hand. He's been at it since age six, so he's about perfected the technique.
The Chattanooga Times Free Press wrote about Williams's Allman Brothers tribute band, Revival. "There was a radio DJ up in Charlotte that said we're the best Allman Brothers tribute act in the country," Williams said in the interview. "I heard through the grapevine that there was a radio DJ out in California who said the same thing. I thought that was crazy cool because we'd only played four shows at the time."
The Blues Blast (Illinois) advises: "The ideal way to experience his music is to hear it first before knowing anything about [Lefty]. Then, by the time one discovers the origin of his nickname, it is a musical non-issue."
Discover him for yourself at The Double Door Inn on March 10. Details.