People Are Talking About … Ron Rash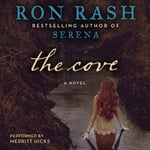 North Carolina poet and best-selling author Ron Rash is considered a rock star in some circles. My book club, for one. But he gets a lot of love (and ink) from other sources, too.
The New York Times loved his novel, Serena. In a glowing review, Janet Maslin singles out his singular opening paragraph — the one that grabs you instantly and compels you to read on: "When Pemberton returned to the North Carolina mountains after three months in Boston settling his father's estate, among those waiting on the train platform was a young woman pregnant with Pemberton's child. She was accompanied by her father, who carried beneath his shabby frock coat a bowie knife sharpened with great attentiveness earlier that morning so it would plunge as deep as possible into Pemberton's heart." See what I mean?
Serena is being made into a movie and will star The Hunger Games' Jennifer Lawrence as the beautiful, dangerous title character. Most of the members of my book club imagined Angelina Jolie in the role.
The Guardian wrote about him in 2010 when his short story collection, Burning Bright, won the Frank O'Connor Award.
The Washington Post wrote about his new novel, The Cove, although the critic doesn't love it as much as he did Serena. Then again, he says, "Maybe … anything would seem pale" in comparison.
USA Today gives his latest work three out of four stars.
See the literary rock star for yourself when he reads from his new novel at Park Road Books on May 17 at 7 p.m. Expect a line.