Personal Palette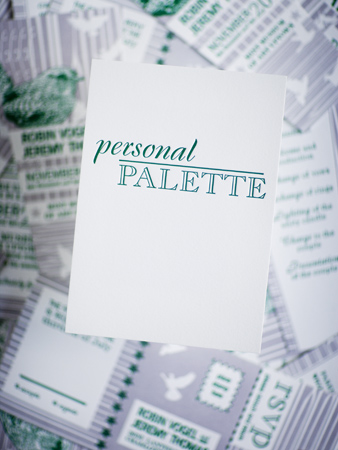 Showing off your personality at your wedding is no small feat. So set the tone early with your save-the-dates and invitations. Then carry that personal style throughout your big day and beyond, with your menus, programs, thank-you cards, and stationery. Sometimes putting it in writing is the best way to showcase you
Text by Blake Miller
Photographs by Chris Edwards
Styled by Lindsay Emeigh
Offbeat
Stationer: Crayton Heritage
With its oversize playbill-like typefaces and personalized bird motif, this letterpress bounty is nothing short of vintage craftsmanship. Crayton Heritage matched the offbeat look with unusual typography and tear-off RSVPs for a most creative invite, resulting in an eclectic suite that's truly individual to a bride and groom.
Playful
Stationer: Salutations
This carefree and youthful suite by Salutations marries a romantic vibe with a whimsical motif and typography. The verbiage is casual and unpretentious — remember, we're going for playful here — resulting in a charming invitation and its complementary parts.
Formal
Stationer: Arzberger Stationers
Engraving is an art form. And with it comes an inherent sense of formality, tradition, and classicism — the unspoken calling card for Arzberger Stationers. There's nothing more sophisticated than the subtle, intricate lines of this stationery suite, which features the classic navy and ecru color palette with a touch of copper for a dose of modernity.