Personalize Your Wedding Vows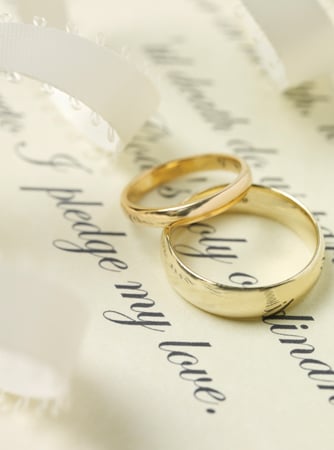 Couples getting ready to walk down the aisle can get so consumed in the myriad details of a wedding—butter cream or chocolate fondant? Hydrangeas or peonies? Bias-cut or A-line?—that they often forget about the big picture: the wedding vows. Vows are the focal point of the wedding ceremony, so the chance to write them in your own words is an immense opportunity for couples. Personalized vows "show the human side of love; it's an opportunity to speak from the heart and a testament to guests at the wedding that love can exist," says Carla Eustache of StylePerfect Weddings and Events in Huntersville.
But what's a sweet sentiment to some is pure cheese to another. We all know the DIY wedding vows gone wrong: the cringe-inducing kind that make guests groan and bridesmaids stifle snickers on the altar. To help you avoid this pitfall and craft meaningful, poignant vows, we've talked to the experts. Follow their advice and your wedding "I do's" are more likely to induce tears of joy than fits of laughter.
Check with your officiant
Before writing your vows, make sure that personalized vows pass muster with your officiant. "From both a legal and Christian standpoint, everybody must say 'I do' or some kind of assent," says the Rev. Rebecca Nagy, who has married hundreds of Charlotte couples. Beyond that requirement, officiants of various religions have different rules about personalized vows.
For instance, according to Cantor Erik Contzius of Temple Israel of New Rochelle in New York, the traditional Jewish marriage contract "requires exchanging of the rings" as well as some form of the phrase, "Be thou consecrated unto me as my wife according to the traditions of Moses and Israel."
Remember that different officiants of the same religion can even have varying requirements as to what the vows must include. Some officiants are more lenient, while others are more conservative.
Articulate what's important in your relationship
Deciding what to say in your vows is about more than just saying "I do." Brainstorming should be thought of as a period of reflection about what your future spouse means to you and why you want to marry that person. "I'd encourage the couple not to say the exact same vow to each other, but rather what they individually want to promise to each other," says Nagy, who performs roughly 200 weddings a year.
"I give each couple a questionnaire to fill out before our first meeting … asking them what is important in making their marriage successful, and what drew them to one another," adds Nagy. "As the couple answers these questions, they are essentially writing their own vows."
This brainstorming phase not only helps couples craft meaningful vows; it also gets them to reaffirm their commitment to each other, which will give their marriage a solid foundation for the future. Says the Rev. Julie McKay-Wilkinson, a Charlotte-area minister trained in the Unity Church, "the wedding vows are the part of the ceremony where the couple is promising to one another what their intention is in that relationship." Promises made in the vows should reflect the couple's own situation, so if, for example, "the groom is marrying a woman with a child already, he should include a promise to be a good father to the children in his vows," says McKay-Wilkinson.
Consult the Muses
From Shakespeare to Native American poetry, inspiration for wedding vows can come from just about anywhere. "Get on the Internet and read all types of vows; they have everything from Dr. Seuss vows to love poems from different cultures and religions," says Eustache. These can be used just as inspiration or incorporated into your vows if your own words "can't get things across," she adds. Some websites are entirely devoted to wedding vows, like MyWeddingVows.com, which offers everything from traditional Book of Common Prayer vows to Quaker, Muslim, Hindu, and Celtic marriage vows. (One might want to steer clear of the celebrity vows section, however, as most come from ill-fated couples like Bruce Willis and Demi Moore, Arthur Miller and Marilyn Monroe, and Julia Roberts and Lyle Lovett!) The site offers myriad other vows to choose from, however, and there are dozens of other sites just like it.
Corniness in the eye of the beholder?
The experts disagreed over vows' potential to be corny. Contzius, for instance, says, "You want your vows to be something you'd put in writing and frame." Vows that are overly casual or trite could "diminish the eternality of the relationship," says Contzius, adding, "Your vows shouldn't be trite, because your relationship isn't either."
Nagy, on the other hand, believes that a "mix of solemnity and humor" makes the vows "memorable and meaningful." "Some of the funniest ones have been ones like, 'I'll even cheer when the Cowboys win,' " Nagy says.
McKay-Wilkinson, too, likes quirky vows. "One couple I married said, 'I promise to make you brownies,' and that was unique and important for them," she says. Adds Eustache, "If the couple is quirky, then that's really who they are and so quirky vows can come from the heart."
McKay-Wilkinson finds traditional vows corny because they've been done so many times. "I avoid 'love, honor, and obey,' as those words are pretty archaic. I also avoid 'man and wife' and prefer 'husband and wife' because it stresses equality in the relationship."
The bottom line? Choose whatever vows come from the heart and reflect a true commitment to your partner. If your vows reflect you and your fiancé's personalities but respect the sanctity of marriage, guests will likely perceive the vows as genuine and be moved. After all, as McKay-Wilkinson says, "There are no marriage police."
Dial Down the Pressure
McKay-Wilkinson is also a marital counselor, so she knows firsthand how conflict over the marriage vows put stress on a couple's relationship. "It's important for the couple to not be influenced by family members regarding the vows. They should not be pressured into doing something in their ceremony just to appease a family member, because that can cause a rift or tension within the relationship."
Additionally, couples shouldn't feel pressure to outperform each other when writing their vows. "It's not a competition, it's about the emotion behind the words," says Nagy. "If you're being genuine, then no one is going to judge." Adds Eustache, "Be real; your vows don't have to be sonnets!"