PERSPECTIVE: With Arts Tax, an Opportunity for Change
One of our 2018 Charlotteans of the Year on the future of the cultural sector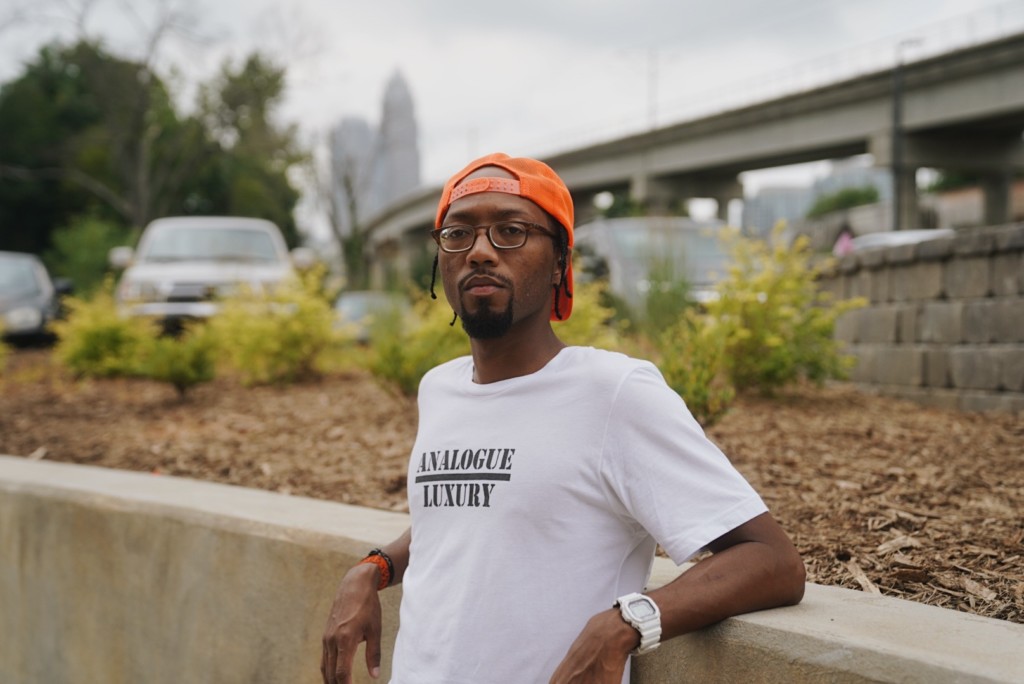 David J. Butler, one of our 2018 Charlotteans of the Year, is involved in many arts efforts across the city. Among them: the exhibition Welcome To Brookhill at The Harvey B. Gantt Center for African-American Arts + Culture, the #HomeCLT program at the Levine Museum of the New South, and serving as program director for beSOCIAL. Ahead of the November vote for a quarter-cent sales tax benefiting the arts, Butler shares his hopes for the future of the cultural sector:
---
Have you ever seen your reflection in a broken mirror? You see yourself, but the picture isn't quite clear. Your facial features are visible between the portions of fractured glass, but the overall vision is distorted. If you removed a piece from the chaos, it restores the general picture, even if it's on a smaller scale—it allows for you to feel as if a proper reflection is intact. But in reality, the mirror is still broken.
My name is David J. Butler. I was born and raised in the city, and for the last six years, I've been navigating the Charlotte's arts and culture sector, which offers its own distorted image. In this time, I've published my own work, organized several types of shows for myself and others, worked with groups and venues, both big and small. I'm not here to bore you with my resume: I want to set the table for greater action around a city that I love, starting with funding the sector that I am most passionate about.
Similar to that broken mirror, there's a fracture that exists in the city's arts and culture sector. Large organizations and institutions are tasked with servicing the needs of communities that, frankly, they haven't been connected to for some time, if at all. Donors who may or may not know these communities cut checks to support entities that have admitted to having gaps in supporting organizations and initiatives that speak to the city's demographic make-up. In addition, larger institutions that net much of the funding have similar issues internally.
We could get into the numbers: I could beat you over the head with all of the diversity, inclusion, and equity data from every conversation we're having throughout the city. The arts sector looks no different than what you've been hearing about in housing or education. And while there is a historic narrative and timeline that supports the creation of these types of issues, I'd rather focus on the opportunity that's in front of us.
Through the initiation of a quarter-cent sales tax for November's ballot, Charlotte is possibly embarking upon the first shift in the economic landscape for the arts that we've seen in some time. We have an opportunity to make updates to a system that hasn't maximized it's potential, nor encouraged growth or self-sufficiency from those that participate at all levels. A system that has been vastly underfunded, underdeveloped, and has existed simply as a social requirement rather than proving itself as something worthy of investment. Global culture is shifting, and it's important that we have an arts and culture sector that shifts with it. We state that we want to be a world-class city, but we have yet to empower our own crop of world class talent. Why is that?
Charlotte's population is majority people of color, led by people of color, that can't quite figure out how to serve communities of color. While you could make an argument challenging the character of our leaders, I'll remain optimistic and, instead, focus on fixing the system they are tasked with navigating. I'll make the assumption that if given an alternative to the current scenario, our leadership will invest accordingly. We are in need of new pillars of creative infrastructure, pillars that are built with the future in mind. Pillars that are created with sustainability and profitability in mind. Pillars that are operated by people who have committed to creativity as their income and not just the facilitation of funding creativity. Pillars that are truly community lead, owned, and operated by people of color. I am proud to say I have been working with some colleagues on a pillar that fulfills these principles, and we'll be welcoming you into our house soon. For now, I encourage you shape your perspective around this pivotal time in our city. I am open to dialogue and voicing my perspective. However, I encourage anyone who is like myself to move toward action so we can maximize the monumental shift that is about to occur within our arts ecosystem. I'll be back to share some more things with you all soon, and I'm bringing some friends.
---
For more on broader community efforts, read the Mecklenburg County Equity Action Plan here.