Pet-Friendly Design
Find scratch-free flooring, stain-resistant fabric, and stylish looks at this Plaza Midwood showroom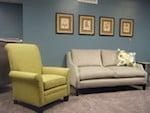 This month marks one year since Barbara Green decided to dive into the niche market of pet-friendly design. In the past 12 months, she introduced a new line of furniture, opened a showroom in Plaza Midwood, and adopted two cats as business ambassadors.
Her business, Sensibly Chic Designs for Life, targets pet owners and anyone else who might need stain-resistant furniture or scratch-free flooring. Her customers often include parents of young children or people who simply want a carefree space.
Green has been in the design business for 22 years. Someone approached her at the furniture market about a year ago and asked if she was interested in designing her own furniture line. She turned it down.
"I said, 'I'm Barbara Green. I'm not famous,'" she says. "'What will I do that's different than what everyone else has done? I'll just be one other row of sofas on the tour.'"
Then Green found some fabric that she calls "miracle fabric." It was originally designed for nursing homes and cruise ships because it can endure a lot of wear and tear and still look good. Green contacted the company and said she would reconsider a furniture line if she could use this fabric. The company agreed.
Green introduced her new line called DivaPets furniture this past November at the grand opening of her showroom on Lamar Avenue. She decided to open the showroom to let people see that the fabric is as good looking as it is durable. All of the carpet in the 2,000-square-foot space is resistant to liquid. If anything spills, it pools on top and doesn't stain.
"I'm here to tell everyone, 'You can have a gorgeous house,'" Green says. "My tagline is 'for all the animals in your life' because pets aren't the only creatures in a home that make a mess."
In addition to pet-friendly furniture and flooring, Green also offers accessories and tips for living with pets. Velcro dust ruffles are one idea. They can be taken off, washed, and put back on more easily. She also recommends the Pledge Pet Hair Fabric Sweeper. It's safe for upholstered furniture and works better than any other pet-hair remover she's tried.
Green's showroom is barely two months old, but it's already become a place for the community. She encourages local groups to hold meetings or seminars at the showroom for free. During football season, Green held Panthers parties here in the mock man cave.
Green has accomplished a lot in one year. But her favorite part was adopting her two cats, Emma and Ellie, which makes sense for a woman who developed an entire business around living with pets.
Sensibly Chic Designs for Life 830 Lamar Avenue Charlotte, NC 28204 704-608-9424