Petit Philippe Helps Charlotteans Navigate Wine and Chocolate
The husband and wife owners of a Myers Park boutique help you shop for Valentine's Day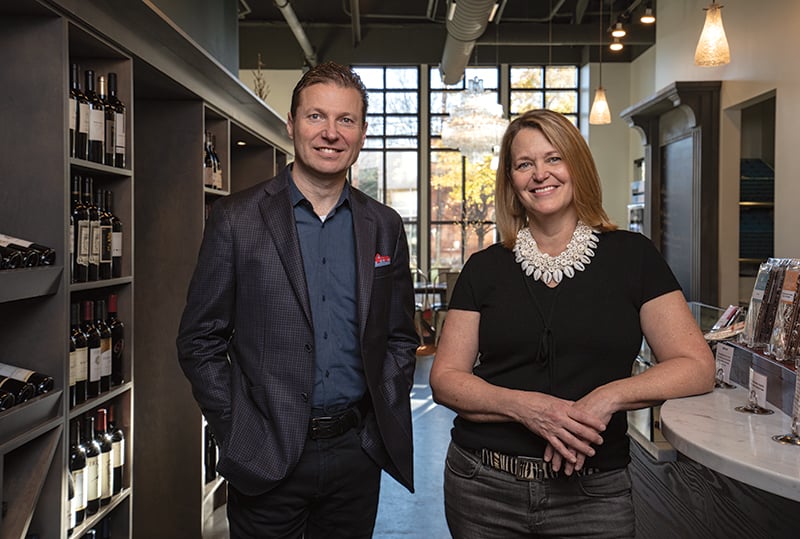 CASEY HICKEY and Mark Meissner took years to fine-tune their ideas for a wine and chocolate shop as they held down corporate jobs in San Francisco. The result is Petit Philippe, which they opened in 2010 in Myers Park. Bottles are displayed in cabinets resembling bookcases, and chocolates are clustered under glass on a marble slab. Milling around, asking questions, and sampling are encouraged. "Our product is not wine, our product is not chocolate—our product is your experiences here," Hickey explains. Discover what you enjoy.
When they met 16 years ago in the Bay Area, each was flirting with an occupational hazard: a passion at odds with a day job. Hickey was director of development for the American Academy of Ophthalmology but baked wedding cakes and threw dinner parties on the side. Meissner worked in finance for Restoration Hardware but spent weekends learning to make wine. The two met at a party and soon became friends. "I gave him a barrel for his birthday," Hickey says proudly, "a used barrel from a winery." He encouraged her to go to Le Cordon Bleu Paris. In 2004, after Hickey had earned a pastry diploma from the famous school, they married. Over the next several years, they developed their business ideas, had two sons, and decided Charlotte would be a good testing ground for Petit Philippe, a wine tasting room, and Twenty Degrees Chocolate, Hickey's chocolate label. The move would also put them closer to Hickey's hometown, Greensboro.
The names of their businesses say a lot about them. Their French friend Philippe—who loves America and has a degree from Clemson—exemplifies hospitality and adventure. They named the wine side of the business in his honor. Twenty Degrees is a scientific designation: The cacao tree, from which cocoa is derived, grows almost exclusively 20 degrees north and south of the equator. "I wanted to do something that would cause people to ask questions," Hickey says. "It conveys the limited availability."
Life may be just as busy as it was in the Bay Area, but it's simpler. They live near the shop, and their boys go to local schools. As a couple, they're focused on something elemental. Hickey recalls a funny incident from a preschool class a few years ago. The children were asked what their parents did, and many didn't have a clue. When her son's turn came, he answered, "Mommy makes chocolate, and Daddy sells wine."
---
Wine And Chocolate For Valentine's Day: What To Buy
Go for harmony
Many people think that dark chocolate and cabernet go well together, but it's not true. "There aren't any hard and fast rules around pairing wines and chocolates, other than you really don't want the highly tannic or acidic wine with chocolate that also has its own acidities and tannins," Meissner says. Try softer combinations, such as a chocolate with more cocoa butter paired with a fruitier wine (as in baked fruit, not a sharp citrus).
Try something new
If you've never tried a chocolate with a savory twist, this is a good time to be adventurous. Meissner suggests pairing a basil white chocolate truffle with a white or orange wine. The key is to start with either a chocolate or a wine and then look for a good pairing.
Think farm to table
Remember, wine and chocolate come from fruits. "They're both great agricultural products," Meissner says. Climate, dirt, and farming methods influence the outcome of the grapes and cocoa pods. Yet, in the end, they're foods to be enjoyed. Don't get carried away with analysis.