Photojournalist Stephanie Sinclair Talks Women of Vision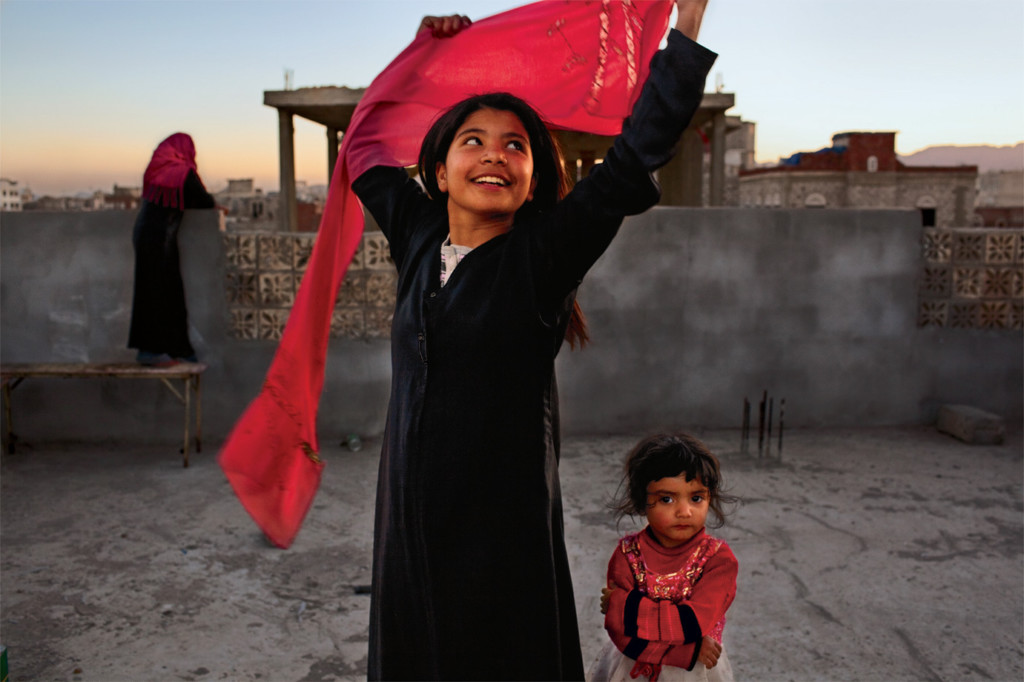 On a Wednesday afternoon, Stephanie Sinclair pauses in front of Beverly Joubert's striking photo of a leopard in Botswana. The animal's eyes are fixed, peeking through blades of long grass. "This is just outstanding, beautiful work," she says. "That kind of photography is not easy to do."
Sinclair would know. She's one of the 10 other women featured in Women of Vision: National Geographic Photographers on Assignment, currently at Mint Museum Uptown.
The exhibit takes museum visitors across the world, through the lenses of 11 female photojournalists.
Hours before attending an event for Women's Impact Fund, a collective giving organization in Charlotte that's geared toward female leaders, Sinclair walked through the exhibit and marveled at the work of her peers. Women of Vision is split into 11 sections, each marked for a specific photographer, with photographs of varying sizes. The images also vary; scenes include wild animals, war-torn cities, families, and in Sinclair's section, child brides.
The exhibit first appeared at the National Geographic Museum in Washington, D.C., last year, and Charlotte was the first stop on a tour across the nation. Sinclair recalls the impetus for the project, as told at the premiere.
Becky Hale/National Geographic Creative
Sinclair, a Miami native, has been working on the Too Young to Wed project for more than a decade. Her recent visit to Charlotte was brief; she left for Nepal the next day.
"They were looking at some of the stories that were the most important they've done for the magazine as a whole, and they noticed that most of them were done by women," Sinclair says. "This profession started out being something that was unseemly for women to do. You're out in the field by yourself for long periods of time."
Years ago, Sinclair encountered child marriage while shooting a project in Afghanistan. The assignment was on self-immolation, and the photographer discovered that young women who had set themselves on fire were mostly wed as children. According to the International Center on Research for Women, one-third of girls in the world are married before turning 18, and 1 in 9 are married before 15.
Sinclair started the Too Young to Wed project over a decade ago, and it was published in print in the June 2011 issue of National Geographic. But the story didn't stop there. Today, Too Young to Wed is a multimedia partnership between the United Nations Population Fund and the photo agency VII. Sinclair maintains that the project's success is due to the original interest from the print story.
"Geographic was a huge supporter of this work," Sinclair says. "I was about halfway done with where I am now, photographically, on the project. Geographic was the only way I could get this funding. I spent six weeks in Yemen, a couple weeks in India, I was in Ethiopia. For this project, because it's so complicated and taboo, you need time. And Geographic is the only organization that supports long-term photography on this scale."
Before Sinclair began working on the project, "there had been a lot of research on the issue, but not much visual evidence."
Sinclair's time in Yemen produced images like the one above, in which Nujood Ali is seen with her younger sisters. Nujood, a divorcee, ran from an abusive husband who was in his 30s. When she entered the courthouse to seek a divorce, she was 10 years old.
"How do you even address something that complex?" she says. "It's easy for people to say that this isn't something we should be dealing with. But then when you saw the evidence of what happens and what it looks like, and then people could identify with it in their children or themselves. Then, all of the sudden, the conversation changes."
Sinclair's work has been featured across the world, but Women of Vision provides a new opportunity in how visitors will see her photos, usually framed to raise awareness on a singular topic. She's forced to see even her own work in a different way, as displayed in the exhibit.
"Well context is really important in how it's seen," Sinclair says. "In this way, it's seen as a part of just great photography on multiple levels. I've been focused on looking at photography as a means to an end, trying to get attention on specific issues. And often, even sometimes for myself, I forget just the beauty of photography itself."
Women of Vision: National Geographic Photographers on Assignment continues at Mint Museum through July 20. Click the link for more details.