PHOTOS: Inside the #KeithScott Protests in Charlotte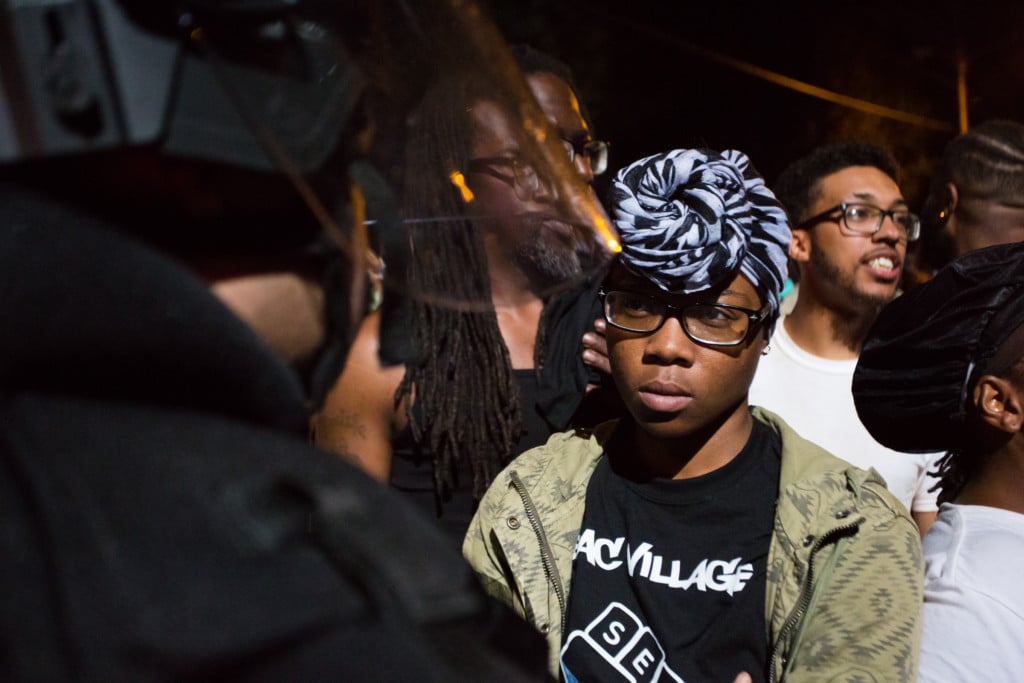 OLD CONCORD ROAD became the scene of protests late last night after a Charlotte-Mecklenberg Police officer shot and killed a man in north Charlotte, unleashing a tension that has been building in the city. Below, photographer Logan Cyrus captures scenes from the protest.

A CMPD officer looks on as protests continue down Old Concord Road in northeast Charlotte.

Protestors voiced frustrations to armored CMPD officers as they stand on Old Concord Road.

CMPD officers attempt to get a woman to move her car as she blocks part of Old Concord Road.

CMPD officers in riot gear are illuminated by red lights as thick smoke from multiple tear gas canisters fill the air around them.

A protestor uses a branch to hit a CMPD officer in the helmet during the protest.

CMPD officers in riot gear are engulfed in smoke from tear gas canisters as they attempt to leave the area off Old Concord Road.

A protestor is given water after he was overcome with tear gas.

A damaged CMPD cruiser is seen from the train tracks that run along Old Concord Road. A small group of protestors attempted to destroy the vehicle, which was left unattended.

A rock thrown by a protestor can be seen amongst glass from a badly damaged CMPD police cruiser.
Keith Lamont Scott Protest from Logan Cyrus on Vimeo.