Picking Up Her Pen
A Charlotte woman revives a former hobby to create a global calligraphy business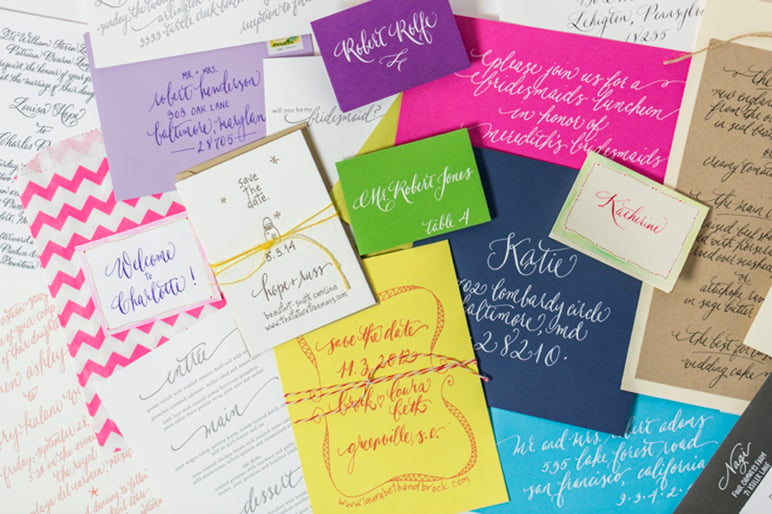 Kristen Henderson took a class on calligraphy in high school, but she didn't get serious about it until four years ago. Her main income source from flipping houses had dried up, so the 59-year-old mother of three began searching for another creative outlet. She dug out her old pens and spent about a year practicing her high school hobby. In 2009, one of her daughters suggested she start an Etsy shop to showcase her work. She now does calligraphy full-time from her Dilworth home, working with brides locally, nationally, and internationally.
She recently put down her pen long enough to answer a few questions about her work.
How did you get back into the business?
I took a short calligraphy class in high school when I was 17, but I really didn't do anything with it. I did my own wedding invitations and my college roommate's, and now I'm actually doing her daughter's. After spending awhile practicing, I went on a wedding website and posted a picture of a place card I had done for practice. I said the first bride to respond would get 50 place cards for free. It was claimed 15 minutes later. It turned out the bride's father had died over the summer, and they had to use their wedding budget for funeral expenses. It just felt like it was meant to be. After that, I had some experience under my belt, and the paying jobs quickly started coming.
What trends are you seeing in the bridal industry right now? Describe your style.
I would say it's closest to copperplate style; that's what's happening nationally. (Copperplate uses the sharp, pointed nib of the pen instead of the flat nib used in most calligraphy.) It's a modern form of calligraphy where you take a traditional thing and put a different spin on it. I work with a pointed pen that you dip in ink, kind of like they did when they signed the Declaration of Independence. It's very "flourishy," and the style has seen a real resurgence lately. I also like to do a lot of lower case and funky flourishes at the end so that it's sort of whimsical. Some calligraphers you can hardly read because it's so graphic. I'm somewhere in between.
People want things hand done. Not just the envelopes, but also the invitations, the place cards, the escort cards, and even all the signage at the wedding reception. They want calligraphy on everything, soup to nuts. Right now I'm working on a wedding for a bride in upstate New York who is getting married on a piece of property with a house and barn, and we are incorporating a picture of the house into the save-the-date cards, the invitation, the place cards, everything. I'm also getting a lot of requests for watercolor on invitations—just a smidge of color to make it unique and personal.
It sounds like you work pretty closely with all of your clients.
I really do, and I love that part of it. You end up exchanging so many emails in the design process that you start to get to know someone. I also get a lot of return customers. I'll design clients' wedding invitations, and then they call me back to order an address stamp when they buy a house or to order announcements when they have a baby. You end up having a charming online relationship with people.
How do your clients find you?
Most of my business is national and international. I have clients in Australia, London, and Canada. Little by little, word spread because of the Etsy site, and thanks to the simplicity of doing it by email and on the Internet, my business grew quickly. I also love having clients in Charlotte, but I still do most of the work through email even when we're in the same town. All of my samples are there on the site, so it makes it easy.
Do you have any advice for do-it-yourself brides?
You could cheat and trace. All you would have to do is find a font online that you like, print it out, and trace it. The other option would be to try to imitate it. I encourage people to try it. It brings me great joy when other people love calligraphy. I feel like it's spreading the joy.
You have a side gig designing greeting cards, right?
Right now I have 30 cards that I designed, all original. Some of them are sweet and traditional, like "I'm so happy you're my friend." Others are a little edgier. They're on really thick paper, and they're all letterpress. You can find them at Paper Skyscraper, Cottage Chic, and Post & Gray. I also design logos for websites and blogs.
How did your daughters help your business succeed?
They were the ones who suggested I start the Etsy site. I didn't even know what Etsy was at the time. When I opened the store in September 2009, I didn't know what to expect, but there's been a tremendous demand.