Picture Perfect
Six steps to flawless photos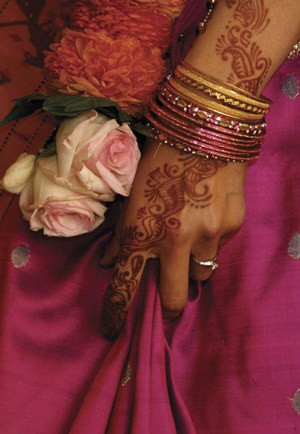 Planning the perfect wedding can be as time consuming as a full-time job. There's a seemingly endless list of decisions to be made, ranging from the date of the wedding to the flavor of the cake. For many brides, one of the most difficult decisions is choosing a photographer, and for good reason: the big day will fly by, but the photographs will last forever.
Most photographers recommend booking nine to twelve months in advance, especially for holiday weekends and peak months (May, June, September, and October). In other words, time's a-wasting. There's a lot to consider when searching for the right photographer—after all, this is the person who will witness (and capture) the most personal details of your big day. So we've put together a six-step guide that will lead you to a photographer you'll love and photos you'll treasure for a lifetime.
Narrow Your Focus
The Internet is a great tool, but many brides find it overwhelming. Referrals from friends and family members thin the selection and serve to prescreen the candidates. If you love the wedding photos of a recently married friend, chances are you'd be just as happy with the photos the same photographer would take on your day.
Another trustworthy source for referrals is your venue. Most have preferred vendor lists that typically include photographers. "Venues will only recommend photographers who have worked there before and done a good, professional job," says Critsey Rowe of Charlotte-based Critsey Rowe Photography. If you're the first of your friends to tie the knot or you're getting married in a traditional church (Rowe says most churches don't offer vendor lists), referrals may not be an option. Web sites like those of the Wedding Photojournalist Association (wpja.com) and the International Society of Professional Wedding Photographers (ispwp.com) offer location-specific lists of reputable service providers.
Find the Right Angle
"Most brides don't have much experience with photography prior to the wedding," says wedding photographer Richard Israel. "There's a need for education, especially as far as style goes." Israel notes two distinct styles: proactive (traditional, posed shots) and reactive (photojournalistic, candid shots). Consider your personality and the mood of your event when choosing a style. Keep in mind that most pros can do a mix: a few posed shots following the ceremony and lots of candids throughout the day.
Shoot for Quality
Wedding photographers are, of course, a bit biased on this topic, but most agree that this should be the one area in which you shouldn't skimp. "Your memories are all you have to take with you," says Kristin Vining of Kristin Vining Photography. "The music stops, the invitations get thrown out, and the cake gets eaten, but the photos last forever." Vining adds that cutting costs in other areas is more doable. "You can get creative, especially with things like invitations." And, as Israel notes, a great photographer will make the wedding look "as awesome as possible, even if you had to cut back elsewhere."
However, it all depends on your priorities: if you and your fiancé are on a tight budget and love live music, you may opt to spend the biggest chunk on a band. "Always keep in mind what you're willing to spend, how you want to spend it, and what's most important to you," says wedding photojournalist Christopher Record.
Compare and Contrast
Using referrals and determining a style and budget should significantly shorten your candidate list. Now, get some face time with the finalists. Rowe recommends meeting with at least three. "Meet with as many people as possible until you find the right one. It's like finding your fiancé — you didn't say yes to the first man you met!"
Cover both the general and the specific. Prepare questions in advance, like if he or she has backup equipment and liability insurance, how many weddings he or she shoots per year (between twenty and thirty is optimal), and the amount of time postproduction takes. Also, be sure there's a plan in place should something prevent him or her from attending. Rowe remembers one instance in which a photographer was in a car wreck while traveling to an Asheville wedding. The photographer didn't have a backup plan in place, and no one showed up to shoot the wedding.
Look at complete weddings, from the pre-ceremony all the way through to the last dance at the reception (Israel recommends viewing at least three) to get a sense of what you could expect. Ask to see photos from a wedding similar to yours (i.e., if your ceremony will be at night, ask to see an evening wedding) so you know if the photographer works well in that setting. Discuss pricing, including albums, packages, and à la carte options. "If you can't find your perfect package, at least ask if there are different options," says Vining. "Always ask."
Wait for the Click
You should feel at ease with your photographer, so look for a connection. "As unobtrusive as photographers try to remain, that's the person who will be nearest you, because they have to get the shots," says Vining. "There's no one more important on your wedding day." As Record puts it, the photographer "has to be someone you want at your party."
Clarity Is Key
Now that you've found your photographer, be clear about what you want. "The actual day is such a blur for the bride," says Israel. "Photographs let them see it all again, as much as they want." To guarantee you'll see everything, discuss timing with your photographer so he or she knows where to be and when to be there. Many photographers will send a questionnaire covering this a few weeks before the wedding.
Talk details. For instance, if your earrings are family heirlooms, make sure your photographer is aware of it. If lace from your mother's wedding dress is incorporated into your dress, your photographer should know. Small details like those are often the most meaningful, says Vining, so be sure they aren't overlooked. "We want to make sure brides are getting photos of everything they've been planning for the past year," says Vining.
Once you find the right match, you can rest easy knowing that years later you and your husband will be able to look back at photographs that truly represent the celebration of your relationship.