Piece of Cake
Buttercream or fondant for your cake? Here's how to choose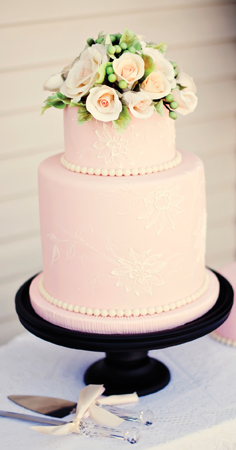 Weddings are full of etiquette dos and don'ts—even when it comes to wedding cake. We consulted three professionals to get a big slice of wedding cake manners, plus an extra helping of the history behind the tradition.
The Experts:
During your first meeting with a cake designer, ask these questions: Can I see photos of your work? How many weddings do you provide cakes for on a weekend? When and how are the cakes delivered? Do you use cake flour (provides a finer cake texture)? Do you use imitation or pure flavoring?
The wedding cake tradition began during the reign of Queen Victoria, when the cake of choice was fruitcake. These fruitcakes were stacked as high as they could go while still allowing the bride and groom to lean over the top and kiss.
There is such a thing as too many flavors in a wedding cake. Never use more than two cake flavors, as it just might encourage guests to want to try both kinds (especially when you don't have enough for seconds).
Don't care for cake? That's OK. Consider offering a dessert buffet instead.
Budget this: Cakes can range from $1 to $2 per slice, and go as high as $20 per slice.
Brides should cut the cake with their right hands, leaving the left hand wedding band firmly in place—free to be positioned just right for photographs.
Cake designer consensus: for flavor, opt for buttercream; for a smooth finish, choose fondant.